I'm shortlisted for the Northern Blog Awards 2018 & I need your vote!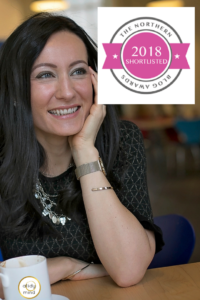 So A Tidy Mind has been shortlisted for these awards. What does that mean? The Northern Blog Awards are part of We Blog North, a collective of bloggers, vloggers and social influencers in the North of England. It's a passionate network of people who all work hard to get the sort of content out there which helps and inspires people.
This is the link for the voting form: VOTE HERE in the 'something different' category. You have a fair few pages to skip through before you get to the bit where you can vote for me. Just keep pressing 'Next' until you get to something different and you'll see A Tidy Mind. Remember to hit submit or your vote won't go through!
The main part of what we do at A Tidy Mind is hands on with clients, decluttering and organising their homes and heads. But from day one, I wrote a weekly blog – because I wanted to inspire as many people as possible to change their mindset, simplify their life, fall in love with their home and create more calm and content.
I also aim to extend this inspiration to social media and put out content that serves people well – that adds something positive, (however small) to their day. I love to collaborate with brands which have synergies with what I do AND if I see a chance to sing the praises of organisation and life simplification in the media, I'll be at it like a shot.
In essence, I'm like a woman possessed with this stuff. And that's because I really believe in it's power. Creating a clutter-free, ordered space saves my life (or at least my sanity) when the world becomes overwhelming and I think it can do the same for others too.
So, there we are. A pretty shameless plead to vote for A Tidy Mind in these awards. I want to raise the profile of the decluttering industry in the UK and get it on the map and I need votes to do that!
Thank you and please vote for A Tidy Mind 🙂
Thanks so much for reading!
Kate xx
Join Us!
Sign up today to receive a FREE printable guide to decluttering ANY space and monthly emails packed with inspiration to help you on your tidying journey