10 Ways To Make Your Home More Comfortable For All The Family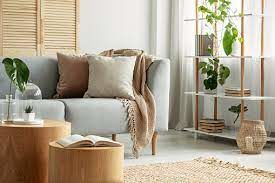 A comfy home setting has been a priority for many generations. However, it seems to take on even greater importance in the post-pandemic world. We are all used to spending more time socialising at home than ever before, so it's never been a better time to make home more comfortable. 
Building the right strategy to make this happen may seem difficult, but it doesn't have to be. The following 10 steps will lead you to greatness.
Add Security Features
You won't be able to truly relax at home unless you feel safe. While internal dangers are more likely, it's the threat of intrusion that plays on your mind. As such, it makes sense to add surveillance systems, home alarms, and other key features. Sensor lighting is another useful addition.
Remote-monitored products are highly beneficial. With the right products in place, it'll be easier to relax at night and even when you're not home. 
Declutter
A cluttered home can be difficult to enjoy. After all, living spaces are for living. A thorough decluttering session, which includes selling unwanted goods and removing items you no longer need, is key. It can bring big results in no time.
Aside from making the home more comfortable, you should find that it encourages reduced maintenance. 
Use Comfy Furniture
Comfortable furniture is truly one of the most important features for building a better home. This day bed buying guide can help you transform living spaces, conservatories, and outdoor spaces. Having a footstool to match your sofa can work well too, not least if it doubles as an ottoman.
In addition to the comfort of the furniture itself, you should consider the spatial needs. If compact items can be used, you must not ignore the possibilities.
Boost The Shower Pressure
We all want to add a few luxury items to the home. However, functional products that facilitate daily chores and activities are more significant. Boosting the shower pressure can make bathing more enjoyable, especially on cold winter mornings. It can save time and money compared to baths too.
If you have multiple bathrooms or en suits, it's vital that you complete this step in all available spaces for the best results.
Achieve The Right Temperature
Comfort is a feeling. So, you must not overlook the significance of the home's temperature. From fighting the summer heat to staying insulated in the colder months, you must look to implement the right steps ASAP. your family will feel at ease and it can often lead to energy bill savings in the process.
It is one of the most commonly overlooked issues of all. So, when you get it right, you will notice a dramatic improvement.
Transform The Guest Room 
Having a guest room is a pretty cool feature to boast when friends come to stay. But it could be stopping you from unlocking the true potential of your home. Turning it into an office, for example, could free up space in the living room or dining space. The impacts can then be felt by all the family.
It also creates a divide between work and leisure. So, you will find it easier to relax when you're not in work mode.
Replace Your Mattress
The value of a good night's sleep cannot be overemphasised. If your bedroom does not currently provide the right situation, it needs addressing. Finding a mattress with the right firmness level will be the first step. You can improve the results further by adding new pillows, duvets, and more.
When combined with light-blocking blinds and good air circulation, the results will be even better. Improved sleep patterns should follow.
Create A Better Outdoor Space
If you are fortunate enough to boast an outdoor living space, you should make the most of it. Adding a deck or patio area will add a new dimension to the property. Whether relaxing alone or with friends and family, there's nothing like the peace and privacy of your garden. Even if the space is quite small.
You can improve it further by adding a BBQ pit, a garden cinema, or any other entertaining features. Just make sure they are tailored to your tastes.
Embrace Personal Touches 
It's great to take inspiration from TV, magazines, and other sources. However, finding the latest interior trends is only half of the battle. You must also consider the need for character-defining features. Something as simple as using photos and sentimental decor can go a long way to making the house a home.
The emotional comfort that this can bring is truly incredible. Ignoring the benefits is simply not an option.
Opt For Low Maintenance
Finally, when designing your home, you must take ongoing maintenance into account. Nobody wants to spend half of their life cleaning the home. While various tools and appliances can make life easier, you should also try to cut down on maintenance needs. It can range from smarter house plant choices to durable furniture.
When you spend less time completing chores and more time enjoying the home, your will make your home more comfortable!
Join Us!
Sign up today to receive a FREE printable guide to decluttering ANY space and monthly emails packed with inspiration to help you on your tidying journey