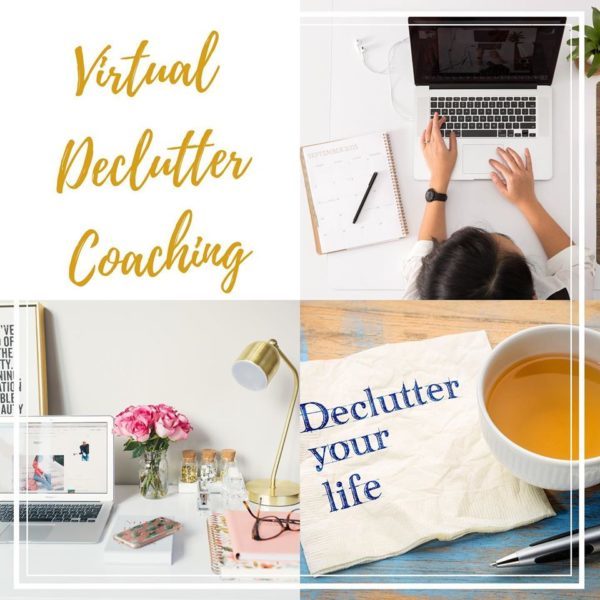 VIRTUAL DECLUTTERING SESSIONS AND LIFE COACHING CALLS
Virtual Decluttering & Organising
Telephone | Video-call  | Any Location
Virtual Decluttering Sessions are for you if
---
You feel overwhelmed by clutter and/or disorganisation but you need virtual decluttering & organising support
---
You need a non-judgemental and supportive ear as well as a motivational, professional organising expert,
---
You are ready to commit yourself to making some seriously positive changes to your environment,
---
You are not able to commit to one on one sessions at home due to your circumstances, location or time commitments,
---
Or you simply prefer to do the work on your own but need the expert planning, guidance, motivation and feedback
---
How does it work?
Virtual Decluttering & Organising can take place in the form of one-off sessions lasting 40 minutes or a series of sessions. The great thing is that these calls can take place on evenings and weekends as well as during the day, offering you complete flexibility. The content of them is agreed after a free comprehensive initial assessment and is completely bespoke to you. Read our story about why we're so passionate about supporting you.
Examples of popular content regularly requested by clients are as follows
---
How best to approach decluttering and a practical, step by step, how to guide on what to do
---
How to tackle specific projects such as your kitchen, wardrobe, garage etc
---
How to deal with paperwork mayhem and implement a simple but brilliant filing system
---
What daily routines to add to your life to ensure the smooth running of your household
---
How to create a morning routine that runs like clockwork
---
Guidance on the most effective storage solutions
---
How to deal with sentimental items – how to store/display your treasured possessions and when/how to let go
---
Guidance on how to get the utmost out of selling, what and where to recycle and where to donate
---
How to deal with "clutter hot spots" within your home
---
How to fold and store clothes to maximise space.
---
You can also purchase a 12 session package course of Virtual Coaching. The exact content of the course and spacing of the sessions will be pre-agreed with you depending on individual circumstances. This is a chance to gain expert advice and guidance to declutter and organise your whole life! The best part is that if you book a 12 session course, you only pay for 10 sessions.
Prices
£35 per 40 minute session  |  12 session course £350
Single session includes follow up emails to summarise the discussion and outline the action points. As well as background research on your behalf
12 session course includes a comprehensive written follow up
This course or a one off session could make for a truly unique gift!