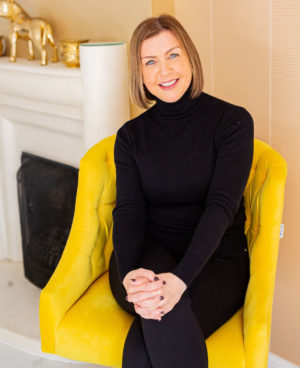 I'm the owner of A Tidy Mind - Cambridgeshire & am based near Huntingdon, St Neots, Ely, St Ives & Cambourne. I work with clients across the Cambridgeshire & Huntingdonshire areas. I can travel to the Essex border too such as Linton & Saffron Walden as well as areas like Bury St Edmonds in West Suffolk. I'm a trained professional declutterer & house organiser & I work with empathy & integrity with my clients. I offer a home staging service as well as decluttering & organising. My biggest strength is being able to mix the practical side of the work with supporting & coaching you. My goal is that you create & maintain an environment that allows you to be the best version of yourself.
A Service you can Trust: I am insured, DBS checked & verified through a professional body (APDO).
How to get in touch:
Feel free to get in touch by email, phone or whatsapp:
Email: [email protected]
Call/text: 07824339054
Or click the contact button below (I usually respond within less than 24 hours, if you do not see a reply, please check your spam folder)
Contact Me
Professional Organiser & Decluttering Service in Cambridgeshire
How Can We Help You?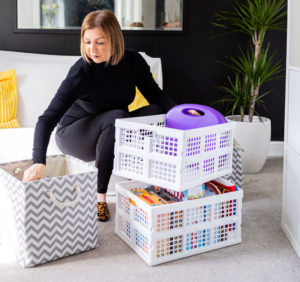 Our home or work spaces can be a source of joy in our lives. But I know that sometimes they can also be a source of overwhelm and stress. Your physical environment can affect how you feel, your productivity, relationships and even your health. I understand how frustrating a disorganised or cluttered home can be. But everyone is different and I see my role as helping you find what realistically works for you.
My clients use my decluttering and organising service for a variety of reasons. These include feeling 'stuck' and not knowing where to start or getting distracted which can lead to procrastination. Or the problem can be a lack of confidence, physical health issues, not knowing how to donate unwanted items, challenges caused by by neurodivergence, depression, anxiety or other mental health challenges.
We all need help from time to time in life and that's where I come in – to help you gain control of your space. I will help you make decluttering decisions, donate unwanted items, get things in order, help you learn new habits to maintain things and become a more organised person.  I focus on empowering my clients to live a calmer, more content life within their environment. 
If your home is very full, I can help you with sensitivity and I hold specific training to work with those on the hoarding spectrum (I don't use the word 'hoarder' as I think it's disrespectful). If you don't want to let go of a lot of belongings but are in need of organisation, space optimisation and storage solutions, I can help you too. Or perhaps you would like me to stage your home to make it's most attractive to potential buyers. I can even organise your home with your personal style in mind.
I can take over the physical side of decluttering for my clients if needed and work hard to donate unwanted items to charities. Most importantly, I teach you the tricks of the professional organising trade so that you become more confident to declutter your space and organise your house or home in future.
Perhaps you're a little unsure because this is the first time you've considered using a decluttering service,  or professional organiser. That's why I always offer free consultations to help you decide whether it's the right service for you.  If you're near Cambridge, Huntingdon, St Neots or any of the surrounding areas across Cambridgeshire (I also cover parts of West Suffolk, Essex) do reach out and get in touch to arrange an informal chat. Or you can ring or text me on 07824339054
---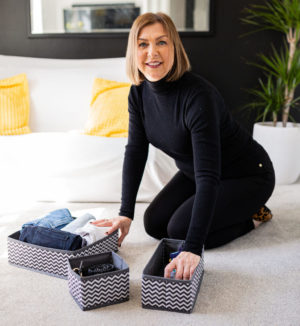 HOW IT WORKS
1 > Get in touch 
Contact me by phone, text or email for a free chat to see if it's the service you need and how I can help. We can also book a free consultation in person or by video call.
2 > The Consultation
A Tidy Mind Cambridgeshire offers free consultations in person (depending on location) or via Zoom or WhatsApp video call. It's an opportunity for you to show me your home or workspace. I have the utmost respect for you, your confidentiality and understand that it can be hard to take that step, but I am here solely to help and support you. I approach any situation positively. 
3 > Book a session
Following the consultation, we can discuss a plan to suit your decluttering service and organising needs. For most clients, this involves choosing a package (see Packages & Pricing below) and booking some dates in the diary.
Face to Face Services
Decluttering, Simplifying & Organising
I can help you declutter and organise any area of your home, from a cellar to a loft (and every room in between plus even outside spaces). I believe we are all on a journey of learning and change. Just because you may be struggling to achieve a tidy space right now, that doesn't mean things can't completely transform for you. I'm here to empower you so usually work with my clients in the room so they are part of the process. Decisions on what to declutter are always yours but I coach you to make the right decisions at the right time. I can take unwanted items for donation at the end of our sessions.
I'll help you figure out the best way to optimise your space, organise your belongings, use labelling effectively, adopt daily habits to keep on top of things and stop things spiralling in future.
Clients constantly tell me that hiring a professional organiser is one of the best investments they have ever made in their home and in themselves.
Some of the areas I can help with:
> Wardrobes (clothes, shoes, accessories, jewellery, make up & dressing table)
> Kitchen, Pantries & Utility Rooms
> Cupboards, Cabinets, Shelving, Bookcases
> Garages, Basements, Lofts & Storage Units
> Greenhouses, Sheds, Conservatories, Outside Spaces & Shepherd's Huts
> Children's Rooms & Toys / Teen's Rooms / Nurseries / Schools / Playgroups
> Home Office, Paperwork, Filing Cabinets & Systems
> Rearranging Furniture, Home Styling, Home Staging
> Packing for a House Move / Unpacking / Organising a New Home
> Bedrooms, Guest Rooms, Bathrooms, Living Areas, Snugs
---

Home Styling & Home Staging
Previously I ran an Interior Design business so due to my experience and skills, I enjoy combining my decluttering and organising service with Home Styling and Home Staging. This may involve helping you declutter your home ahead of a house move and staging it so that it is it's most attractive for potential buyers. Or I can help you style your home choosing furnishings, storage, colour schemes and decoration. I'm on a mission to inject style into organising when I can!
How it works: We start with an in-home assessment. The assessment and research of products will be charged at a set fee of £100. The project fee will be based on one of our packages or charged on an hourly basis. All of this will be discussed in advance.
---

Help moving house
You might need to declutter during the moving process or need help packing, unpacking or organising your new home. Downsizers often use my service as well as those moving into sheltered accommodation or emigrating. I can help with the administration side of moving too.  I can help you unpack into your new home  in an organised way, starting you off on the right foot. 
If you're moving within or out of Cambridge, East Anglia, Cambridgeshire, Huntingdonshire, Suffolk or Essex, I can work with you at various stages of your house move.
---

Help with hoarding
I have had specific training to work with people living in very full homes and/or with hoarding issues. I work patiently and with understanding, I will not rush you and would never pressurise you.
---

Working with clients going through a big life change
I have had to change and adapt throughout my life like most of us do. I've navigated house moves, been through a divorce and experienced bereavement to name a few. Our environments can have a stabilising or destabilising effect on us during these times. Let me help you control a little piece of your world (your home) even when other things seem all over the place.
---

Face to Face Pricing
The below pricing is indicative of one organiser. If your project needs to be completed in a very short period frame, you may need two home organisers, in which case, please get in touch with us for an estimate.
Packages:
£210 – 6 hour BRONZE package   |   £384 – 12 hour SILVER package   |   £720 – 24 hour GOLD package
More about what exactly is included in the packages
---
Other costs to consider:
>  I will need to charge 45p per mile if you are more than 10 miles away from me, unless I can visit you when I am already in the area with another client
> Occasionally, we may need more than one house organiser, for example, if you are on a tight timescale or need us to pack up or unpack a house (pricing variable).
> Storage, packing or organising solutions. In general, I will use what you already have but I can also help you source and purchase storage.
---

Personal Qualities
I am suited to decluttering because of my working and family life which has made me into the organised person that I am today. I have lots of life experience and have suffered hard times like everyone, but I take a positive out of this – I am extremely empathetic.
I know how emotional downsizing and moving on can be – after all, we are not always doing these things because of 'positive life events'
I feel that all roads in my life lead to becoming a professional organiser. Every day I get to help people to declutter and organise their lives as well as connect with them on a human level.
---

Background
I have always been good at decluttering as I moved many times in my 20's, each time learning more about organising and finding it was something that I was naturally good at.
I emigrated from UK to Australia in 2009 with 3 children, living in temporary accommodation in between and shipping our life overseas so it meant downsized and being organised on a major scale.
I am also good at being organised and 'juggling' – having had many jobs whilst bringing up children and running a business with my ex husband.
---

Experience
Over my working life I have gone into a variety of industries, and spent many years in the weight loss industry – I worked for Weight Watchers in the UK when my children were small and when I lived in Australia I worked for Jenny Craig.
These roles were invaluable experiences in my life and I learnt the importance of being a good listener and an empathetic person. People are vulnerable when they first enter that room (and I know this only too well as I myself have had a varied journey with my weight in my life) and needed someone who could listen and understand.
I was also a volunteer for the NSPCC school services. This was a role that took me into primary schools to help children to learn how to stay safe and how to have a voice if they were being mistreated. At times it was upsetting, but it taught me the value of listening and
dealing with sensitive issues in a compassionate and mindful way.
For nearly 18 years I juggled various roles whilst bringing up my 3 children and helping to run a landscaping business with my husband, where I was 'hands on' (I maintained gardens and even mixed the cement as a labourer). I also did all the book work for 15 years for our business.
From there I then branched into Interior Design and after re training, started my own business – helping people with Home Styling to help make their house a home, and Home Staging. I did anything from small renovations to designing colour schemes for decorating and soft furnishings. Moving into professional organising felt like a natural progression from there.
---
I am a proud, verified APDO (Association of Professional Declutterers & Organisers)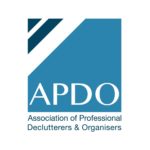 ---
I love nothing more than empowering, supporting and helping my clients to make their house into a home through tidying and organising!