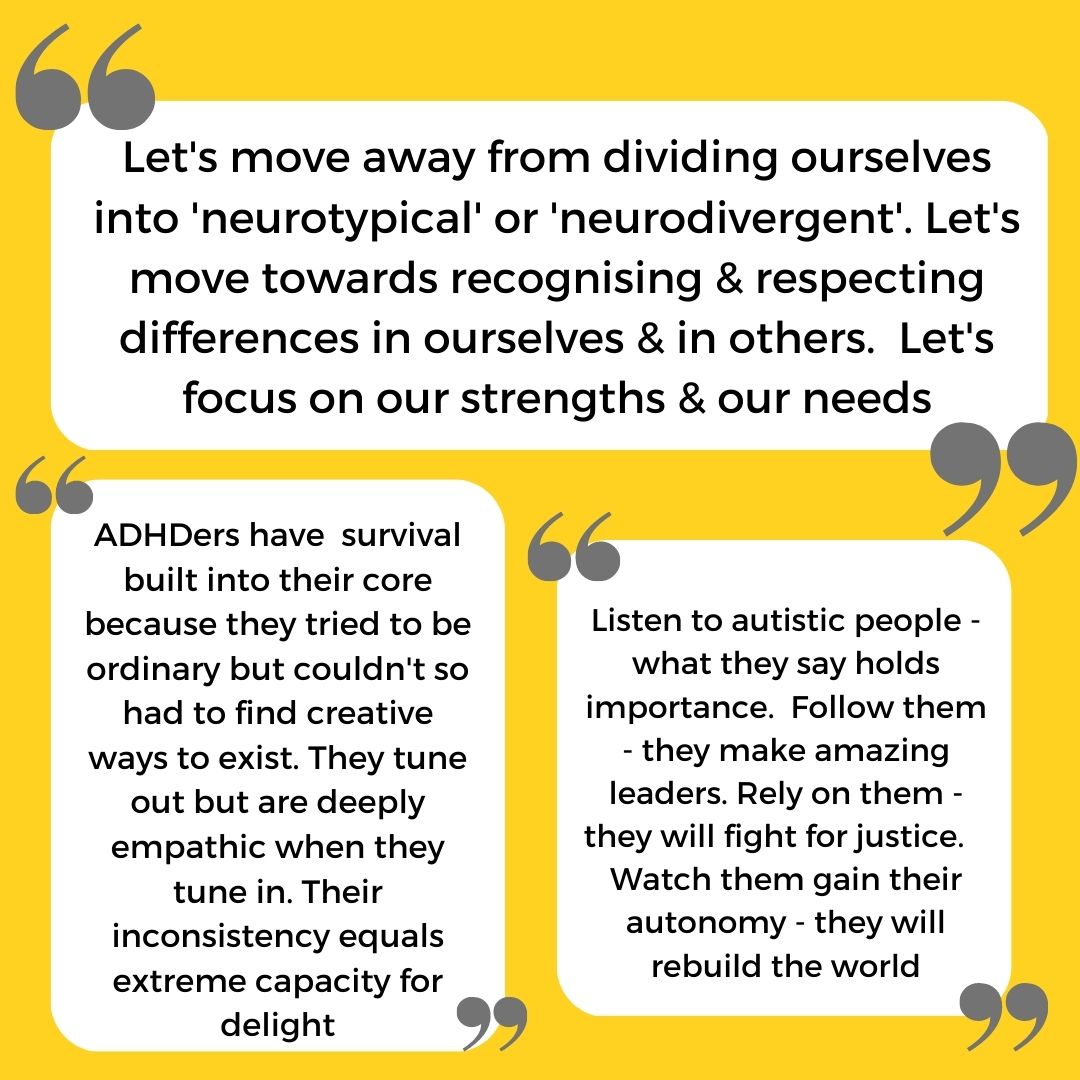 I am a Neurodivergent Therapeutic Coach /ADHD / AuDHD Coach
I work with clients who self identify, or are diagnosed as, neuro-variant. Currently, I work with clients privately or via Access To Work.
---
ADHD Coaching can support you & equip you with tools to thrive with ADHD
For combined ADHD & Autism ( AutiHD / AuDHD ), coaching can help you balance sometimes clashing needs
*** My diary is currently full, but I have space for new clients from March 2024. Scroll further down the page to book an initial meeting ***
In the meantime, there is free support out there in the amazing ND community. Check out my RESOURCES & SUPPORT page.
---
ADHD Support
ADHD or ADD (both, in my opinion, unhelpful terms, so I won't even expand the acronyms!)) mean something different to each person affected – we are all unique. You may experience executive functioning challenges related to processing, planning, prioritisation, routine building and working memory. In addition, you may have as challenges with emotional regulation and confusion about identity.
It can affect us in our professional and personal lives, and as a result, if dismissed, misunderstood or unsupported, can impact self-esteem and cause difficulties in daily life and relationships. However, a skilled ADHD coach can help empower you to counterbalance the challenges and devise a toolkit of resources you can reach for when you need them.
AutiHD / AuDHD Support
For those who have combined ADHD and Autism, life can feel contradictory at times. For example, your brain may feel chaotic and creating order is soothing and regulating. Additionally, you might get distracted and struggle to stick to systems consistently. For instance, not only might you be impulsive and often over-commit, but you also might be prone to overwhelm and burnout, so you must protect against that. 'AuDHD-ers' out there – I want to let you know – you are not alone.
---
What is Neurodivergent coaching
Coaching specific to ADHD, Autism and AuDHD is not a one size fits all process. In contrast, it's about being jointly curious, working together, building trust, sharing different ideas, psychoeducation and skills support. Equally important is me empowering you to understand and accept yourself, adopt new habits, take action, and make meaningful changes.
Clients are often navigating identify issues and figuring out what you need.  At the same time, I learn from you and your experiences – it's a co-creative space where we are equals. Overall, an important part of work for you may be the ability to develop the ability to 'bounce back' when things go wrong at the same time as becoming more aware of how things impact you. Perhaps most importantly is the goal of viewing yourself in a compassionate light when you make a mistake, reach your capacity or feel an emotion you weren't permitted to feel in the past.
---
Other Types of Neurodivergence
I mainly work with clients with ADHD or combined ADHD and Autism but am aware of the spectrum of neurodiverse conditions. I have also worked with clients with Dyspraxia, Dyscalculia, Dyslexia, Tourette's and a brain injury.
---
Mental Health, ADHD, Autism & Neurodivergence
Neurodivergence often co-exists with trauma and I believe that when working with neurodivergent clients, I am often working with trauma. I am not afraid of that. And I draw on the support of supervisors to help me work safely with clients. I know that you may have experienced relational trauma in the form of emotional neglect and lack of emotional attunement.
When we are not emotionally attuned to or 'denied' our feelings, we develop our own internal model of the world around us. This can result in 'masking', people pleasing, perfectionism and being vulnerable to abuse. It can also mean mental health challenges such as Dissociation, panic attacks, OCD, addiction, eating disorders, anger, body dysmorphic disorders, post traumatic stress disorder and depression. I regularly work with clients who are experiencing these challenges.
As well as offering coaching as ADHD Support, I am also a Psychotherapist in Transactional Analysis (UKCP and UKATA registered), specialising in working with ADHD and Autistic clients.  Therapy can help clients prepare or cope with an ADHD or Autism diagnosis. Psychotherapy is separate service to coaching, although more often, there is some overlap. However, psychotherapy is more focused on:
Guiding you through processing their past (trauma, anxiety etc)
Helping you understand the way you experiences shaped your view of yourself and the world
Explore regulatory coping mechanisms and tools to help you manage communication and mental health challenges, as well as anxiety and stress
A Tidy Mind has a 'sibling' organisation also run by Kate – A Therapy Mind. As with neurodivergent coaching, there is also currently a waiting list for this service but I encourage you to visit the psychotherapy website to find out more and book in for your first session.
---
Price For ADHD Coaching / AutiHD Coaching Services:
£65 per session (first session £33)
(Access To Work Price: £75 per session)
 The sessions are 'pay as you go'. The sessions' exact content and spacing will be agreed upon with you depending on individual circumstances.
Want to try a coaching session to see if it's right for you?
---
About Me
I'm Kate Ibbotson. I first trained as a coach in 2003 and founded decluttering & organising company A Tidy Mind in 2015. We found many of our amazing clients struggling with clutter in their physical and mental space are neurodivergent. My A Tidy Mind professional organising team work with clients in their homes and workspaces UK-wide, whilst I now focus on coaching and psychotherapy. I have worked with hundreds of clients with ADHD (diagnosed or not – self diagnosis is enough).
Over time I have found that 'traditional' coaching can be, at best, ill fitting and, at worst, shaming for neurodivergent clients, who need a specific approach and connection. As an ADHD Coach, I use different coaching techniques for different clients and include therapeutic and psycho-analytic elements. ADHD can drive you forward rather than hold you back. However, it can be like a wild horse – captivating, exciting and powerful but to function within the social realm we've created, ADHD management requires compassion, regulation, harnessing, understanding, patience and anchoring.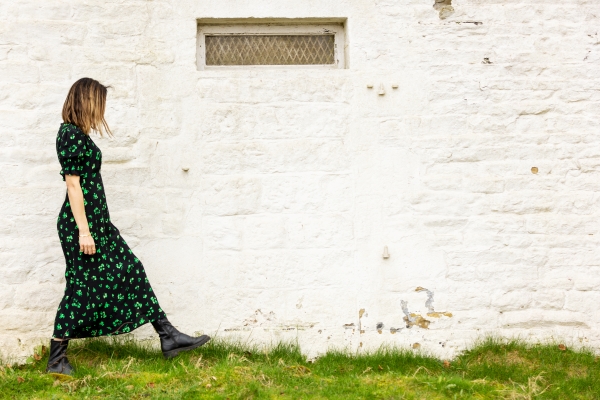 Training & Qualifications
I'm a trained Coach and also a Psychotherapist in advanced clinical training  (visit A Therapy Mind for Neurodivergence friendly and ADHD therapy) as well as a Professional Organiser.
I have an ADHD diagnosis myself, so I really do understand the challenges and have my own invaluable tools. I don't wish to create a 'them/us' divide, and my hope is that in future, we will move past the labels and acronyms. But my neurodivergence means that I get what it means to have a brain that differs from what is presented as a societal norm.  This feeds into my practice as an AutiHD / ADHD Coach, as I believe in the combined power of empathy and validation. You can learn practical and psychological strategies to facilitate self acceptance and positive change.
Based on my training and experience, I've found that neurodivergent adults can discount their strengths and need bespoke systems and structures in both work and home life. For example, ADHD can mean challenges in time management, organising information, diary planning and self esteem.
So, ADHD management can include choosing suitable systems, building automation and practising the right habits to increase organisation and productivity. Self regulation can be more challenging, so it's important to balance this with prioritising self compassion and developing an understanding of yourself and what you need.
AutiHD Coaching can help you take a step back and adapt tools and systems to ride waves of inconsistency without crashing. It can help you gain awareness of different parts of you in different situations and explore your identity.
Personalized ADHD Help, AuDHD Support & Therapy
Every neurodivergent person I have worked with has been creative, emotionally intelligent and extremely capable. My job is to help you be the best version of yourself while protecting your emotional and physical health.
Some of my clients have other forms of neurodivergence distinct from ADHD or Autism, which I welcome. I work with diverse adults from all backgrounds, genders, cultures and ethnicities. During our coaching sessions, we develop an individualised and creative paradigm of the techniques, support and systems you can use to survive and thrive.
ADHD Life Coaching can help you if you're Neurodivergent and:
---
you feel overwhelmed & unsure where to turn next for help managing your life, time & information 
---
previous attempts to manage the demands in your life & your time haven't worked
---
generally, it's a struggle to maintain focus once you start a task
---
sometimes you become distracted or go down a 'rabbit hole'
---
you find it difficult to prioritise where to focus your attention
---
the world feels like a complex place & you find things more challenging to manage than others
---
you find it hard to know where to start with tasks & procrastinate
---
you don't always show yourself the compassion you need
---
How does ADHD Coaching work?
ADHD coaching is delivered virtually by video call (Zoom) in 55 minute sessions. These work well if they take place on a weekly or fortnightly basis for at least 6 weeks. Many clients work with me long term.
Price For ADHD Coaching / AuDHD Coaching
£65 per session (first session £33)
(Access To Work Price: £75 per session)
---
What to do next?

I occasionally have a weekly or fortnightly slot that comes up unexpectedly. You can email me to be added to my cancellation waiting list.
If you are looking for an ADHD Coach, ADHD Life Coach, ADHD therapy, ADHD help or ADHD support, I can work with you virtually no matter where your location.
---
Examples of how ADHD Coaching can help:
---
 find out what's draining your time 
---
introduce more automation into your life to free up time & energy
---
choose the right systems for you (diary, to-do list, cloud system etc.)
---
gain clarity on what you need to do to maintain your habits & systems
---
build your resilience & self compassion
---
improve your boundaries, communication & relationships
---
manage & plan for ADHD management challenges such as memory issues & time blinded-ness
---
use your natural creativity to increase your organisation & time management
Examples of how AutiHD Coaching can help:
---
 clarify how  your ASD & ADHD traits combine & their strengths & challenges
---
learn how to create structures and routines that leave room for spontaneity
---
increase protective factors to avoid both boredom and burnout
---
reduce people pleasing and embrace previously masked parts of yourself
---
increase your self compassion 
---
improve your relationships and communication
---
explore different, contradictory  parts of your identity
---
learn about different forms of emotional validation & ways to show attunement and vulnerability
---
Documentation for ADHD Coaching
---
Further reading & resources for ADHD Help and AutiHD Support
Visit this page for full list of FREE RESOURCES & Support
---
ADHD Coach & AutiHD Psychotherapy
As well as an ADHD Coach, I am a Psychotherapist in advanced training, in Transactional Analysis (UKATA & UKCP registered), specialising in working with neurodivergent clients. Therapy can help clients prepare or cope with an ADHD diagnosis. Although, therapy is a separate service to coaching, at the same time, there is some overlap. However, in general psychotherapy is more focused on:
Guiding the client through processing their past (trauma, anxiety etc)
Helping them understand the way their experiences shaped their view of themselves and the world
Explore coping mechanisms to help them manage mental health challenges, whilst managing anxiety and stress in the moment
Visit www.atherapymind.co.uk
I believe that Transactional Analysis is such a valuable modality of therapy for neurodivergent individuals
---
Productivity Support
Description of the Productivity Coaching Service:
Time Management Coaching offers a safe, compassionate and confidential space to identify and understand time drains and challenging patterns of behaviour. Practical interventions are identified. The client is supported to put these in place and form habits to keep using them
At the initial meeting, I assess the situation, strengths, roadblocks and priorities. We explore helpful and unhelpful habits, patterns of behaviour and other obstacles. We identify goals.
I help the client identify or simplify time management systems, increase their self-awareness, build on their strengths and choose tools to counterbalance their challenges. Over a course of sessions, we identify the practical and personal resources they need, consequently I can help them consistently build these into their lives.
After each session, the client will come away with practical, achievable actions that they can implement straight away.
Examples of tools are:
Setting long and short term goals
Breaking down goals
Task/to-do planners
Kanban boards
Utilising accountability/body doubling
Boundary setting techniques
Building a morning routine
Online calendars
Noticeboards
Colour coding
Labelling
Automated reminders
Voice activated software
Time blocking
Increasing self- compassion and self soothing
Command centre
Filing systems
I have written some blog posts below on productivity ADHD support, productivity and time management:
The 3 best note-taking apps for adults with ADHD
Stay efficient and productive in your home office
Stop being busy, start being productive
---
Home & Office Decluttering & Organising
Are you overwhelmed and need help to simplify and sort your space? And coaching around your habits to keep things tidy? Our amazing, close knit, team of professional organisers offer decluttering and organising services across the UK. We work with you in your home, office, storage unit etc. We also offer specialist hoarding services and moving home services. Find your nearest organiser and get in touch for a free consultation.
---
Talks & Workshops – ADHD Coaching / Organising
These may take place in the form of social get togethers, team away days, staff well-being events, workshops for teams, speaking at events or at conferences.
Talks and virtual workshops can be regarding life simplification, time management, decluttering, space organising, digital organising,  decluttering, paperwork management, productivity, ADHD / Autism friendly time management.
Our virtual workshops can be delivered by an ADHD Coach or Professional Organiser and are usually delivered via Zoom but by the same token, can be held in person.