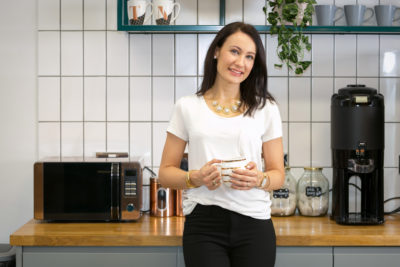 Kate Ibbotson
---
Founder of A Tidy Mind
Professional Declutterer, Organiser & Life Coach
---
My Story
Ultimately, I have always been motivated by helping people to improve their lives. From as far back as I remember, I wanted to talk my family and friends through their problems and give practical and emotional support.
This motivated me to start studying Psychology 20 years ago and work in the mental health sector. Then I worked as Life Coach with people who felt "stuck" enabling them to set and achieve goals and make huge, positive life changes .
I then took these skills into a career as a Probation Officer 15 years ago. As I worked with individuals for whom life had taken the wrong path, I realised that creating a comfortable, organised home environment is a vital stabilising factor for us.
Shelter is one of our basic human needs. Our home doesn't have to be perfect – but our environment is a key element to a calm, motivated mind. If we have too much "stuff" and live in disorder, we lose track of what is and isn't important. This can create overwhelm, which is a huge energy drainer.
There was a time when I was overwhelmed by the amount of 'stuff' in my life. My home was too full and my mind was too. Decluttering my life was what saved me – creating calm and bringing joy to the every day.
Following my experience, I decided to train as a Professional Organiser and to found A Tidy Mind in order to help those who are overwhelmed by clutter & disorganisation. It's not just about physical things – mental clutter can play a big part too. The aim is always to create more calm and contentment. I want clients to fall in love with their homes and look forward to their future.
With A Tidy Mind, I wanted to combine practicality with emotional support and helping people take action so I developed a multi faceted way of working with clients – combining expertise in time management, decluttering, storage, habits, routines and styling alongside a range of coaching and counselling techniques. This really is a holistic approach aimed at transforming your life.
I am now a big believer in // SIMPLICITY //
Once we start to live more simply, we lead healthier, more satisfied lives. Simple isn't always easy to implement though and that's where A Tidy Mind can help.
As far as qualifications go, I have degrees in both Psychology and Social Work and am a qualified Life Coach. I have completed two training courses with APDO (Association of Professional Declutterers & Organisers) and served on their Board for 2 years. I have completed the Certified Home Staging & Styling Professional Course and Hoarding Awareness For Professional Practitioners courses. The most important training for this kind of work probably comes from 'the university of life' however and involves being able to connect and empathise with clients, tuning into exactly what they need.
Everyone who is part of the team at A Tidy Mind is trained to the same high level and has the right personality for this work.
Some potential clients worry about their declutter coach being shocked by their homes or feel ashamed.
Please don't.
Disorder is more common that you think, it's just not talked about. There's no judgment about your situation and physical work, limited space or dust is no problem! Professional decluttering and organising is a calling and a passion and what may seem overwhelming to you is completely manageable with the right approach.
I understand what a huge deal it is for you to let someone into your space. However, you will be put you at your ease and will soon feel that an uncluttered, organised, inspiring and calm home is within your reach.
Hope to meet you soon.
---
A Tidy Mind was first established in the Yorkshire area and then expanded into the West Midlands, London and Glasgow. If you are in these areas, book a free consultation now by filling out the contact form, ringing 07961 770452.
Check out our latest articles here.