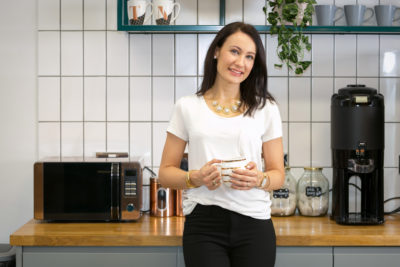 As well as being the founder of A Tidy Mind, I run the West & North Yorkshire area. I'm based in Menston, Leeds but am happy to travel throughout Yorkshire to work with you. I can also work virtually covering any location. I have many years experience and I specialise in working with those with anxiety or depression, families, those with hoarding issues and people who are generally overwhelmed. To help cover client demand in the area, I'm delighted to have my team member, Rachel, on board - read more about her here
To get in touch you can email me, [email protected], call 07961 770 452, or click the button below to fill out my contact form
Contact Me
North & West Yorkshire Decluttering Service
How Can We Help You?
*COVID-19 update* I adhere to government guidelines to work with you in your home. Click here to read the list of precautions.
I also offer virtual organising, decluttering & productivity coaching sessions.
Face to Face Services
£210 – 6 hour BRONZE package   |   £384 – 12 hour SILVER package   |   £720  – 24 hour GOLD package
£5 per hour premium for evening / weekends may apply
More about what exactly is included in the packages
---
Decluttering
Whether you need help to declutter your house or a specific space, such as your office or wardrobe, I will sensitively work with you to declutter your personal space and offer decluttering tips to maintain things.
---
Home Organising
Simple habits and routines are at the heart of what I teach. Many people resolve to 'be more organised' but that goal is too big on its own. By breaking down actions into small, achievable 'micro habits', it's possible to learn to be organised even if it doesn't come naturally to you.
---
Life Coaching/Time Management Coaching
I qualified as a coach in 2003 so have many years experience in helping people deal with mental clutter and emotional blocks. I will work with you on your mindset whilst supporting you emotionally. I can also deliver productivity sessions in person – read more about productivity coaching.
---
Help Moving House
Moving house is an opportunity for a fresh start. You may need to declutter before or during the moving process or would like tips on how to organise your new home to make it work for you and your new space.
I can work with you during the entire moving house project, from packing to unpacking and organisation.
---
Help With Hoarding
I have specific training and years of experience working with those with hoarding issues. I approach every project with empathy and understanding. Whether you have a diagnosed hoarding disorder and need to reclaim some space or simply would like help to let go of items that no longer bring you joy, I can help.
Do get in touch via the contact form below, or email [email protected] or call 07961 770452. Well done for taking the first step.
---
Virtual Services – from £30 per hour
If you're feeling overwhelmed by your clutter or struggling with organisation I can help via telephone, FaceTime, WhatsApp video or Zoom at a time convenient to you. 
Productivity Coaching
We often feel we lack time, but it's how we manage it that counts. A full audit & review of your time management systems is incredibly valuable. There are ways to automate your time & create a plan for the week which makes you productive. Whether you feel overwhelmed with busyness or need help creating habits that work or help with planning your work or family schedule, get in touch.
More About Time Management & Productivity Coaching
---
Virtual Decluttering
I don't need to be with you in person to help you tackle those projects you have been putting off. Piles of paperwork, a room that has become a dumping ground. A cluttered kitchen etc. I'll give you a clear, simple process for decluttering these areas and will talk you through it, including where to store decluttered items until disposal can be arranged).
---
Virtual Home Organisation
Organising your home is about creating simple, easy to maintain habits and systems. Everything in your home should have it's place and with the correct routines, I promise, it's possible. I can work with you to create customised routines which work for you & your family and help to; increase productivity, beautifully arrange your home, simplify your day and make you feel calm and in control.
---
I have been a member of APDO (Association of Professional Declutterers & Organisers) for 5 years.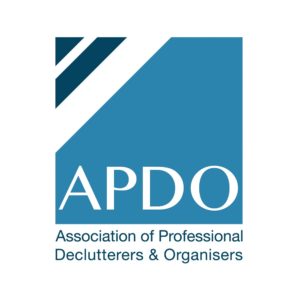 I founded A Tidy Mind in 2014 & helping clients is my true passion.
I will work with you in a completely empathetic and supportive way. I show the utmost respect for your home & your possessions & I listen to exactly what you want so we can achieve it together.
If you're feeling very overwhelmed, then look no further because I have years worth of experience working with people like you. I help with all aspects of decluttering & organising, from paperwork, to wardrobes, kitchens, lofts, garages & of course the decluttering of bad habits & toxic thoughts. I love being part of your 'fresh start' – so many people go on this journey when they're ready for a new beginning.
I also have extensive experience in preparing you for a house move, staging the property, packing & unpacking – moving home does NOT have to be stressful.
I'm a qualified Life Coach & Time Management Coach so mentoring & teaching new habits are also important aspects of my service. I can help you with choosing the right storage for your home and have additional training in home staging and styling. Supporting charities is extremely important to me so I go out of my way to donate to a wide variety of local & national projects.
I'm an understanding and supportive person, having had more than 10 years experience in the mental health sector prior to 2014. I like to treat all clients as individuals and with respect so I count listening as one of my top strengths. I'm also extremely hard working as well as being passionate about the donation/reuse/recycle side of my job. Last but not least, I have a good sense of humour – I think it's an essential life skill!
---
I knew I needed some kind of home organisation service but I didn't know such a service existed! I can't really emphasise enough how I have been helped. I should say empowered because that's how it felt. I felt like I would never get out of the mess I was in but Kate made me believe things could and would change from the start. I worked with her one day a week for several months because of the level of clutter. I can honestly say that's it's the best money I've ever spent. Now my house is a home. My kitchen is functional, my bedroom is relaxing, my loft is ordered and not too full, my paperwork is organised, my garage fits in my car. Oh and I've lost two stones in weight because I finally found the motivation. This service changed my life.
JB – Thirsk
Kate has helped me to totally transform my office, and now I have a decluttered calm space where I can concentrate on my work. This home and office organising service from is totally worth it, and will change your life!
AT – York
I cannot speak highly enough of Kate. I decided I to engage her services during an incredibly difficult time in my life - as a long time collector of 'stuff', major events gave me the push to make some changes. Kate was sensitive and professional, providing me with the confidence, support and skills I needed to let go. Fast forward to a year and half later and my life has changed infinitely for the better and I certainly consider Kate and her approach as being a huge part of the process of getting my life together! A recent house move where I had less stuff to clear out and had systems to pack and organise reminded me of just how excellent she was so just had to share! Thanks so much Kate!
LD - Leeds
Kate came to me when I was trying to get my house ready to sell, and I was really struggling, as I'm a lifelong collector of 'stuff'! The worst part of the house was the loft. I'd been there 23 years and had been chucking things up there for the whole time! Kate helped me sort into piles for charity, keeping and proper rubbish. It was hideous as the moths had been having a field day with my rugs up there and we were knee deep in larva cases, yuk! Her second visit concentrated on one of my three sheds, which was full of old paint tins, garden tools, general detritus and a colony of super sized spiders. Both the loft and the shed were transformed and gave me masses of encouragement to carry on. I couldn't have done it without and she was extremely sensitive when helping me make decisions about what to keep. I have recommended her to a number of friends and would not hesitate to suggest A Tidy Mind to anyone who needs help to rationalise or reorganise their home.
Jane - Harrogate
I cannot thank Kate enough for the help she provided in sorting out our spare room. We moved into our house two years ago, heavily pregnant and with an energetic 2 year old. We basically dumped all our junk in this room and avoided entering it. I was embarrassed whenever anybody came to stay! Within a couple of hours, Kate helped me to work out what we needed to get rid of and how to organise our belongings so that we actually now know where things are! She also gave me some great ideas for storage.
LS - Bradford
Kate recently advised us on how to declutter our kitchen. It is quite small and since starting a family we didn't have a proper place for everything and it felt very disorganised. Kate immediately put us at ease (despite the mess!) We went through everything together systematically. The process was much quicker and more decisive than if we had tried to tackle it by ourselves. Kate put forward solutions that we hadn't thought of, undertook most of the decluttering process there and then, and gave us a list of simple ideas to implement afterwards. The end result is that our kitchen feels like a brand new space. Everything is now in a much better position so that we can easily see and access the things that we use regularly. The objects that are important to us (a handmade mug from my toddler, items we collected whilst travelling etc.) have been given places where they are safe and on display.
JB - Burley in Wharfedale
Hi Kate. Just to say thank you for your patience and support over the last year or so. Your skills at listening to, and empathy with clients without judgement and offering bespoke support makes you very approachable. Well done on creating an accessible service for many!
Client in Ilkley
Kate is informative, effective and provides useable and easy tips that can become 'habit'. Kate has lead workshops for me and also given me1:1 sessions. Our dining room transformed, just from Kate's eye for detail and suggestions on creating more space and light. Highly recommend :-)
RG - Bingley
For the first time in years, I left my bedroom window curtains open because I'm not ashamed to let the window cleaner see in. The sun is shining and there's a tree across the road resplendent in Autumn colours. Thank you
Client in Leeds
My home was out of control before but during lockdown, it ramped up a gear. I can't believe how useful it's been to simply have someone at the other end of a video call encouraging me, giving me ideas, a plan, accountability, checking in and supporting me. I'd be drowning by now if I hadn't used this service.
Patricia - review of virtual coaching service
Kate is AMAZING. She makes no judgement at all so don't feel embarrassed to have her in your home, no matter how messy it is. She really, really cares about helping and she gets right to it, hauling your clutter away, which was a huge plus for me. I bought a package for ongoing decluttering of my flat and business and have regular follow ups. She's made a big difference to my life.
Client in Wetherby
I had a loft full of items that had long since been forgotten about. Morbid as this sounds, I didn't want my loved ones to have to sort it out once I was gone. Most was "clutter" but some things were valuable and have incredible sentimental value. Kate has an incredibly sensitive and intuitive way of working with people. In addition, she is practical and works swiftly. I would simply have not done this on my own. My loft has been decluttered, the items that remain are stored correctly and I have rediscovered some beautiful items. Kate helped me sell some valuable items and the charity shops have done pretty well too! This service is fantastic value for money.
MB - Ilkley
It was one of the most beautiful and memorable experiences of my life and one of the best things I've spent money on. Worth every penny. I am so loving the peace in my home.
Ms S
Kate worked wonders helping me reorganise my wardrobe, including all my clothes, shoes and accessories, which has saved me time and made life so much easier for me as a busy mother. Kate applied a well thought out process to make the activity of sorting through my belongings fun and engaging. Kate was very supportive and professional through her sensitive and perceptive questions she really helped me decide between things that were precious to me and clutter. As a consequence of having a super organised wardrobe I feel so much lighter and clearer mentally. Six months later, I am maintaining Kate's practical advice and my wardrobe is a pleasure to open!
JC - Menston
Kate is worth her weight in gold! Worth every penny, transforms your home and most importantly your thought process so you can maintain an orderly, calm environment to work in/live in. Fantastic service!
Client in Ilkley
I just wanted to say thank you for yesterday and particularly the work on my bedroom. I had the best night's sleep I've had for years.
Miss L - Otley
Good morning Kate, Just a quick note to say "Thank you" to you and Leah for a job well done yesterday. I wish I had found you 10 years ago.
Client in York after joint session with Kate & Leah
Hello Kate, wanted to say thank you so much for all your help and fantastic advice and a very productive and positive day. Things you have said have helped me in so many ways. It's like a new level of understanding has been gained and I have a much clearer house and mind, how fantastic! Your work is great! Wanted to say thank you, it has helped me so much.
Workshop Feedback
Kate recently worked her magic at my office. I tend to work in disorganised chaos which I thought was largely due to a lack of storage. I needed a professional to come in with fresh eyes and expertise. Kate listened to the challenges I have working from a relatively small space. She identified how this could be improved. Then put an action plan together to have me organise my space and time more effectively. When she left the office was looking clutter free for the first time in years. It did mean throwing out a large proportion of the contents lurking in my desk drawer but even that felt liberating. I can thoroughly recommend the professional decluttering and organising service Kate provides.
Rod G - Leeds
Really enjoyed your talk and have already saved £360! I tided some drawers and decided not to buy a £300 wardrobe I was looking at. I found £60 in one of the drawers!
Group Workshop Feedback
Find Out More
I offer free virtual or face to face consultations, so why not book one by filling out the below form or ringing 07961 77 04 52? Hope to meet you soon.