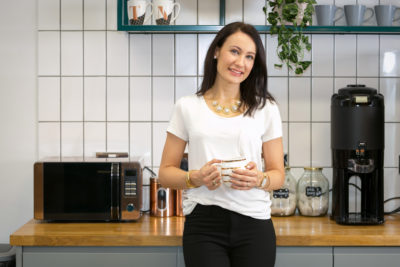 As well as being the founder of A Tidy Mind, I run the West & North Yorkshire area. I'm based in Menston, Leeds but am happy to travel throughout Yorkshire to work with you. I can also work virtually covering any location. I have many years experience and I specialise in working with those with anxiety or depression, families, those with hoarding issues and people who are generally overwhelmed. To help cover client demand in the area, I'm delighted to have my team member, Rachel, on board - read more about her here
To get in touch you can email me, [email protected], call 07961 770 452, or click the button below to fill out my contact form
Contact Me
North & West Yorkshire Decluttering Service
How Can We Help You?
*COVID-19 update* I adhere to government guidelines to work with you in your home. Click here to read the list of precautions.
I also offer virtual organising, decluttering & productivity coaching sessions.
Face to Face Services
£210 – 6 hour BRONZE package   |   £384 – 12 hour SILVER package   |   £720  – 24 hour GOLD package
£5 per hour premium for evening / weekends may apply
More about what exactly is included in the packages
---
Decluttering
Whether you need help to declutter your house or a specific space, such as your office or wardrobe, I will sensitively work with you to declutter your personal space and offer decluttering tips to maintain things.
---
Home Organising
Simple habits and routines are at the heart of what I teach. Many people resolve to 'be more organised' but that goal is too big on its own. By breaking down actions into small, achievable 'micro habits', it's possible to learn to be organised even if it doesn't come naturally to you.
---
Life Coaching/Time Management Coaching
I qualified as a coach in 2003 so have many years experience in helping people deal with mental clutter and emotional blocks. I will work with you on your mindset whilst supporting you emotionally. I can also deliver productivity sessions in person – read more about productivity coaching.
---
Help Moving House
Moving house is an opportunity for a fresh start. You may need to declutter before or during the moving process or would like tips on how to organise your new home to make it work for you and your new space.
I can work with you during the entire moving house project, from packing to unpacking and organisation.
---
Help With Hoarding
I have specific training and years of experience working with those with hoarding issues. I approach every project with empathy and understanding. Whether you have a diagnosed hoarding disorder and need to reclaim some space or simply would like help to let go of items that no longer bring you joy, I can help.
Do get in touch via the contact form below, or email [email protected] or call 07961 770452. Well done for taking the first step.
---
Virtual Services – from £30 per hour
If you're feeling overwhelmed by your clutter or struggling with organisation I can help via telephone, FaceTime, WhatsApp video or Zoom at a time convenient to you. 
Productivity Coaching
We often feel we lack time, but it's how we manage it that counts. A full audit & review of your time management systems is incredibly valuable. There are ways to automate your time & create a plan for the week which makes you productive. Whether you feel overwhelmed with busyness or need help creating habits that work or help with planning your work or family schedule, get in touch.
More About Time Management & Productivity Coaching
---
Virtual Decluttering
I don't need to be with you in person to help you tackle those projects you have been putting off. Piles of paperwork, a room that has become a dumping ground. A cluttered kitchen etc. I'll give you a clear, simple process for decluttering these areas and will talk you through it, including where to store decluttered items until disposal can be arranged).
---
Virtual Home Organisation
Organising your home is about creating simple, easy to maintain habits and systems. Everything in your home should have it's place and with the correct routines, I promise, it's possible. I can work with you to create customised routines which work for you & your family and help to; increase productivity, beautifully arrange your home, simplify your day and make you feel calm and in control.
---
I have been a member of APDO (Association of Professional Declutterers & Organisers) for 5 years.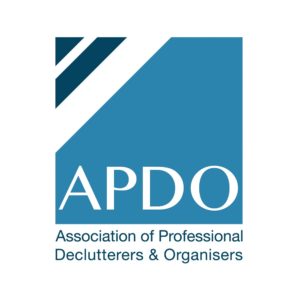 I founded A Tidy Mind in 2014 & helping clients is my true passion.
I will work with you in a completely empathetic and supportive way. I show the utmost respect for your home & your possessions & I listen to exactly what you want so we can achieve it together.
If you're feeling very overwhelmed, then look no further because I have years worth of experience working with people like you. I help with all aspects of decluttering & organising, from paperwork, to wardrobes, kitchens, lofts, garages & of course the decluttering of bad habits & toxic thoughts. I love being part of your 'fresh start' – so many people go on this journey when they're ready for a new beginning.
I also have extensive experience in preparing you for a house move, staging the property, packing & unpacking – moving home does NOT have to be stressful.
I'm a qualified Life Coach & Time Management Coach so mentoring & teaching new habits are also important aspects of my service. I can help you with choosing the right storage for your home and have additional training in home staging and styling. Supporting charities is extremely important to me so I go out of my way to donate to a wide variety of local & national projects.
I'm an understanding and supportive person, having had more than 10 years experience in the mental health sector prior to 2014. I like to treat all clients as individuals and with respect so I count listening as one of my top strengths. I'm also extremely hard working as well as being passionate about the donation/reuse/recycle side of my job. Last but not least, I have a good sense of humour – I think it's an essential life skill!
Find Out More
I offer free virtual or face to face consultations, so why not book one by filling out the below form or ringing 07961 77 04 52? Hope to meet you soon.