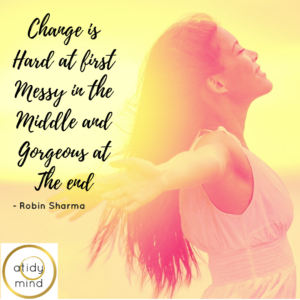 Work with an A Tidy Mind professional organiser because:
We are particularly experienced in working with people who feel overwhelmed,
We listen to you and empathise,
We use a range of coaching techniques. This is about teaching you how to maintain your new clutter-free, organised space,
We are extremely competitive on cost and there are no 'add on' charges,
We always offere a free, face to face consultation before you commit,
If you want to declutter and stage before you sell your home or move house, we have helped many clients do just that (with minimal stress),
Decluttering is important but it's not the whole picture. We can help you find storage solutions and develop habits and routines,
We support charities widely. We can provide you help and advice regarding donating.
We are experienced and trained to work with people on the Hoarding Disorder spectrum,
As well as decluttering and organising, we can help you sell your home, move house or give you a PA.
If you have paperwork to sort out, we're experts at this as well as putting together an effective filing system,
You will be treated as an individual. The work can take place slowly or quickly in line with you pace YOU need,
We'll empower you. It's about helping you change your mindset and teaching you new skills,
If you have suffered a bereavement and how have to clear the home, we can sensitively and practically help,
Have items in a storage unit? We can help with this.


Copyright © 2020 A TIDY MIND. All rights reserved.

Registered Address Leeds, West Yorkshire LS29

Private Limited Company Number 11575482