Home renovations and updates can feel like a never-ending cycle. It seems like as soon as you finish one room and get it just the way you like, it's time to move on to another space. It's a cycle that goes on and on, and before you know it that original room is in need of updates again! The bedroom is one of the most popular rooms for people to renovate as you spend a lot of time in the room and having a comfortable, inviting, and relaxing environment is usually preferred.With that said, we've got three ways you can refresh your bedroom for 2021 without having to do a total gut job or massive renovation. Just these little changes can make the room feel brand new and modern.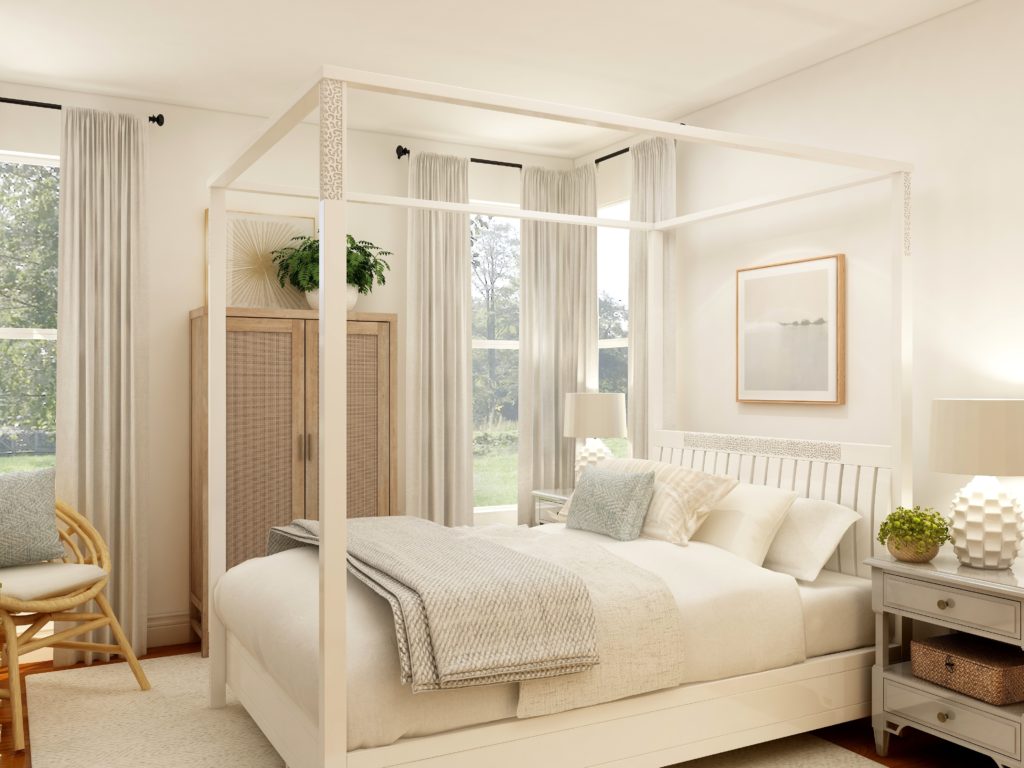 Paint the Room and Freshen It Up
One of the most impactful renovations you can make in a bedroom is to change the paint colour. This is relatively simple and cost effective and can easily be done in a weekend. Changing the colour will change the entire feel and atmosphere in the room, and will help you to pick new décor or furniture should you decide to take the renovation further.
There is no rule that you have to stick to when choosing a paint colour, but there are some colours that are trending for 2021. So far 2021 is offering up a real mix of colours. The Pantone colours of the year have just been announced and they are Ultimate Grey (a neutral grey) and Illuminating (a soft yellow). Other trends include soft warm and comforting colours, and then on the flip side, bright cheerful colours are also looking trendy.
Declutter the Storage Areas
One of the best ways to refresh your bedroom may involve decluttering. Bedside tables can be clutter magnets and when was the last time you went through them and considered whether you need all the items inside? Remember, it's not good for your sleep to be surrounded by stuff. Think about under-bed storage too as well as dressing tables, which can be areas where things accumulate. If you keep only things which add value to your life (and no more), you'll create a calmer, more peaceful environment.
Invest in a New Mattress
Sleep is something that people don't always give enough weight and credit to, but the fact is that it can have a huge effect on your physical and mental well-being. So instead of just focusing on design and décor tweaks for 2021, why not invest in your health and get yourself a brand new mattress? You don't want to settle for any mattress either. Instead, look for one that will offer the kind of support your body needs.
If it's luxury you're after, it doesn't get more luxurious than the Hypnos mattresses which are actually the preferred mattress and bed of the Queen and the UK Royal Family. If the Queen has deemed Hypnos beds worthy, you know you're in for an excellent night's sleep. If you're not in any rush, you can even hold out for a Hypnos mattress sale. The promotions, deals, and sales available on Hypnos beds at Big Brand Beds can make this more affordable.
Hang Some Wall Art and Give the Room Style
Of course, no room would be complete without the décor, so why not hang some wall art and give the room some style. Wall art can add a pop of colour, provide interest in the space, and help to tie a design together.
---
By using these tips we hope you can find ways to refresh your bedroom and you'll create a beautiful bedroom space that you'll truly enjoy.
Join Us!
Sign up today to receive a FREE printable guide to decluttering ANY space and monthly emails packed with inspiration to help you on your tidying journey