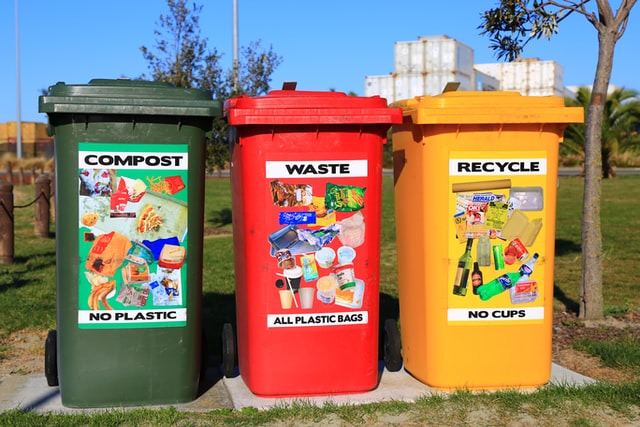 Hiring a cheap skip hire company is essential for larger-sized projects. It's not uncommon to be faced with the daunting task of clearing out a garage or garden in order to make way for landscaping or renovation. So hiring a skip is often seen as an attractive option that can help take the strain in doing just that. However, you should bear in mind that there are some important things to consider before hiring a skip. Below are 5 tips to keep in mind before hiring a skip.
What you can and cannot put into your skip
Before hiring a skip, you should check what you can and cannot put into this container. Hiring a skip is not just about throwing in your junk without worrying about the consequences! In fact, skips are often booked for domestic or construction projects which would require putting waste items in that must be disposed of properly. This means everything going into the skip must be approved trash items. Items that are not allowed in skips include hazardous, toxic or flammable materials, car tyres, liquids of any kind, building rubble and untreated wooden material.
The type of waste you're going to put into the skip needs to be thoroughly assessed before hiring a skip, as this varies from company to company. You might need a permit for skips that will contain certain types of waste. So, if in doubt always check with your local council first.
What size of skip will be best for your project?
The next thing to consider is the size of skip you need in order to carry out your project. There are different skip sizes available and hiring a larger one does not necessarily mean it would be cost-effective. One should do some research first and then decide on what size of skip will suit their needs best, as there are likely to be other factors involved. For example, if you are having a house extension or loft conversion it is often necessary to hire two skips in order to dispose of all the waste materials properly. This means hiring a larger skip might not be too cost-effective after all.
4 yards is a good size if you're doing a typical garden tidy or home small DIY projects
6 yards – suitable for larger projects or having to dispose of less bulky items
8 yards – if you are clearing an average 3 bedroom home
10 yards – great for large scale construction projects (e.g. house extension, loft conversions, etc.)
12-14 yards – suitable for major construction projects (e.g. house extensions, detached houses, etc.)
16 yards – more ideal for extremely large projects such as the redevelopment of commercial property and factory sites
20/30 yards – demolitions, builders waste and very large commercial projects.
When hiring a skip you will need to know if a permit is needed for your skip hire. If so, where do you obtain one from?
It is possible that a skip hire company might need a permit for the skip being placed on certain premises. This means you should find out if a permit is required before hiring a skip, as well as where to get one from and what size of permits are available.
A permit will only be issued by the local council if you can prove that your skip hire company is legitimate. This means you should never just book a skip and wait for it to arrive. This is because trying to get a permit can sometimes take time and this could result in the skip sitting uncollected on public land. To avoid such an inconvenience it is always best to book your skip hire in advance and get the proper documentation sorted out.
To obtain a permit for hiring a skip you need to contact the council in the relevant area, as each one will have different rules and regulations. For example, if you are putting a skip on the public highway it might be necessary to obtain permission from both the council and highways department. You can obtain a permit from your local council for around £60 but prices can vary.
It's also worth noting if your house doesn't have a drive it would be placed on public land. If this is the case, you should find out if a permit is required for your skip hire through your local council.
Where and when the skip can be placed, and how long it can stay there for.
It is important to find out where the skip can be placed and for how long. Some companies might need planning permission so you should always check this before hiring a skip, as it could affect your hire in the future.
Hiring skips on public land can sometimes prove problematic due to different restrictions imposed by local councils or landowners. If you are unsure about where you can place your skip, it is always best to check with the skip hire company.
If you choose a location that is not easily accessible, such as the other side of the road or the bottom of a steep hill, things can become difficult later on if your skip needs to be emptied. This is often the case at public events where you need to move skips around slightly so they can be emptied without any disruption
The length of time for which you need a skip is also relevant, as some companies might not be able to give you an exact date when the skip will arrive at certain times of the year due to heavier workloads. It is also worth noting that if you need a skip for longer than two weeks it might be better to hire one from another company.
Also, bear in mind some companies can take several days to deliver a skip, especially around bank holidays and weekends.
The costs: are you getting your money's worth?
The costs for hiring a skip vary with prices usually starting at around £160. It is important to calculate the exact amount of waste you will be producing when thinking about hiring a skip, as this can help to save money later on.
It is also worth remembering that most companies will not take away commercial rubbish so it would need to be removed by a business waste disposal company. Some skip hire companies might charge extra for taking away certain materials, so it's important to check this before getting your permit.
If you want to save money you should try to hire the smallest skip possible. It will be cheaper than hiring one that is too big. It can also help if you are able to do some of the work yourself.
Finally, there are additional costs to take into consideration such as filling up your skip and taking away unwanted items or waste if you do not need them anymore. This can mean you end up paying more than expected for something that did not turn out quite as you planned.
Final Thoughts
Choosing a reliable skip company such as C&R Lewis Skip Hire is vital. They have years of experience in the field and know exactly what they are doing.
If you are hiring a skip, it can be difficult to know what information is important. If you are not sure about anything make sure to contact your local skip hire company and council before booking your skip. This will avoid any confusion or unnecessary costs later on.
Catch more tips in this post on creating a clutter-free, sustainable home.
Join Us!
Sign up today to receive a FREE printable guide to decluttering ANY space and monthly emails packed with inspiration to help you on your tidying journey