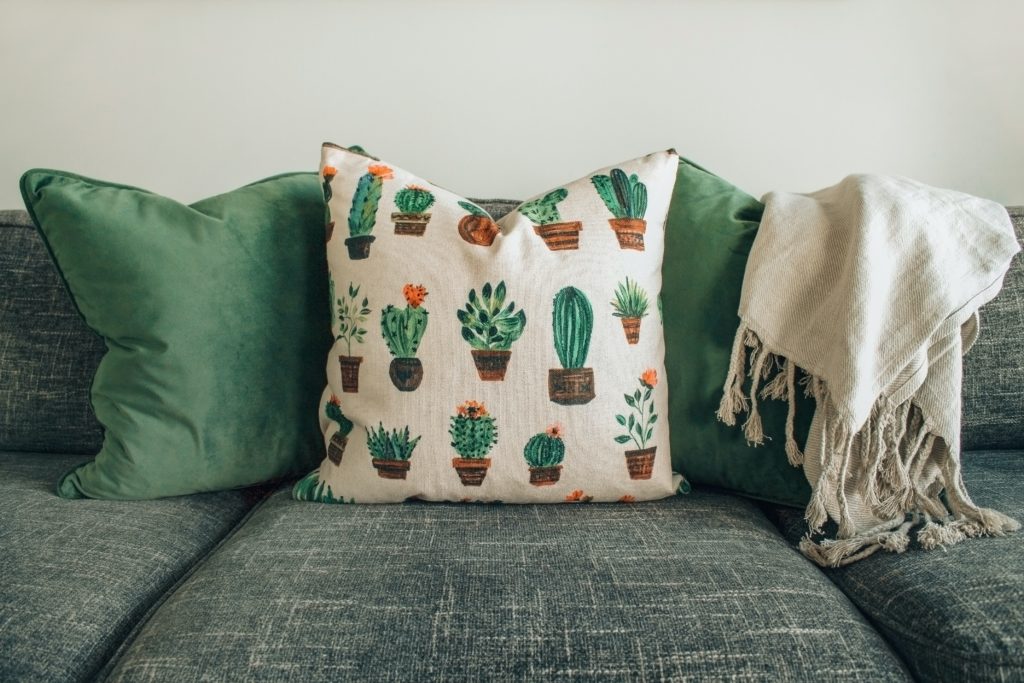 At A Tidy Mind we love to declutter and organise but we also have a passion for home styling. Professional interior designers say that you should redecorate your home every three to five years. Apparently this is about the time when people become slightly bored of their surroundings and want a change. But three to five years is a relatively short time frame, it's not always realistic to conform to this. A home styling revamp may well be an answer. Here are some affordable ways to redecorate your home.
Create Green Space
Many people assume that bringing more green aerating plants into the home will produce more oxygen in the air and contribute to a healthier living environment. Whilst this is not necessarily the case – plants do produce oxygen but it has a mostly negligible effect on the room's oxygen levels – despite this, people do report better well-being levels for having more plants and green spaces in their homes. Let's face, even a placebo effect is an effect! Adding greenery is also a very affordable way to bring a new dimension to any room and can be an easy addition to your home revamp.
Use Shower Panels
The most common way to build a shower space is to use ceramic tiles, these look nice, are
made with quality materials, and they often have beautiful designs on them that fit with your tastes, but there is also a downside.
Ceramic tiles are expensive to buy and install.
One excellent alternative to ceramic tiles is waterproof shower panels which are stylish,
hygienic, and seamless to look at. PVC shower panels cost far less than ceramic tiles but you
don't lose any of the functionality or design standards so consider these when you consider how to redecorate your home.
Upcycle Furniture
Our passion for conscious consumerism always means considering upcycling options. If you're looking for inventive ways to redecorate your home this summer and give it new vitality, don't go straight to the nearest furniture outlet.
Instead consider what you have around
your home already or what you find at a second hand or thrift store or online.
Upcycled furniture combines innovation with creativity, you can give an old wardrobe, an old
chair, or an old table a new lease of life with some easy to use DIY tools and simple DIY techniques.
In many cases, you will prefer your upcycled furniture to brand new items.
Paint and Replace
Sometimes it's the small things that make all the difference when you redecorate your home. Like the colour of the walls in the kitchen and front room, or the handles on the kitchen drawers.
Replacing the handles and painting kitchen units or accent walls will give your home a new look at a low cost.
This is an excellent project for the summer because it doesn't cost a great deal to get started
and you can transform your living space in days.
According to leading interior designers, your living space should be redecorated every three years – this is a great way to make it happen on a realistic budget.
Fancy Storage Boxes
Clutter is an inevitable part of home life. If you have children, you might have recently
cleaned and tidied the place but before you know it there are toys everywhere once again! If you have a busy life or health issues, it's so easy for clutter to build up and for home to becomes overwhelming.
But the secret to a neat and tidy home might be easier, and cheaper than you think.
Frankly, nobody wants to trip over random objects on the floor and you deserve a home in which you can relax. Once you have declittrted your home, containing those bits and bobs is an essential part of keeping things tidy. Buy some fancy storage boxes that fit neatly together against the wall, on shelves or at the bottom of the bed. Your storage boxes can be in keeping with the style of your home and add to the aesthetics of your home as well as keep things tidy and organised.
Thanks for reading!
A Tidy Mind
Join Us!
Sign up today to receive a FREE printable guide to decluttering ANY space and monthly emails packed with inspiration to help you on your tidying journey