Bedroom Decor Ideas
Bedrooms are personal sanctuaries, which is why it's vital to decorate yours in a way that not only suits your tastes but your needs. From waking up energised and refreshed in the morning to being a serene enough space to help you wind down and relax with ease, bedrooms are essential to your health and well-being. When it comes to your bedroom decor, you don't have to make huge changes to see and feel amazing results. Simple switches like swapping out the headboard for one with a pattern, adding new colourful cushions, hanging the luxurious velvet curtains or even a statement rug in the centre of the room can add significant depth to the decor. In this guide, we cover plenty of helpful tips to help you transform your bedroom into the space of your dreams.
Layer Up The Textures
The primary objective most people have for their bedrooms is to create a comfy and cosy space. No matter what your style is, the easiest way to achieve it is by layering the textures. Pile up your pillows and cushions at the head of the bed before folding throw blankets at the foot of the bed while keeping things soft under your feet with large rugs; you can even add smaller fluffier rugs on top to increase the layered look.
A Statement Bed
Whether you've always dreamed of owning a four-poster bed or you want a custom piece made from driftwood in order to accomplish the room of your dreams, your bed will need to make a statement. Your bed should add an instant focal point to your space before being dressed up to suit your style and tastes. If you do opt for a four-poster bed, why not try hanging plants from the frame? This will give it a fairy tale aesthetic that will help you drift off into dreams of fantasy every night.
Reduce Furniture Clutter
A common mistake that many people make in their bedrooms is filling it full of furniture that makes the space feel cramped, which is not conducive to a good nights rest. Obviously, there are some pieces that will be essential to your bedroom in order to provide adequate storage but to create a truly lovely space; you will want to be minimalistic with the furniture unless you have a huge room with plenty of square footage to play with.
Furnish your bedroom with vital pieces such as your bed, bedside tables, and perhaps a wardrobe or dresser if you don't have the space to create a walk-in wardrobe with bespoke fitted wardrobes. It is currently a top trend of 2021 to do away with guest rooms and utilise spare rooms by turning them into walk-in wardrobes, which you can do by looking into bespoke wardrobes in London from Brave London; if you're interested in doing this yourself, or you want to save room in your bedroom, you can learn more here.
Mixing Patterns
If the minimalist look isn't your vibe, or you have the space for as much furniture as you desire, take inspiration and have fun mixing patterns and styles as will give your bedroom personality while making it feel unique to you. Try mixing traditional styles, boho textures and industrial elements to a purposely messy laid-back aesthetic that is ideal for a cosy bedroom.
Pick Your Colour Scheme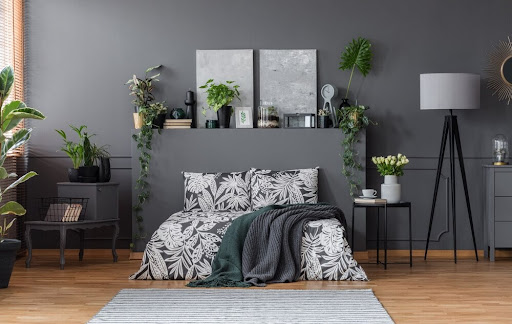 If you are after a more cohesive look and prefer not to mix patterns or styles, consider picking a colour theme for your bedroom. A limited colour palette is a good look, and mixing varying tones of the same colour will provide depth which is ideal for smaller bedrooms. Little touches of black and white will also stop your room from feeling overwhelming as it stops rooms from looking 2D.
Add Patterned Rugs
Many bedrooms have wooden floors, as it is a popular trend that has been growing over the years, but the downside of wooden floors is that they can often feel cold in the mornings, especially during winter. Aside from bringing warmth into your bedroom, a rug is the easiest way to change up your bedroom design without costing a fortune. The floor of your bedroom can often ruin the look of the space, and patterned rugs in a neutral colour are ideal for breathing new life into your bedroom.
Create A Panel Effect
If you've always dreamed of creating a panelled effect in your room, but you don't want to spend the money putting them in, or you're unsure if it will look good, you can always create the look with paint. All you need is masking tape and a ruler to mark out where your panels will be and where your darker colour will go.
Work With The Alcoves
Alcoves can be the bane of many homeowners when it comes to redecorating, but they don't have to be. Work with the space and alcoves in your room to create beautiful design schemes. Paint your alcoves a darker shade to create depth and add some shelves to make room in the main areas of your bedroom, or utilise them by installing fitted wardrobes.
Join Us!
Sign up today to receive a FREE printable guide to decluttering ANY space and monthly emails packed with inspiration to help you on your tidying journey