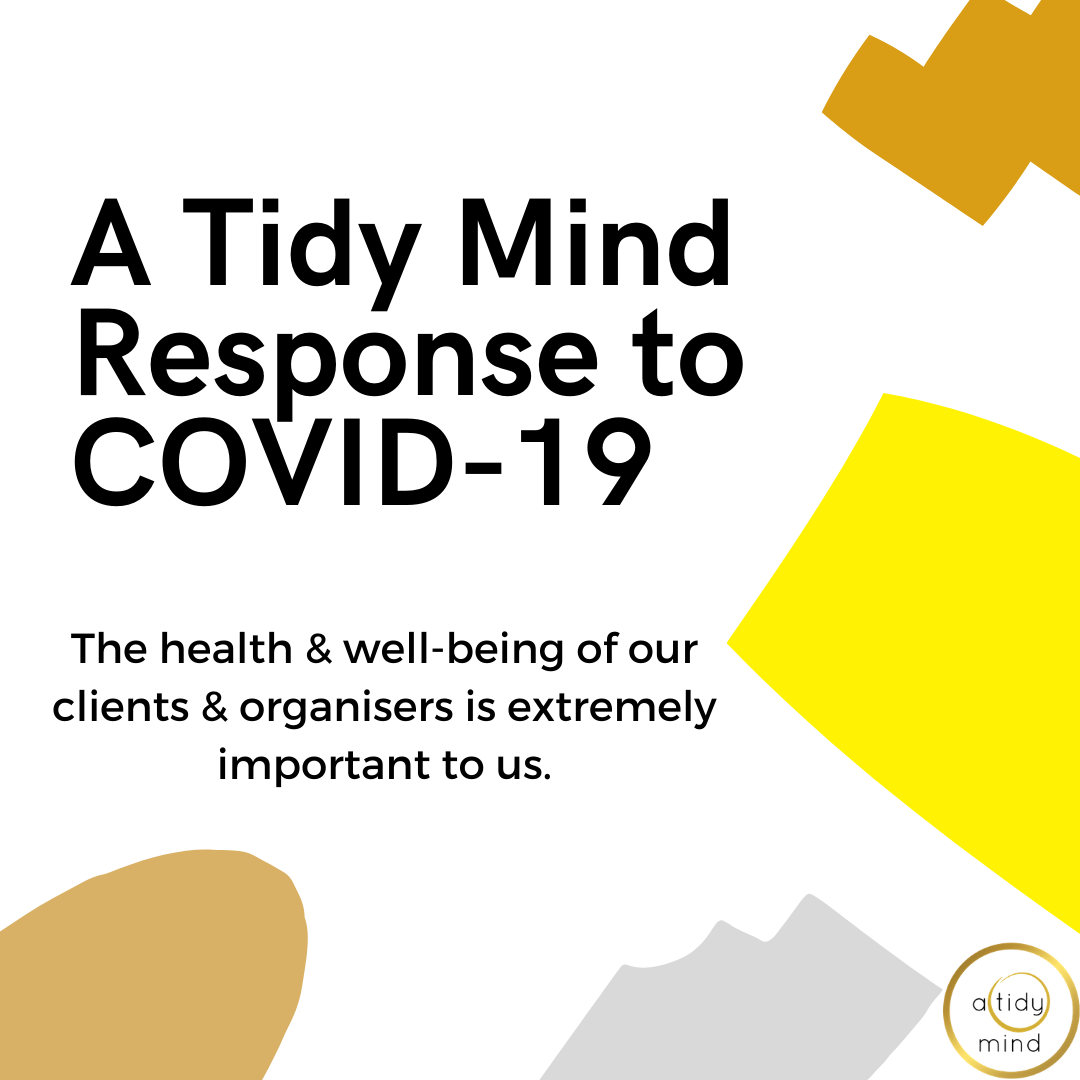 Precautions we're taking when working in clients' homes
All clients must take into account their personal circumstances & particularly whether they are vulnerable or live with anyone vulnerable before deciding whether to use our in-home service. We are confident that our precautions mean minimal risk for you & ourselves. However, it can't be guaranteed that risk is eliminated. We have started working in homes again with the below precautions because of demand from our wonderful clients who we are committed to helping. We continue to offer virtual services – virtual decluttering & organising, productivity coaching & virtual PA – too. 
Our Precautions
Client or organiser must cancel/rearrange a session if they feel unwell or if a member of their household feels unwell with symptoms of COVID-19.
We will do a temperature check on the day of the session & we ask clients to do this too.

Travel will be by car, not public transport.

Our minimum session length has been reduced from 3 hours to 2 hours.
We will ring the doorbell/knock & enter your home in fresh gloves or just sanitised hands. A further hand wash will take place on arrival & another pair of fresh gloves worn. Hand washing & a change of gloves will take place throughout the session as needed
We will refrain from accepting a drink from clients & will bring our own drink & food as required.

We will practice social distancing where possible (stay 2 metres apart)

We will work side by side with clients rather than facing where possible.

Breaks/lunch will be taken in the car.

We ask clients to leave internal doors open where possible to avoid us having to touch handles.

We ask that there are windows open where possible.

We will wear a mask as required & definitely if we are less than 2 metres apart.

During sessions, we will avoid touching our face & eyes.

Long hair will be tied back.

Hand sanitiser/surface disinfecting spray will be used as needed


We will end the session with a hand wash or hand sanitise & will avoid touching door handles etc on the way out.

Any waste such as discarded gloves will be securely bagged up & taken away.

We will be able to take charity donations once charities begin accepting them again.
---
This is a strange time for each & every one of us. But now more ever, your home or workspace needs to be a sanctuary. Our belief in the life changing benefits of decluttering & organising is stronger than ever before!