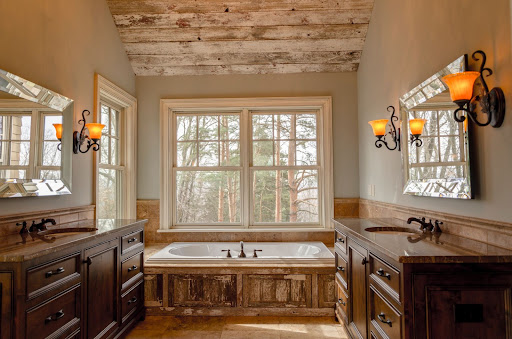 Many individuals opt for smaller container houses because of a restricted budget, site restrictions, part-time usage, or other considerations. No one likes to feel like they're living in a box, even if they have to live in a small shipping container house.
Nevertheless, it would help if you adapted to some activities (such as cooking and sleeping) and household and personal belongings (like clothes and food). It's difficult to cram all of the stuff into a tiny area.
You typically have two alternatives if you want to make the interior of your shipping container house feel more significant. The first step is to increase the house's size and make it physically bigger.
The second option is to use interior design ideas to use better the space you already have and make it appear larger than it is. Many of the pictures we'll discuss here are based on lessons learned from other forms of small-scale dwellings. Any of the 2 options would give you a great outcome. BoxdLiving can also help you achieve all your ideas without compromising affordability, quality, and sustainable living.
Most of those strategies are still relevant to individuals with a container house. Others are simpler to execute while your project is still in the design or building stages. In any case, considering their simplicity, the concepts we're going to offer to have the potential to be highly transformative. Find out more at this link https://www.archdaily.com/tag/shipping-container.
Sliding doors
Disposing of "dead space" is a fantastic technique to make the inside of a container house feel more spacious. The mainframe of swinging doors is a crucial source of space. Conventional swinging doors take up a lot of areas in any room they are in.
A standard 32-inch wide inside door that opens 180 °, like the one seen above, will sweep over 11 square feet. That's a lot of room that's been wasted!
On the other hand, sliding doors perform precisely what their name implies: they slide in a straight line between closed and open states. Sliding doors are far superior to tiny container dwellings since their total area is zero.
Convertible couches
Multitasking is a fantastic method to save time from your day, such as walking the dog and listening to your preferred podcasts simultaneously. Likewise, finding a piece of furniture that can serve many functions is a great way to maximize your space efficiency.
A sofa that converts to a bed is one of the most remarkable instances, and numerous variants exist. Regardless of which type you pick, a convertible sofa provides a lot of flexibility for your container house project.
A convertible sofa in the bedroom requires less space than just a full or queen-sized bed while also serving as a seating area. Fill a daybed with pillows in the living room to create an excellent alternative for a couch that serves as a spare bed when visitors stay the night.
Mirrors have almost a magical ability to make a small room appear bigger. They provide the impression that space expands beyond the reflecting surface's plane.
While windows might assist in opening a room, they can negatively affect the cost, energy efficiency, and seclusion. On the other hand, Mirrors are far less expensive, more straightforward, and less permanent.
Remember that mirrors may be fashioned into various shapes and sizes, not simply a simple rectangles, to provide the illusion of more space. Read more on this page.
Pick the right furniture.
When you buy off-the-shelf furniture, you'll typically have a few additional inches of the room. Unusually, a piece of furniture will fit perfectly in the area you want, and you'll almost always have a few inches (or feet) of extra room.
If you have the cash and know-how, building your customized built-in furniture is a beautiful way to make the most of your space while having a unique design. Another advantage of built-in furnishings is that you won't have to clean beneath and around them because it is an essential part of your container house!
Bookshelves, drawers, and wardrobes are excellent custom-built-in options that fit perfectly in your existing space while providing more storage. Customized L or U-shaped sofas give more seating possibilities, great storage below the cushions and the ability to double as guest bedrooms!
Make use of the walls.
If you live in a limited area, making the most of what you have is crucial. Even if you don't have much additional floor space for things like huge cupboards and shelves, there are still a few fantastic ways to use unused wall space.
Here are some examples of making the most of your available wall space. Consider walls as a resource, and make the most of them in whatever manner you can.
Mounted TV
Mounting your TV to the wall, rather than using a separate TV stand or table, is one of the most excellent methods to conserve room. To avoid unsightly cords, it's a good idea to have power, cable, and other outlets handy.
An adjustable mount, such as the one shown below, allows you to place the TV from various angles, such as cooking in the kitchen. It will often enable you to service many locations with a single television, saving you money and space. You might need to ask someone like Ryan Stetson from Container Addict for more helpful information.
Rooms without walls
The preceding section might be seen as a recommendation to construct additional internal walls so that you have more space to hang items. That, however, is not our objective. Indeed, several compelling arguments exist for having fewer walls in your home.
Rooms are commonly thought to be enclosed by walls, although this isn't always the case. The most important thing is to make the space functional and comfortable.
In return for flexibility, reconfigurable environments sacrifice some privacy. Considering that many individuals are accustomed to working in offices or living in urban lofts, the idea of open rooms without walls isn't so strange these days.
Instead of utilizing walls, this alternate method of thinking uses visual separation to divide distinct places visually. Instead of focusing on the space beyond the barrier, it pulls your attention to it. It also offers additional advantages over typical walls, such as improved air circulation, more natural lighting, and a reduced cost.
Speaking of cost, it is always worth it to check out different companies that sell shipping containers. This way, you'll get to see see see is cost-effective for you.
Join Us!
Sign up today to receive a FREE printable guide to decluttering ANY space and monthly emails packed with inspiration to help you on your tidying journey