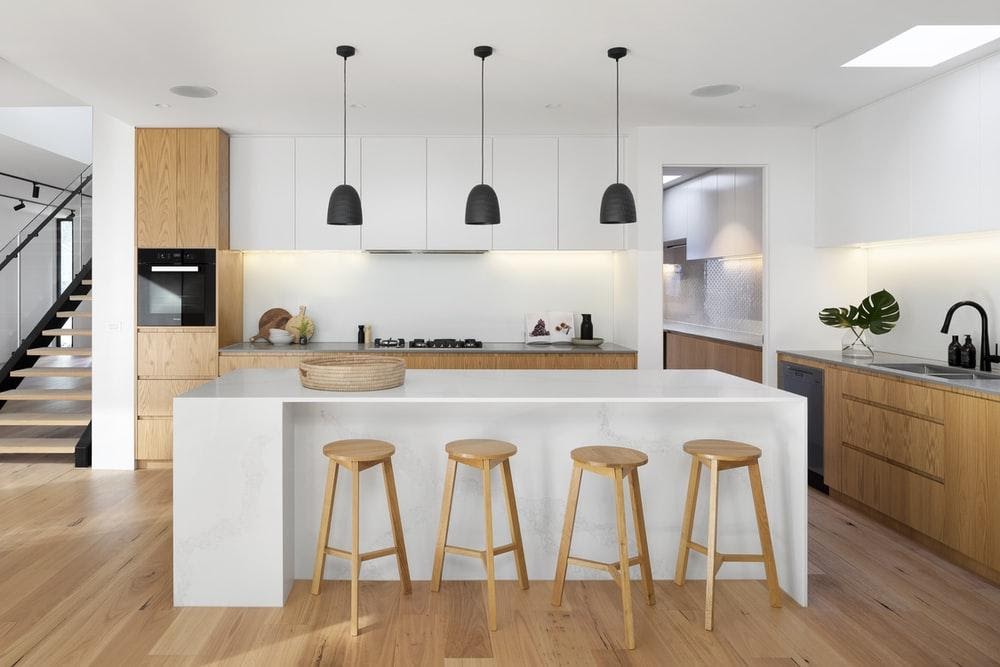 When it comes to home renovations, there is no one-size-fits-all solution simply because every household has different needs in terms of styles, functionality, and budgeting. And the same applies to choosing the right flooring for your home. Unfortunately, it's much more complicated than selecting a good-looking material.
When selecting the best flooring for your house, you need to consider several factors. First, different rooms, depending on their purpose, will require different flooring materials. Will your floors be installed in a high-moisture environment, like a bathroom? Will it be a highly trafficked area of your home, such as the kitchen or the living room? Do you have pets that might scratch the flooring?
Apart from answering these questions, you should also determine your budget and decide whether you want low-maintenance flooring or whether to pay for installation or do it yourself. Below, you will find our brief guide to choosing the best flooring for your home, along with some pros and cons of the most popular types of flooring. Read on!
Set Your Square Footage Budget
Before you even start looking for flooring, you need to determine your budget for each room of your home. In some cases, the cost of purchasing flooring materials may be less than the cost of installing them, so if you want to save money, you should also consider doing the job yourself. However, if you do not have a lot of free time on your hands, it might be easier to hire a professional who will install your new floor in no time.
Flooring materials vary in price depending on their type and quality. For example, hybrid flooring will cost you $35-60 per square meter, while the price of hardwood flooring is way higher, as you probably already know. But, if you're choosing a hardwood with a really fine grain, you can easily pay up to $5 per square foot.
Just like any other product, the price of flooring materials depends on their quality. There is no point in getting a cheap and low-quality floor just because it was marked down to half its original price. On the other hand, if you're willing to pay more for better quality, you should be able to find flooring that will last much longer than cheaper alternatives.
Consider the Environment of Every Room
Just like people, every room in your house has different needs. In some areas, you'll have to be extra careful about moisture and sturdiness. For example, if you're planning to install a new flooring material in your bathroom, you'll have to think about how often the area will be exposed to moisture. If you have small kids and pets, you'll also want to make sure your flooring is very sturdy and easy to clean.
The same goes for outdoor use. If you want to install flooring on your patio or in your garden, you should choose materials that are completely water-resistant and won't easily get damaged by rough weather conditions. However, if you want to add some color and texture to your patio, you can go with more decorative options like ceramic tiles or stone.
Decide Whether You Need a Low-Maintenance Flooring
Depending on the type of the room, you might need a flooring material that is easy to maintain or one that is extremely sturdy. For example, high-trafficked areas of your home, such as kitchens and living rooms, require flooring that can withstand constant use and heavy foot traffic. On the other hand, if the room is not used very often, you might want to go with flooring that is easier to maintain and doesn't require much work.
Hardwood floors require regular maintenance such as dusting, sweeping and mopping every 2-3 days. They can also be damaged by water or heat so make sure you know how to take care of them before installing them. At the same time, hardwood floors are very stylish and sustainable, so if you have the time and patience to take care of them, they might be the best choice for your home.
When it comes to low-maintenance flooring options, vinyl flooring is the best choice for families with pets and kids due to its ability to resist stains and scratches. It's important to remember that vinyl flooring can't be refinished again and again unlike hardwood floors, so be sure to choose a good quality brand.
Do You Need a Pet-Friendly Flooring?
If you have pets at home, it's a good idea to make sure that the flooring material you're choosing won't splinter or scratch by their claws. There are definitely some materials that are more durable than others. For example, ceramic tiles are usually very sturdy, but they also require some extra maintenance as they can get damaged if not cleaned properly.
On the other hand, hardwood floors are very durable, but pet owners should be aware that hardwood floors will show scratches and dents from pet claws quite easily. Keep that in mind before installing them in areas where pets are likely to spend a lot of time.
The Bottom Line
If you want to get a high-quality flooring for your home, you should take into consideration the size of the room and how often it will be used. The more traffic a room gets, the sturdier the flooring should be. When it comes to installing the flooring yourself or hiring a professional, it's just up to you.
Finding the best flooring for your home is not an easy task, but with the right knowledge and information, you should be able to find the perfect flooring material that fits your budget and needs. Good luck!
Join Us!
Sign up today to receive a FREE printable guide to decluttering ANY space and monthly emails packed with inspiration to help you on your tidying journey