I'm based in Horbury and cover West Yorkshire (Wakefield, Leeds, Huddersfield, Kirklees, Halifax etc) & South Yorkshire. I also work virtually covering all locations. If you're feeling overwhelmed by clutter or struggling with home organisation, I can help! I offer an empathetic approach & will work with you at your pace to ensure your home becomes an organised space for relaxation with a tidy mind. Why not get in touch for a free 30 minute consultation, I'd love to hear from you.
To get in touch you can email me, [email protected], call 07437 203 666., or click the button below to fill out my contact form
Contact Me
Wakefield, West & South Yorkshire Decluttering Service
How Can We Help You?
*COVID-19 update* I adhere to government guidelines to work with you in your home. Click here to read the list of precautions I take.
I also offer virtual organising, decluttering &  productivity coaching sessions.
Help is here if you need:
to declutter & tidy your home & your mind
to overcome the feelings of overwhelm
to make a start & learn how to be more organised
home organisational systems to simplify your day to day
to donate your unwanted items to local charities or a charity of your choice
to be more productive and work or home
to be more organised with your money & budget
Face to Face Services
£210 – 6 hour BRONZE package   |   £384 – 12 hour SILVER package   |   £720  – 24 hour GOLD package
£5 per hour premium for evening / weekends may apply
More about what exactly is included in the packages
---
Decluttering
I am a professional declutterer and a verified member of APDO (Association of Professional Declutterers & Organisers).  I can help you to clear the clutter & organise; your whole house, one room, your pantry, your wardrobe, your garage, your paperwork, that cupboard you throw things in when you don't know what to do with them! All decluttering work will be completed at your pace with the utmost respect for you and your belongings.  I offer an empathetic approach and I'm a great listener.
---
Home organisation
I offer coaching in home organisation systems which will help you to simplify your morning, evening and weekly routines to ensure they work successfully for you and other members of your household.
If you feel you've neglected your home organisation due to; trauma, illness, bereavement or divorce I can help you to get back on track.
---
Productivity & Time Management Coaching
I can travel to your home or place of work to provide this service.
Please see more info in the virtual section above or the dedicated Productivity Coaching page.
---
Home staging
Are you trying to sell your home? Let me help you to present your home at its best to aid a speedy sale. This will involve decluttering, styling and presenting your home in a way to appeal to a range of potential buyers.
---
Moving home
Are you moving house? Why pay to transport possessions you don't want, need or love. I can help you declutter before, during and / or after your move. I can also help you unpack and organise your new home.
---
Financial Management & Budgeting (also delivered virtually)
I have extensive experience in managing and budgeting for; household finances, property renovation projects and business income and expenditure. If you feel disorganised in any of these areas, I will put plans and systems in place for you.
Please see more info on the Budgeting Advice & Money Management page
---
Mindfulness
A clutter free, well organised approach to all aspects of our lives helps us to concentrate on; relationships, being creative, being productive and enjoying our homes as the sanctuary they should be.  I believe this is essential for positive mental health.
Many aspects of our lives can cause a cluttered mind.  These may be; belongings, relationships, excessive emails, unopened post, habits or ineffective administration procedures.  I can help you to identify your personal clutter so you can take positive steps towards achieving a calm mind.
---
Virtual Services – £30 per hour
If you're feeling overwhelmed by your clutter or struggling with organisation I can help via telephone, FaceTime, WhatsApp video or Zoom at a time convenient to you.
Virtual Decluttering
I can help you to: overcome the overwhelm, know how & where to start decluttering, allocate all your chosen possessions a home, keep motivated, create tidy habits and behaviours to ensure your home remains a tidy place you can relax in.
---
Virtual Home Organisation
If you require help with daily / weekly / monthly home organisation I can work with you to create customised routines which work for you & your family and help to; increase productivity, simplify your day, prioritise your to do list & feel calm and in control.
---
Virtual Productivity Coaching
Time management is a special skill of mine & I can help you audit, declutter & automate your time & create a plan for the week to motivate you to be more productive. Whether you need help creating systems & habits that work or help with planning your work or family schedule, get in touch if you feel overwhelmed with busyness & need to get more done with less stress.
More About Productivity Coaching
---
Virtual Budgeting
I can help you to; review what's coming in & what's going out, ensure you are maximising your income potential, make sure you are getting the best deal on all your utility bills, organise your standing orders and direct debits, create a monthly budget, motivate you to open and file / shred / recycle all your unopened post, create weekly habits so it's easy for you to keep on top of your finances.
I'm a proud member of APDO (Association of Professional Declutterers & Organisers)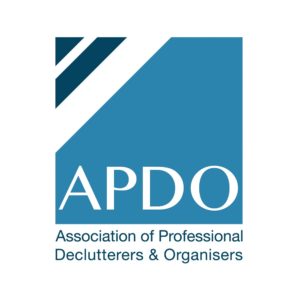 My family call me the queen of lists and I've been in my element over the last couple of years renovating my Victorian home, which has been a dream come true. The move from my previous house sparked my passion for decluttering & organising, after realising just how much clutter I was storing and the impact this was having on my mental health.
My husband, teenage children & I now live happily in a comfortable space. We surround ourselves with lots of valued & useful possessions, each with their own home, so if & when it gets messy (which is does) it's easy to tidy & organise once more
A phrase that sums me up – 'Smile & be kind, it's infectious'
Find Out More
I offer free virtual or face to face consultations, so why not book one by filling out the form below, calling me on 07437 20 36 66. Hope to meet you soon!