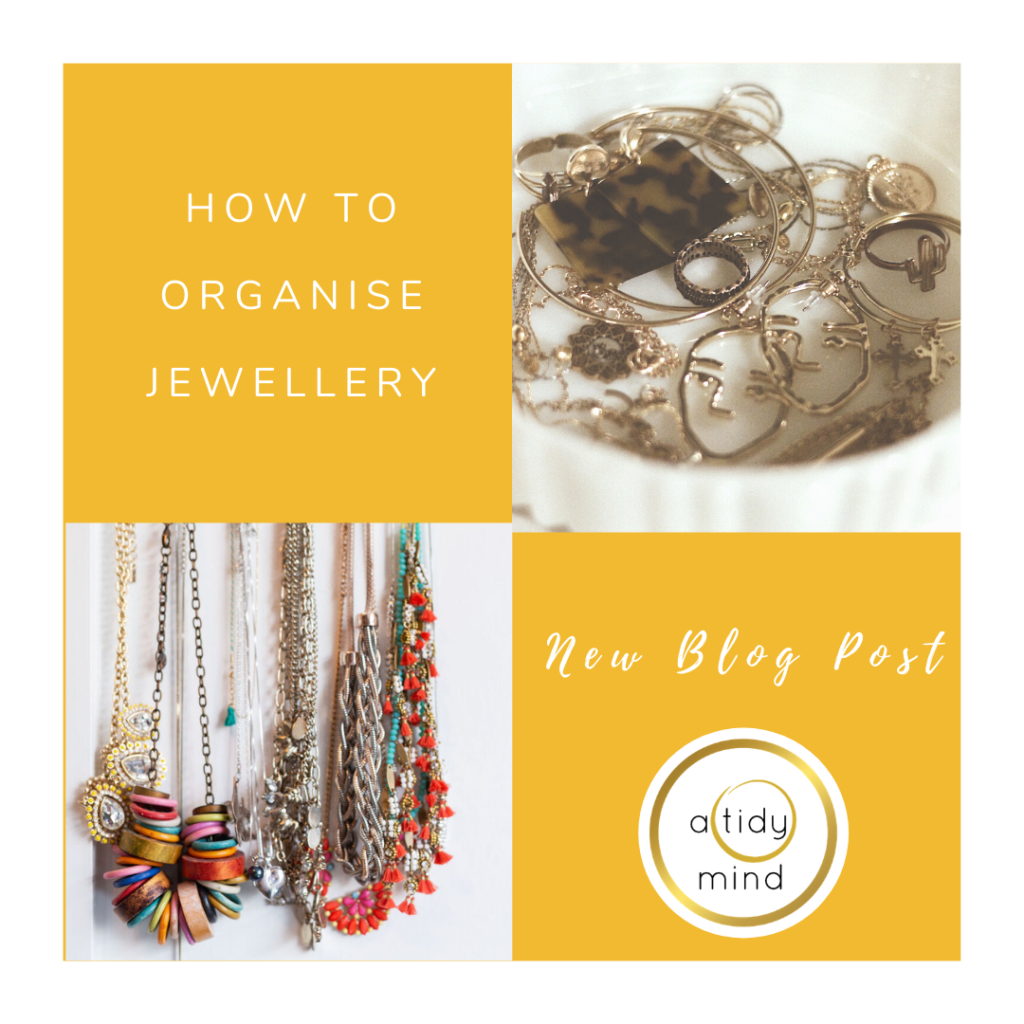 Organising jewellery can often take a back seat to other categories. So thank you Vic (A Tidy Mind Midlands) for sharing this blog with tips on how to organise jewellery.
---
It's been a while since Carrie Bradshaw taught us all the importance of accessories to our wardrobes. It's the little details that make us feel 'pulled together' and properly dressed. Jewellery plays a bit part in that.
But it's very easy for a muddled mess to be created. Tangled necklaces, odd earrings and misshapen bangles can become clutter, simply because they're not usable or accessible. Your jewellery should be displayed in a functional but beautiful way – so that picking it out is enjoyable in itself.
Here are my top tips for how to organise jewellery
Start with a edit. That neon plastic necklace that seemed like such a good idea at the time. But be honest with yourself about successful, and not so successful purchases. The money is already spent so holding on to something you don't like and/or doesn't suit you, will only make you feel worse. Review what you have. and develop a clear sense of your personal style. Perhaps you'll keep the classic pieces and pass those short lived trends onto someone else to try.
---
Categorise. If you have a large collection, you may want to do this before the declutter. You'll find it easier to make decisions. But categorising can also be essential for organising. If you keep all necklaces/bangles/earrings etc separately, you can see what you have easily. This is why the humble jewellery box traditionally had different compartments. Boxes can work well and Stackers is a great brand because you can create your own custom made box.


---

Make sure all your jewellery is visible. This is probably the most effective organising tip because it will help you maintain a tidy space. For each piece to have a home, you may need more storage that you think (or a bigger edit!). But if too many pieces are hidden away, you won't use them and they become clutter. Create a display on a dressing table (use stacked boxes or wall storage if space is limited). Or dedicate compartments in shallow drawers. Your aim it to take in the whole lot at a glance so you can choose easily.


---

Be creative with containment. As well as beautiful jewellery boxes, you can buy trees, hooks and hangers in all styles and colours, but if your budget doesn't stretch far, then think outside of the box. A mug tree can make a great place to hang necklaces (you could paint it customise it), ice cube trays and egg cartons make a great place to keep earrings and rings. Remember 'a place for everything and everything in its place'.


---

If you're a big accessories fan, try organising them by colour. Other than classic metals, many items will be chosen because their colour compliments your outfit. It will make choosing them quicker and easier if your eye is drawn to a colour palette.


---

Take care of your carefully curated collection. With jewellery think about avoiding the "S's". Shower, Sleep, Spray and Sweat. Water, perfume and sweat can discolour jewellery and sleeping in your jewellery can lead to damage not to mention how uncomfortable it is.


---
Given jewellery may be one of the last surviving items of a civilisation it's would be nice to leave it all neat and tidy for any future archeologists don't you think!
Join Us!
Sign up today to receive a FREE printable guide to decluttering ANY space and monthly emails packed with inspiration to help you on your tidying journey