How to Organise your Utility Room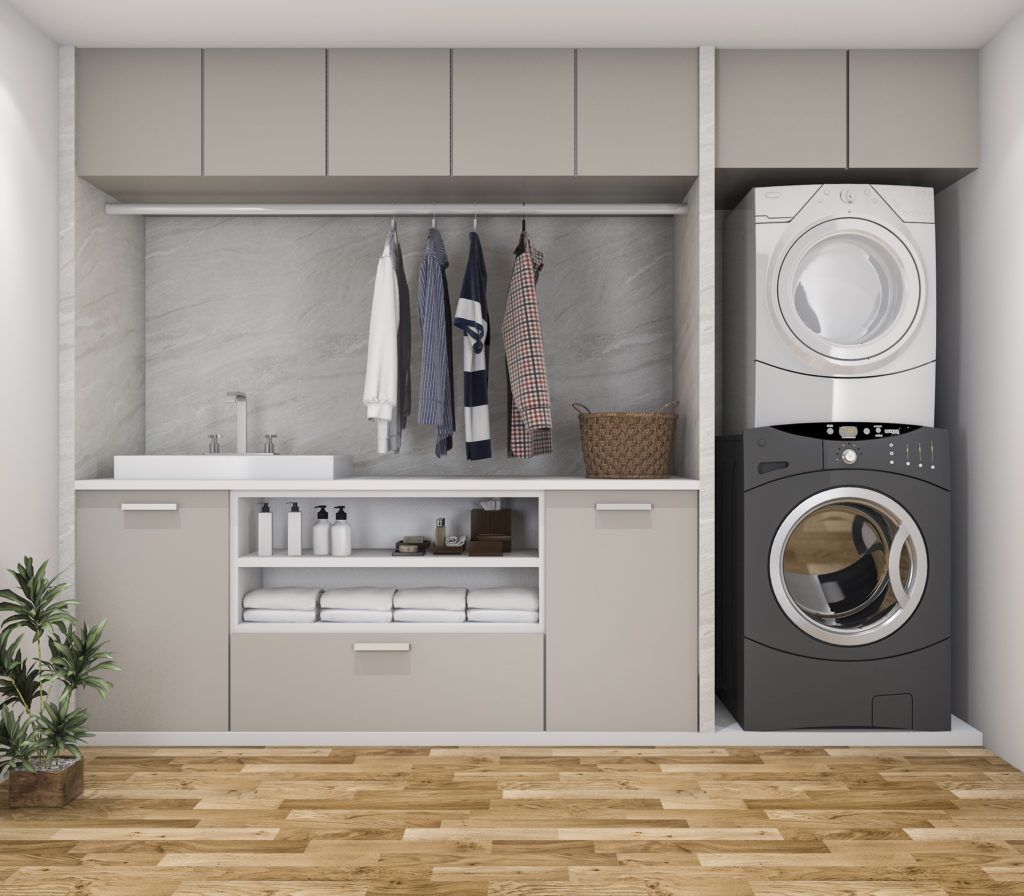 Utility rooms are a luxurious household addition that homeowners typically use for storage and conducting chores. After investing in converting this space to meet your needs, ensure you make the most of it by keeping it tidy. But have you ever found yourself wondering how to organise your utility room?
It's easy for clutter to get out of hand and become chaotic in a utility room, especially if space is limited. However, when messy, a laundry room will become much less functional and accessible.
Keeping this area neat will allow you to complete your errands efficiently and improve the room's aesthetic. Read on for advice on how to organise your utility room so that it remains fit-for-purpose.
Compact and multi-purpose appliances
Storing bulky appliances is a common use of utility rooms but can occupy a lot of space. To enable you to use this area for additional purposes, select compact and multi-purpose units.
Many dedicate this room to doing laundry, so a washing machine and dryer are must-haves. If you don't have the space for both appliances or you want to create a hybrid room, consider purchasing a combined washer-dryer. Alternatively, you could place the dryer on top of the washing machine, either using a counter in between or a locking device to keep them securely stacked.
Another option is to forego the drying machine altogether and get a wall-hung extendable drying rack. To create a convenient place for folding, fit a counter onto washing equipment.
Laundry rooms are ideal locations for boilers, as it keeps the appliance out of view in living areas, while maintaining accessibility for maintenance and services. To minimise the space it takes up, opt for a combi-boiler which are far more compact than conventional models. This boiler type combines hot water and home heating into one unit, removing the need for a large water tank.
If you aren't sure whether a combi boiler is suitable for your home, use the BOXT 'find a boiler' tool to receive guidance on the best product for your needs. The boiler replacement company can also advise the best placement for the appliance.
Since boilers are expensive, there are schemes available for free boilers under what is referred to as the ECO scheme operated and funded by energy companies. This is available for people in receipt of certain benefits, there are also boiler finance schemes that allow you to spread the cost over several years.
Storage solutions
Depending on the room's size, you could store items on shelves or in cabinets. How to organise your utility room depends on how big it is, how much you need to keep in there and how you like the aesthetics of the room. Open shelving allows you to access the essentials quickly, but it can hinder the room's appearance if you don't keep it tidy. Using the whole height of walls is a good idea to use the space effectively and keep the surfaces and floor free.
If you want to hide your storage and have the budget, invest in made-to-measure storage units to fit the space perfectly.
To organise your storage, place items such as towels and pegs in caddies, cubbies, or wicker baskets. Also, marry laundry supplies such as detergent and softener into labelled glass jars or metal tins instead of storing excess half-empty products.
Wall storage
Make use of all available wall space with storage, especially if the room is relatively small. If you have cabinets, opt for tall units that don't leave any dead space.
For hanging ironing boards, coats, a dustpan, and clean laundry install hooks, hangers, and peg rails.
A wall hanging storage bag with large pockets will help you organise your laundry into categories, so you don't accidentally place a red sock with your whites.
Organised habits
If you find that mess quickly builds up in your laundry room, you may need to establish smarter habits, such as:
only buying cleaning products when they need replacing instead of in bulk
following a laundry and ironing schedule
labelling storage containers
storing items close to where you'll need them
pre-sorting laundry into categories with dividers or separate hampers
Utility rooms should make your life easier by giving you dedicated space to complete chores and store items. However, without an organised system in place, it'll soon become a dumping ground. When it comes to how to organise your utility room, implementing these habits, storage solutions, and space-saving hacks will help you use this room to its full potential.
Want more tips? Read about:
Join Us!
Sign up today to receive a FREE printable guide to decluttering ANY space and monthly emails packed with inspiration to help you on your tidying journey