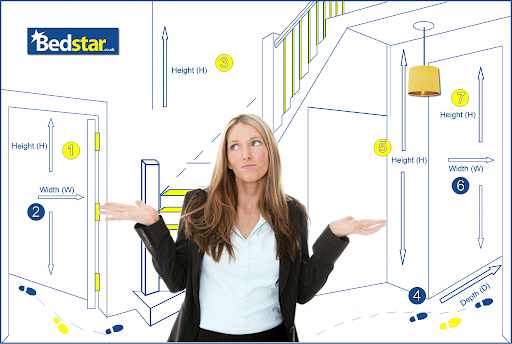 There's nothing worse for a bedroom than a bed that doesn't fit or looks right. This usually happens when people buy a bed frame without considering the dimensions (not all beds are the same size, despite the mattresses!).
Proper bed sizing is also a matter of aesthetics as much as function – a bed is the most significant piece of furniture in a bedroom, so it sets the proportion and scale of the space—a bed too big, small, high, or low upsets a bedroom's balance and flow.
No one wants to be stuck with a bed they don't like, so below, we've provided a guide on how to size a bed that fits your bedroom perfectly.
Let's jump in!
Measure your bedroom and include furniture protrusion  
You can determine how big a bed you can fit in a room by measuring the length and width of the room and including furniture protrusion.
It would help if you walked around it, and 40cm is even better. If the bed will live against a wall, you need at least 1m around it for furniture and walking.
Small bedrooms will probably have to do with a single or small double bed (also known as a three-quarter bed). You can sometimes squeeze a small double into a single room because they are the same length but 30cm wider.
The most common bed sizes for couples are doubles and kings.
Double beds are 135cm wide and 190cm long and fit into any double bedroom. A king is 10cm longer than a double and 15cm wider, taking up more space in all areas. Whether you can squeeze a king in depends on how much space you have.
Already have a mattress? Measure it! 
Measure your mattress's length and width because you don't want to be caught by EU and UK mattress size differences when buying a bed. EU mattresses are often longer and broader than UK mattresses, and some retailers sell them in the UK.
Here are the relevant sizes so you can double check your mattress:
UK mattress sizes:
UK Single – 90cm x 190cm (3′ x 6'3″)
UK Small double – 120cm x 190cm (4′ x 6'3)
UK Double – 135cm x 190cm (4'6″ x 6'3″)
UK King – 150cm x 200cm (5′ x 6'6″)
UK Super king – 180cm x 200cm (6′ x 6'6″)
EU mattress sizes:
EU Single – 90cm x 200cm (3′ x 6'6″)
EU Small Double – 120cm x 200cm (4′ x 6'6)
EU Double – 140cm x 200cm (4'7″ x 6'6″)
EU King – 160cm x 200cm (5'3″ x 6'6″)
EU Super King – 180cm x 200cm (5'9″ x 6'6″)
Better to consider what bed size you have at home before buying a mattress. Also, to protect your bed and prolong its life, a mattress protector is recommended. There are a lot of bedding essentials that would help you and your bed. An organic mattress protector is on top of it. Organic products are on top suggested in the market. Though they are way more expensive than the ordinary, You can be sure that the materials are safe and healthy for you.
Not all bed frames are the same size
A double divan bed doesn't have the exact dimensions of a wooden double bed frame. The word 'double' refers to the mattress size. This gives you some leeway to save space or fill your bedroom, depending on the look you want.
The bulkiest bed frames are wood and metal. A way to save space is with a divan/ottoman – these have a base the same size as the mattress, so they have no protruding frame. This saves a few precious centimetres even with a fancy headboard.
Bed height is more important than you think 
Bed height plays a fundamental role in bedroom ambience. A low bed gives a relaxed, lounging vibe, while a high bed gives a bedroom utility.
Most people like a mid-sleeper, so a bed with a mattress platform is around 40cm from the ground (low beds are less than 30cm).
Another reason bed height is essential is because of mattress thickness – a low bed suits a thicker mattress to balance things out. If your mattress is under 25cm thick, a high bed will probably suit you best to elevate you.
A high bed will also be better if you struggle with mobility because it will put you in a more natural position when you get out of bed.
Join Us!
Sign up today to receive a FREE printable guide to decluttering ANY space and monthly emails packed with inspiration to help you on your tidying journey