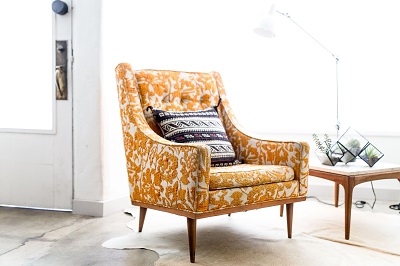 As furniture gets older, it can start to get a little more wear and tear. You might notice that the fabric is starting to get torn. While still functional, it won't look as appealing as it did when it was younger. Thankfully, you don't need to pay for a fancy upholstery service to fix it because you can look at new Upholstery for a favorite piece of furniture.  Let's look at how you can re-upholster your favorite furniture at home.
Assess The Extent Of The Damage
The first thing that you need to do is assess how severe the damage is. This will decide how you will proceed. If it's a few minor tears, you will be able to sew the fabric back together. However, if it's something more substantial, you might need to replace the fabric.
Remove The Old Upholstery
The next thing that you will need to do is remove the old fabric. The way you'll need to do this will depend on the type of furniture that you have. In most cases, it will be held on by a series of staples. Taking out these staples will allow you to lift off the fabric. If you aren't sure how to remove the fabric, you'll need to look online. You should be able to find some video tutorials.
Once you have removed the old upholstery, you might decide that you need to replace the padding. This will involve removing the old padding. Pay attention to how the old padding was attached. In some cases, it might have been glued down. In others, it might have been stapled in place.
Gather Your Supplies
If you don't need to do any serious repairs, you will just need to get your sewing needle and thread. However, if you need to do more serious repairs, you'll need to purchase new fabric. Measure the old fabric upholstery to decide how much you require. In most cases, it's a good idea to get a little more than you will need.
Cut And Attach The New Fabric
The next thing that you'll need to do is cut out and attach the new fabric. You'll need to use the old fabric as a guide, cutting around it. If it's a larger piece of fabric, you might want to use marking chalk to draw the outline. As you're doing this, remember to leave a little extra. This will give you some space to attach it to the chair. Remember, the old fabric has already been trimmed.
How you attach the new piece of fabric will vary.  In most cases, you'll need to use a staple gun. Though you might also need to use glue. Sometimes, it can be a combination of the two approaches.
Make The Welting
The next step is to make the welting. This will empathize the design of the furniture and hold everything in place properly. It's very easy to make. Take a long piece of cord. Then, wrap in the fabric. You'll then be able to sew it in place. It's often best to use a sewing machine to do this. If you want to know what to look for, you can use this sewing machine for upholstery guide. When you're finished, you'll need to cut off any excess. You'll need a seam allowance of ½ inch.
Attach The Welting
Next, you'll need to attach the welting to the furniture. To do this, lay the welting out along the edge of the furniture. Then, you can start stapling it into place. While you're doing this, make sure that you keep the cord pulled tight. Once you've finished adding the welting, you'll be able to trim the fabric. If there are any parts that you can't trim, you'll need to use a flathead screwdriver to push it under the welting.
Finish The Upholstery Process
At this stage, you'll be ready to finish the upholstery process. In some cases, you might want to make to add a breathable fabric to the back of the furniture. You might also want to put a protective liner under the chair. You'll need to staple these elements in place. This is also the time to add any additional embellishments. For example, if you have a wooden chair, you might want to add some carved detailing. In other cases, you can put on some pillows.
Conclusion
Changing the upholstery is one of the best ways to take care of your favorite piece of furniture. It will allow you to fix any rips. If needed, you'll even be able to replace the old fabric. As we've seen, you don't need to pay hundreds to have a professional upholster it for you. With just a few simple pieces of equipment, you can do it at home. So, use these tips to breathe new life into your furniture.
Join Us!
Sign up today to receive a FREE printable guide to decluttering ANY space and monthly emails packed with inspiration to help you on your tidying journey