10 Decorating Tips to Make Your Home a Rustic Retreat

A rustic home is very comfortable, making it the best design choice for many people. If you want to create a pleasant atmosphere at home, you will want to follow these rustic decorating tips. We made sure to gather everything you need to create the perfect rustic retreat.
Rustic style is full of a long history, so you can add parts that stand out to you. This is what you need to know:
What is a Rustic Style?
The rustic decorating style began by people using the materials and items that people had available. Rustic themes use materials that come from the earth. It was more about practicality than creating a room theme. That means you want to keep the decorations simple and beautiful. 
Plus, useful items around the home are a benefit. For instance, candles and blankets serve purposes and fit well into the theme.
You will want to keep your home as natural as possible when looking for rustic decorating tips. It may sound like this is simple to achieve, but it can take some planning on your part.
1. Keep It Simple
Simplicity is the basis of recreating your rustic style. You want to choose simple, natural colors and patterns. By doing so, you can create a comfortable environment to enjoy at home. Adding some wood or plaid fabrics here and there can do wonders for making a rustic retreat.
2. Use Many Materials
Next, you will want to mix different materials. Copper and wood look wonderful together while creating a rustic feel in the home. No matter what you use, you want it to be natural. The more realistic they are, the more rustic they appear.
For instance, bark textures on furniture can make your home look more like a cabin in the woods. Overall, mixing different natural textures and materials in your space is going to have the best effects.
3. Combine Fabrics
While you are mixing materials like wood and copper, you also want to combine different fabrics. There are plenty of natural rugs and blankets to choose from. Many people enjoy plaids and other comfortable patterns.
The fabrics should be natural or something you may expect to find in a log cabin. Browns and soft colors also work nicely at making the home more rustic.
4. Use Reclaimed Wood
Next, wood is the best material to use in a rustic home. However, we would have to say that reclaimed wood has the most impact on a room. By adding a rustic reclaimed wood mantle, you can greatly add a rustic feel to your living room. 
Reclaimed wood is a material that had a previous purpose. That means that it likely has a lot of texture and depth. All of these aspects work well to make the reclaimed wood perfect for rustic homes.
5. Consider a Fireplace
Fireplaces are another rustic element. You will want to consider using it as the centerpiece of your room. The mantel should consist of a natural material, such as reclaimed wood or stone. Then, you can place some natural-themed items on top of it.
Adding candles, flowers, and other plants are good rustic decorating tips and always look wonderful on top of mantels. 
6. Add Fresh Flowers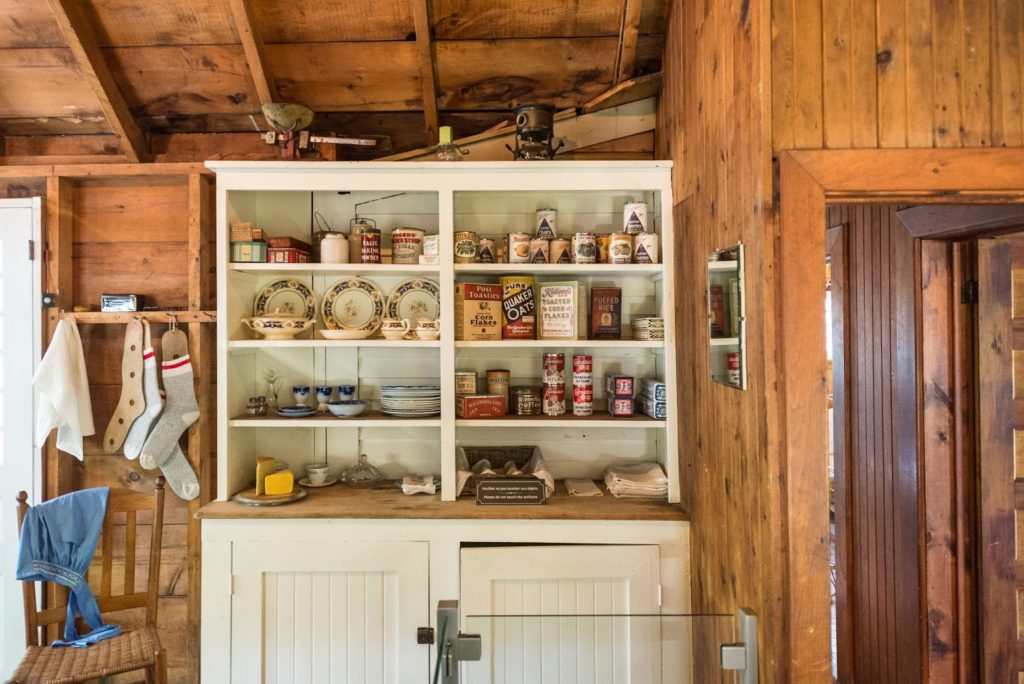 Flowers are another wonderful idea when creating a rustic retreat. Fresh flowers make your home smell amazing and look stunning. If you love gardening, then growing your flowers and bringing them inside would be a wonderful way to showcase your hard work.
Wildflowers that you arrange loosely look the most rustic. You can place them on windowsills, your tables, around the kitchen, or along shelves. You can even have as many flowers as you want. Many rustic homes have several flower arrangements placed around.
You can also buy bouquets and switch them out from time to time. Overall, fresh flowers are a wonderful element to add to a rustic room.
7. Use More Antiques
You will enjoy collecting antiques and placing them around the room. You can mix and match as you please, creating your own unique space. Antiques can greatly add to the rustic feeling within a room.
If you don't have antiques available, you can always "make" your own. There are plenty of options when it comes to DIY decorating.
8. Avoid Minimalism
With modern decorating, many people tend to use as few decorations as possible. However, when it comes to rustic designs, you want to have much more sitting out. Rustic homes look more appealing when they use maximalism instead. That means using plenty of decor.
If you find any interesting items, you can use them for decorations. You can transform logs into small tables. Stones and wood also become decorative pieces with ease. You can repurpose several decorations that you already have as well.
However, that doesn't mean you want to fill your rooms with clutter. You will need to place all of your antiques, ceramics, art, and candles around with intention. It should never feel full to the brim. You can even combine modern elements with rustic styles as you wish.
9. Consider Wood Walls
You may also want to think about adding wood wall panels to your living room. The natural appearance of the material makes your rooms feel more rustic. It can be faux wood if you want to reduce the cost.
However, you should be sure the wood paneling appears as natural as possible. Additionally, wood walls can make natural green plants stand out against the brown.
10. Add More Shelves
By adding more shelves, you can add more decoration space in the living room. Built-in shelves look excellent and add more room for antiques and artwork. You will want them to come from a natural material, so they appear rustic.
11. Bring More Inside
Overall, creating a rustic feel is easy if you start bringing more natural materials inside. Driftwood, reclaimed wood, flowers, and stones are perfect for creating a rustic retreat. You can even repurpose some materials that you already have at home.
Rustic design is more about practicality than minimalism. You will want to consider the purpose of the items you bring inside. However, you don't want to go overboard and make your room too cluttered. If you place your decorations carefully, your home will still look organised. We home our rustic decorating tips inspire you when styling your home!
Join Us!
Sign up today to receive a FREE printable guide to decluttering ANY space and monthly emails packed with inspiration to help you on your tidying journey