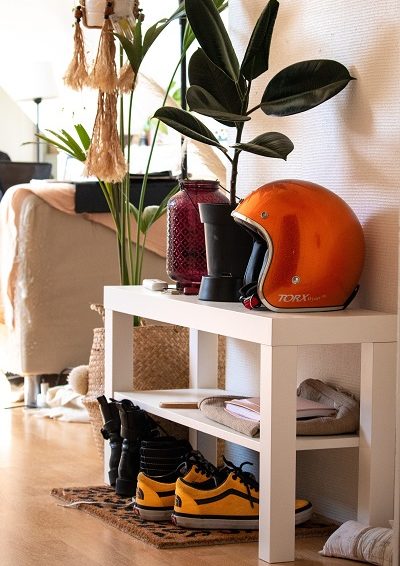 As professional organisers, we often find our clients like to start with the entrance hall. They can easily becomes cluttered or confused and getting them sorted can create motivation for the rest of the house. We also know that an entrance hall in a home can be quite a redundant space. But, whether you have a compact space or a large surface area and are blessed with a big entrance hall, then you could make more of the space that you have. Designing the space however can be tricky. As you also want to ensure that you don't overdo things or clutter the space. In some ways how your entrance hall is presented can be a real insight into the rest of your home. With that in mind, here are some of the stylish and practical ways you can make more of your entrance hall space.    
Have a statement piece of furniture
One of the first things you can do is get yourself a statement piece of furniture. It shouldn't be anything too wide, as you may then struggle to actually use the entrance hall for its primary purpose. Things like a console table or a sideboard like https://tylko.com/shelves/sideboard/ could be ideal or similar things could be really suitable for the space you have. Some console or occasional tables can be really styled up as you make the most of height rather than width or clutter. It could definitely be a good step forward for making your entrance hall uber stylish. 
---
Utilise your storage
Use the height of the space effectively so you can keep items off the floor. This may involve hooks for coats and bags or shelving for accessories. If you need shoe storage in the hall, consider slim line cabinets or wall units. Shoe storage that doubles up as a bench can also be useful.
---
Use mirrors to bounce of lighting
Entrance halls can be notoriously dark and feel small, so a good trick is to use mirrors which can then bounce off any natural light. A big mirror placed on a console table is quite trendy at the moment, and the whole look can be put together rather easily. It doesn't need to be an expensive mirror, but something elaborate with intricate detailing could work really well in the space. 
---
Consider a hardwood flooring
The entrance hall is a very well-used part of your home. It can often have the most traffic when it comes to walking through your home, so often carpet isn't normally the one to consider. However, hardwood flooring can be really hard wearing, and it can also look very stylish. Whether you choose real hardwood, a laminate alternative or perhaps even a tile, the simplicity of keeping it clean and looking smart is easy and very appealing for this room. 
---
Use a neutral color palette
This room in the house can often be a small space. It is functional and all-purpose, but adding too much color could bring the walls closer together instead of giving you that feeling of space. So a neutral color palette could work really well in an entrance hall. Soft creams or pastel shades are often the most popular choices, and mixed with a wood flooring could be a match made in heaven. 
---
Minimal accessories can make a big impact
Finally, accessories are a great way to add some personality to the space as the neutral decor and walls leave you with a complete blank canvas to work with. Accessories or statement lighting can be a great way to make an impact in your entrance hallway. 
---
Let's hope that this helps you to make your entrance hall more stylish. Next, maybe check out our tips for calm and stylish living room.
Join Us!
Sign up today to receive a FREE printable guide to decluttering ANY space and monthly emails packed with inspiration to help you on your tidying journey