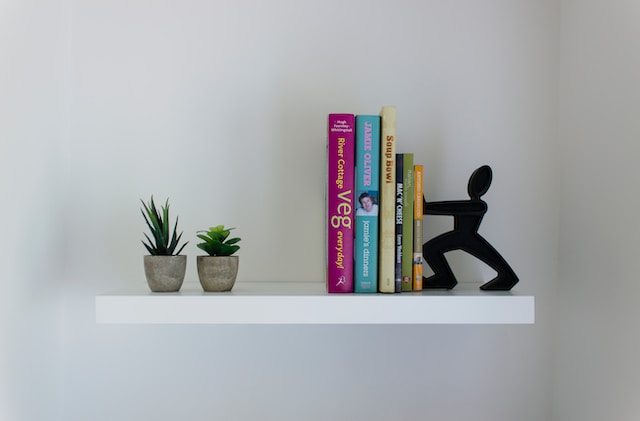 Bookcases have become a staple in almost every home and can be incorporated in many ways to suit any interior style. As organisers, we deal with our clients books regularly. They are both practical pieces and take your décor to the next level. A great thing about bookcases is that they don't have to be boring. You can get have as many creative bookshelves as you like. You also don't just have to stick to books. You can add extra elements to these shelves by incorporating décor ornaments and various-sized photography and prints with a collection of 4×6, 5×7 or a4 frames.
Many people have found fun and fabulous ways to make their bookcases more interesting with unique, creative designs.
The Staircase Bookcase
Practical but fun for those in need of saving some space. Incorporating shelving into your staircase to showcase your books is a showstopper if you own your home. Not only functional, this visually aesthetic option will give you a unique way to display your books. While making the most of the space you already have.
Bookcase Chair
Add a fun two-in-one element to a spare room with an eye-catching bookcase chair. It's exactly what it sounds like. A boxy armchair design that incorporates shelving to store your books, the best of both worlds.
Floating Books
If you have limited floor space and a select number of books, you could use floating shelves to add a fun feature to your empty walls. Attach invisible brackets that allow you to showcase your favourite novels with no appearance of shelving. As well as being a practical solution for space, it adds an artistic element to the room. Floating books are sure to catch an eye or two.
The Tree Design
This piece is most often featured in offices and kids' rooms. It also takes up very little space and allows you to house multiple books aesthetically. The tree bookcase has several shelves branching off at angles where you can stand up and lay down books. This is a different look to your standard straight shelving. These can also be found in various colours and sizes and will complement most interior styles.
A Book Wheel
A three-in-one piece wheel design that incorporates a visual artistic element to your home while practically allowing you to house your books and works a seat too! This wheel displays your literature in a circular loop with a built-in bench where you can sit, relax, and read. It looks fantastic too.
For those that like to keep things simple, you have options too.
So many options are available for finding the best bookcase set-up for your home. Suppose you have a smaller space with a minimalistic theme. In that case, you may opt for the classic white standalone shelving unit that helps make your bright book spines pop. Especially if they are coordinated in the popular rainbow colourway pattern.
You could have individual natural wooden shelves staggered on the wall complemented by black pipework for brackets. This is a fantastic way to display your books if you love an industrial vibe.
Make a feature wall. If you are an avid reader and have hundreds of books, use this to your advantage and make them a statement. Fill an entire wall with shelves and cover the space with books. These can be organised in an orderly fashion, such as alphabetically, ranked from favourite to least favourite, grouped in genre or colour coordinated.
Here are a few tips to follow if you want a new way to display your books in your home.
Consider The Size:

Depending on the shape and size of the space you add, you may be looking for a compact unit that shows off your favourite reads or a layout that makes a statement in a large open room. Measure your space and ensure your choice will not overwhelm. Or block areas of your room; it should be practical and decorative.
Think About The Books:

Predesigned bookshelves you can purchase from well-known retailers will have set heights and depths that may be suitable for only a specific book size, such as UK paperbacks. Depending on the publishers, location of purchase and design style (hardback or paperback), your books will vary in size. Do you want a shelf that features all of your books, no matter the size? Measure them beforehand and always check the dimensions on websites before hitting buy.
Your Home Interiors:

Modern, minimalist and Scandinavian-themed homes will suit different bookshelves to industrial, vintage and contemporary spaces. Consider the room you add to and choose the best interior style to suit this space. Pick a bookcase that best suits this.
Plan Your Budget:

Bookcases range from inexpensive staple styles to bespoke pieces costing thousands. When you are including a bookshelf element into your home, ensure you decide on a look you want to achieve. And plan a budget you can spend to make your vision come to life. Be realistic with your expectations and conduct research beforehand.
With endless options and numerous things to consider, deciding on your new bookshelf to display your much-loved books and décor can be overwhelming. With the help of these creative, inspiring designs and tips above, you should be able to plan and purchase the perfect pieces that make the most impact in your home.
Join Us!
Sign up today to receive a FREE printable guide to decluttering ANY space and monthly emails packed with inspiration to help you on your tidying journey