5 ways to update your bedroom this summer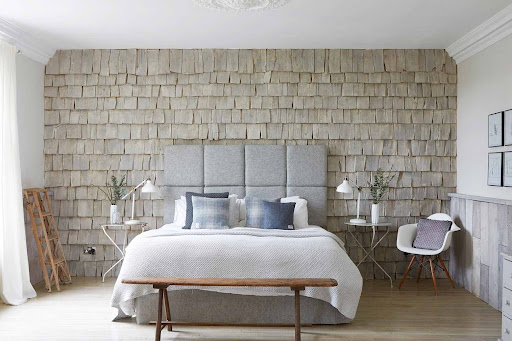 Is your bedroom in desperate need of a revamp? It's easy to overlook this private space in favour of more 'public-facing' areas like the kitchen, living room and garden. But as the place you start and end each day, and one of the most personal rooms in any home, it's only right you give yours the attention deserves. There are lots of ways to update your bedroom without committing to a full makeover too. This way you won't need to spend weeks planning and saving and won't need to move out while any work takes place.
If this sounds like the kind of change you're looking for, read five ideas for refreshing your surroundings below.
Update the colour scheme
We've been spending more on home improvements in recent years, but not every upgrade has to cost the earth. A new lick of paint will instantly change the visual impact of your room and will likely cost less than a statement accessory or piece of furniture.
Get yourself some samples and compare them in different light throughout the day. Generally, lighter colours make spaces feel bigger, while darker shades are cosier.
Upgrade your storage
Having a messy bedroom can make you feel stressed or embarrassed and could even disrupt your sleep. These problems will be exacerbated if you're also working there, so it makes sense to invest in fitted home office furniture and create a custom solution for your 9-5.
Don't forget about vertical space too. Open shelves offer great storage for bits and pieces you might want to keep on display.
Bring nature in
Nature is known for its calming effects, and nowhere is this more beneficial than where you wind down and drift off to sleep. Houseplants are a great place to start, especially if you can find some funky pots to keep them in.
The right plants are good for your air quality too. A new study has found that common houseplants reduce nitrogen dioxide indoors.
Add soft textures
Bedrooms should feel warm and inviting, and while industrial and minimalist looks are popular right now, soft textures like rugs and throws are great for taking the edge off.
Placing a rug next to your bed could even give you an extra reason to get up in the morning!
Make a statement with art
If your bedroom is bland or uninspiring, why not take things up a level with art? You could invest in a single statement piece or create a gallery wall, showing off a range of prints, photos and multi-styled frames.
Even accessories like jewellery trays can double up as art pieces.
Could any of these update ideas help transform your bedroom this summer?
Join Us!
Sign up today to receive a FREE printable guide to decluttering ANY space and monthly emails packed with inspiration to help you on your tidying journey