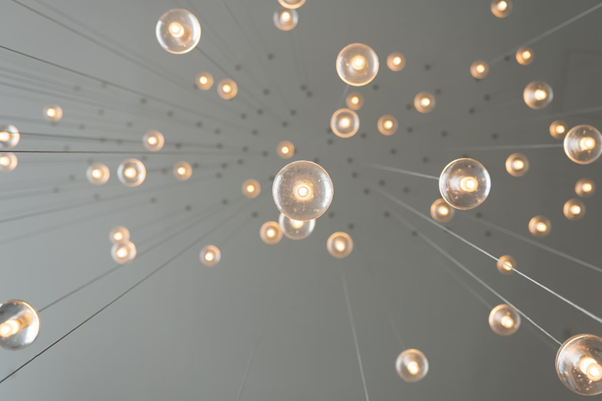 How you light your home can have a big effect on your mood, whether that's creating a relaxed ambience, or somewhere that's light, bright, and airy to make you want to get things done.
The right lighting design, no matter which room it's for, has a huge effect on the room's purpose. Think about how it works – you might not want low lighting in a home office you're working in from 9-5 every day, but you might want it in the sitting room when you go in there to relax in the evening.
With the use of good quality designer lamp shades, and the use of different types of lighting at once, it's possible to create a balanced atmosphere that's welcoming. So, what exactly is layered lighting, and how can you achieve it? Here's an explainer and how you can achieve it in your own spaces at home.
What is layered lighting, and how does it work?
It's a design idea that utilises three different lighting techniques to brighten a room up, effectively and in a balanced way. You'll have a 'base layer' of light which is then enhanced by accent lights, which help create texture and different dimensions through a space.
All the various layers of light work together to create a space that is welcoming and creates a functional, multipurpose room.
You can use a whole range of lighting fixtures and fittings to create this kind of atmosphere, and it doesn't need to cost a lot of money, either. It's a simple trick to use if you're looking to sell your home or switch it up a bit in preparation for a move.
The layers of lighting and how you use them in your home
There are three components to this, and this is how they work in your home.
The first component is ambient lighting. This is what adds the overall illumination to your room. It's what brightens your space up and means you can see everything properly. The level of ambient lighting you need depends on the size and structure of your room, the general purpose of the room (i.e. a space for work, for eating, for relaxation), and lastly, the aesthetic you're going for. What kind of colour scheme are you trying to match it to? For instance, you wouldn't necessarily want soft lighting with neon bright colours! Ambient lighting makes use of outdoor light and main fixtures such as ceiling pendants.
Your second component is task lighting. This is a way of accentuating different spaces in the room once the ambient lighting is right. So, think about the use of a desk lamp to make your workspace brighter during the cold months, table lamps in a living room to add a warm, relaxed glow – or spotlights in a kitchen to add bright light and illuminate work surfaces. Again, you need to think about the primary purpose of a room and what it's being used for. Then decide on the type of task lighting you want.
The last component is accent lighting. This is perhaps the most personal layer of lighting as it allows you to highlight the things that are most important to you in your home. You can light up your personal belongings and the things that mean the most to you – whether that's some treasured artwork, beautiful vases, or family photographs. For this, you could utilise anything from rope lights to LEDs to create an ambience.
Why is it important to use layered lighting?
Different environments within your home have different needs, and the people using them will all have their own considerations and needs. Layered lighting can help add dimension and depth to a room to help with creating space or making a room look cosier.
It can completely alter the mood of a space. For instance, a dimmer switch on a lamp or main light switch can turn a bright room into something calmer, and relaxing. Turning on a spotlight in a kitchen can create instant brightness that can assist you in the tasks you need to carry out there.
It might be something you're already doing in your own home without realising it – but if not, it really can make all the difference to how you feel about the rooms you live in day to day. A little work on layered lighting can help give a home the wow factor without having to spend a fortune.
Join Us!
Sign up today to receive a FREE printable guide to decluttering ANY space and monthly emails packed with inspiration to help you on your tidying journey