Why Should You Purchase A Garden Apron?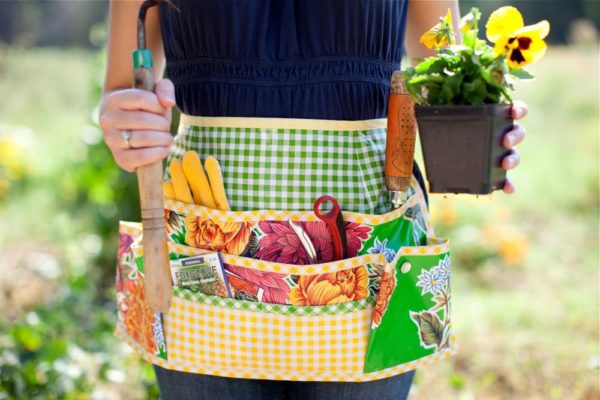 There's no doubt that gardening is a messy activity but there are ways to make it tidier and stay organised. If you're repotting plants in the garden or standing over potted plants, clothes will easily become soiled and damp. Therefore, you should consider purchasing gardening aprons as they provide cover for your clothes as well as several pockets for holding small items when you're working.
Lots of people decide on belts that help them carry around their tools, but an apron is much more convenient. The point is to find something practical that can save you time while doing your favorite hobby.
Gardening can be quite fun and beneficial for your mental health, but it's also a dirty hobby, as mentioned above. It's not always easy to keep your clothes clean and free of fertilizers and dirt, but purchasing an apron can be beneficial for many reasons. These garments may be used for various other things, such as keeping your tools within reach while keeping your hands free.
In fact, gardening aprons are multifunctional items that can be used for purposes other than gardening. Suppose you don't have enough pockets to store your smaller gardening tools. In that case, your gardening process is about to become more complicated. Therefore, if you love your garden and want to provide it with the love it needs without getting so dirty, you should buy an apron. Before you dive into the more detailed benefits of this product, let's focus first on the advantages of gardening.
Benefits of gardening
Gardening is about more than just making your garden look amazing. According to a wide range of empirical evidence, caring for plants can also support your own health. Physical activity can help you maintain the weight you want as well as manage your blood pressure. Simply engaging with the flora can raise your mental health and mood, as mentioned above.
When your skin is exposed to the sun while you're outside, your body produces vitamin D. According to the National Institutes of Health, this vitamin, which can also be found in milk and fish, aids in the absorption of calcium, which is essential for our bones. It's important to get enough vitamin D in your system, especially during a pandemic. Click on this link to learn more https://www.healthline.com/health/healthful-benefits-of-gardening.
Moreover, deciding to grow your own food can result in a lot of advantages. It means that you control what you eat, and the vegetables and fruit that grow in your garden are organic and healthy to consume. Not only that but maintaining a beautiful garden requires devotion. As a result, you will definitely feel a lot more stressed-free and at peace with yourself.
Gardening may be a solo hobby or a way to spend time with friends and family. It brings pleasure and relieves tension, which is a good thing to share with all of your loved ones together. It also has several advantages for children. Early exposure to dirt has been related to a number of health benefits, ranging from the reduction of allergies to the prevention of autoimmune diseases. How amazing is this? But, every gardening project requires a set of tools and gear. Here's what you need to know about gardening aprons.
Find a strong material
You want a gardening apron that is made of a heavy, sturdy material that won't easily tear or break, and it also needs to be practical, so it should have plenty of big, deep pockets for carrying your most frequently used tools. This way, you will be able to reach them anytime you require one or the other. Some gardening aprons have extra-large pockets that can be used as a produce basket when it's time to harvest.
When it comes to the material, make sure to pick a quality one because you'll want your apron to last a long time. You can also purchase a couple of aprons instead of just one. As mentioned above, gardening is messy, and sticking with just one throughout the years might be challenging. But, a lot of them are made from sturdy and waterproof materials that are just the right fit for any enthusiastic gardener. Read more on this page.
Select the right colour
The first thing you should know about colors is that plenty of people choose darker shades when it comes to gardening aprons. This, believe it or not, has many advantages. First, since the apron is dark, dirt won't show up as much, allowing you to go longer between washes. Second, since blue jeans go with almost everything, the aprons are flexible enough to go with whatever you're wearing. You can easily combine the apron with whatever you are wearing already. Besides, you won't be wearing them to a party.
It's also crucial to find an apron that suits you well and can be adjusted in several ways, so you don't have to worry about it falling off your shoulders. Since it will get dirty easily each time you wear it, you'll want to get one that's easy to clean so you can wash it in between uses. Since you'll be wearing your gardening apron over your clothes, it should be attractive and match your personal style.
So, keep this in mind when picking the perfect one for you. You might want to avoid bright colors that reveal stains easily. Plus, a good idea is to avoid patterns and prints if you don't want to get a new apron for every dress. There are many different designs, patterns, and colors to choose from, but if you want to keep it simple, stick to plain dark designs. At the end of the day, it is your decision. That's why here are some gardening aprons you should definitely check out.
Pockets are essential!
Every passionate gardener knows that tools are essential when it comes to taking care of their garden. Instead of dragging a heavy toolbox every time you decide to do some gardening, you should invest in an apron that has multiple pockets ready to fit anything.
The perfect gardening apron has various pockets in various sizes, allowing us to have anything we need close at hand and organized. We keep the mobile phone in one pocket so that you are always prepared to take an amazing picture of a flower, pruners, and shears in another, gloves in another, sunscreen in another, and a couple of pockets for odd tools or supplies we need for a particular gardening project. Follow the link for more https://medium.com/my-front-porch/the-hidden-benefits-of-gardening-9fe031d2edd1.
Luckily for you, plenty of products like that are available on the market. You can place your most-used tools inside of the apron and carry them with you wherever you go. Read more tips on how to improve your garden space.
Join Us!
Sign up today to receive a FREE printable guide to decluttering ANY space and monthly emails packed with inspiration to help you on your tidying journey