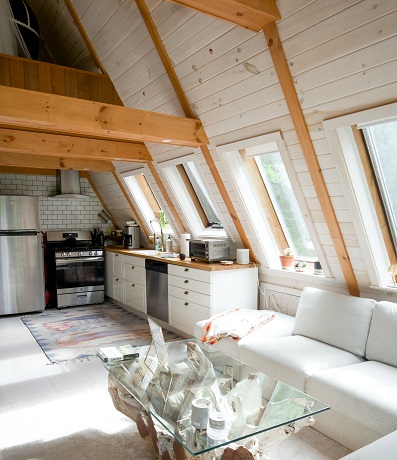 If you are planning a loft conversion but are hesitant about whether to go ahead, this short guide is here to lend a helping hand. Although loft conversions are a significant upfront cost, they offer many positive benefits for many homeowners. Below – are three reasons why you need a loft conversion. After reading this guide, you should have all the inspiration you need to go ahead with your plans.
Energy Efficient
When you go ahead with a loft conversion, there are many factors that you need to consider. Insulation is one of them. To make the space liveable, you must ensure that the loft is airtight. As a result, this increases energy efficiency in your home. Usually, a lot of heat in homes is lost through the roof. However, with adequate insulation, you are helping to prevent this.
It is no secret that energy bills are rising. Installing a loft conversion can help you tackle this. If you are struggling to lower your energy usage, there are a few steps that you can follow to get it under control. Seek advice from British Gas online. Ideally, you need to get into energy-efficient habits like stopping leaving your appliances on standby and switching off lights in rooms that are not in use.
Creates Additional Living Space
This is undoubtedly one of the biggest benefits of loft conversions. If you have loft conversion plans in mind, it is probably because you need additional living space. Loft conversions allow you to utilise your existing space and eliminate the hassle of moving house. You can use your loft conversion as an extra bedroom or make it into an office if you work from home.
If you want to make this new living space as functional as possible, you need to think carefully about the design. How will you get the most out of your space? This is where a design specialist like Fast Plans can help. They can help you build a loft conversion that fits nicely around your budget, and they can help you execute your loft conversion plans from start to finish – making the process as stress-free as possible.
Adds Value To Your Property
Although you might not have plans to sell your home in the future, it can be comforting to know that a loft conversion can add considerable value to your property. So, although it will be a high upfront cost to make your loft conversion plans a reality, it will benefit you if you decide to put your property onto the market.
Research has shown that a loft conversion can add up to 20% to the value of your property. The additional living space is an appealing feature for many buyers – particularly families who need as much room as possible. There are many other ways you can add value to your property if you plan to sell. Loft conversions are one of them. Conduct some online research to find out more information.
So, as this article highlights, loft conversations have many benefits. If you are unsure about going ahead with your plans, this article should help you feel inspired and ready to start.
Join Us!
Sign up today to receive a FREE printable guide to decluttering ANY space and monthly emails packed with inspiration to help you on your tidying journey