A huge part of helping clients declutter their homes is about finding NEW homes for their unwanted stuff. One person's clutter truly can be another's treasure and this is particular true for clothes and accessories. We're passionate about re-homing items and avoiding things entering landfill wherever possible, to do our bit for the environment.
We're always on the look out of quick and easy ways for our clients to sell unwanted items. It's natural to want a return on quality goods but we find trying to sell belongings can really slow things down when it comes to decluttering.
ReThread's free selling service offers a new, simpler way to clear-out your wardrobe, sell your clothes, earn some extra cash and do-good for the planet. Get started by ordering your free Selling Kit at rethread.uk.

Here's why ReThread's service is a great option:
Take hours of your life back vs using fiddly selling apps
Selling yourself on apps like eBay is a faff – 45 minutes per item on average to tick off all the to-dos (inspection, descriptions, photos, buyer questions, packaging, postage…). For 1 or 2 items, that might be okay, but clearing out your wardrobe of 10, 20…even 50+ items? That quickly becomes a whole weekend! Its no surprise many people are put off selling online altogether. We're here for those people. With our free ReThread Selling Kits you can clear-out an entire wardrobe in minutes – just fill up the bags we send you and drop them off at your local Collect+ store – we do all the rest.
---

Triple your chances of a successful sale
Over the past year, items listed through ReThread have been over 3x more likely to sell than the eBay average (20%). So if you want to sell your clothes quicker, it's a great option. We use professional photography, keyword optimised listings and our SmartPricing algorithm to boost your prospects.
---

Get paid in cash, and keep a larger percentage of the sale proceeds
Earn 40-70% of the sale proceeds with cash paid straight into your bank account. So you can spend your earnings on whatever you love – whether that be refreshing your wardrobe or donating to charity. Compare that with other online fashion resale services, which restrict your payouts to shop credit and cap your share at a 1/3 of the sale proceeds!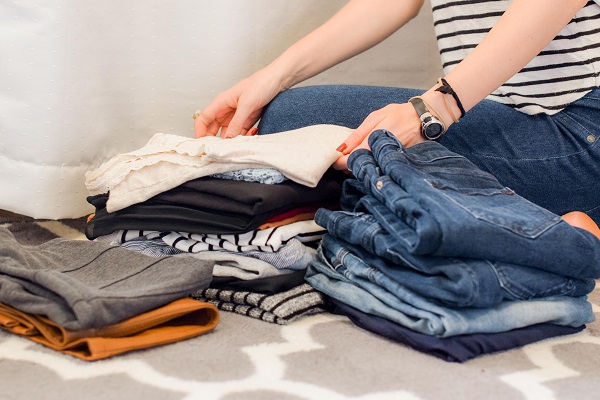 ---

Personal, friendly service
Ask us anything! We'll get back to you pronto. No chatbots, you'll speak to one of our North-London based team (yes, a real human!) who care about your experience and your clothes.
---

Sustainability guaranteed
We're here to give your awesome pre-loved clothes a new lease of life. It's the single most important thing we can do to combat fashion's HUGE waste problem. By reselling a full bag of clothes and displacing the need to manufacture new fast fashion you help save: up to 3.5kg of landfill waste, 200kg of CO2 (the same as taking 40 cars off the road for the day) and 15,000 gallons of water (that's enough to fill 300 bathtubs). Awesome work!

---
---
Join Us!
Sign up today to receive a FREE printable guide to decluttering ANY space and monthly emails packed with inspiration to help you on your tidying journey