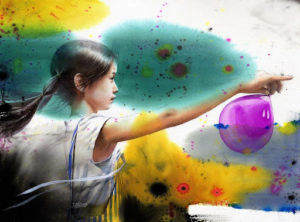 So you have followed your heart when it comes to decorating your home with furniture and other decor items. You have picked out the best houseplants, a quirky-looking clock, and maybe even get a pet. Yet somehow, your home still feels like it's missing something…some sort of element to add some atmosphere to your living experience. Living in a big and fancy mansion isn't a requirement to owning fine art. You also don't have to be a millionaire to buy it or even walk into a shop that sells it. Here is a list of ways that you can  add fine art to your home that is your humble abode and not starve your wallet.
Estate sales/auctions
One person's possessions can be another one's treasures through a simple process called bidding and winning. In other words, find an estate sale or auction near you that may be selling something that you like. Simply set your parameters and you'll be sure to find one happening near you as early as today!
From candlesticks to Paul Evans tables, there are a plethora of beautiful items that you'll be able to find at a local auction. If you're lucky, you may even be able to find 19th-century paintings and some good china. It's your chance to grab them before they become lost in an antique shop across the country. 
You may have some bidding practice on eBay, (if not, that will be covered later) but this is the big leagues. You'll have to have quick reflexes, a good eye, and judgment for fine art, as well as a trained ear to understand the quick speech patterns of the auctioneer. A numbered paddle comes in handy too, but that will be provided to you.
If you're coming into the bidding world and you see people standing in the back on their phones, don't automatically give them the death stare. This is a common practice amongst bidders who can't be there in person, having someone do the physical bidding while they report back to the actual buyer.
Shopping for art online
With the invention of the internet, it has become so much easier to buy, sell and ship things without paying so much gas money to visit multiple stores within a day. Nowadays, you can hop online and purchase a unique piece of fine art encased in a gorgeous frame. 
Whichever shopping platform is your favourite, you are sure to find fine art online in just a few seconds of clicking "search". If you're looking for more original or even signed works, bidding websites are the ones that yield the most results. Who knows, you may even find one particular artist that you identify with, and want to collect multiple pieces crafted by them. 
Of course, nothing can quite beat discovering art in person, being able to take in all of the fine details, and feeling your heart pound with wonder. However, there are a lot of artists today who would never be able to be discovered any other way if the Internet didn't exist. Be the reason someone smiles today and take a chance on finding your next painting online when you add fine art to your home.
Do a Paint & Sip class
If you can't find any art online or at an auction that connects with your soul, why not try going out and making art yourself? You may be able to unlock a new talent that you never knew you had inside of you before. One of the most enjoyable ways that you can do this is to take a "paint and sip" class.
These are classes where you and other people in a group are given a picture to try to re-create or a theme that you need to analyse and depict your interpretation of it onto a canvas. You also get to sip on some wine and let it unlock the artist within you, in reasonable amounts. 
The best part is that you get to keep the piece that you make during the class.  The sheer satisfaction that you get after spending time and effort into something that you create may help you achieve some fulfillment that you're secretly looking for. 
Not only can you bring your friends with you to enjoy a new hobby together, but making art is also very beneficial to your mental health. It can help people feel more optimistic and release dopamine into the brain to increase happiness. 
No matter how you look at it, there's no reason why you shouldn't try creating something yourself, even if it doesn't look perfect on your first try. After all, art is subjective so as long as you find joy and meaning in your piece, other people will be inspired too. 
You should be able to find a class in any major metropolitan area, but you could also try picking an existing piece and host your class at home with friends to recreate it. Even something as simple as colouring in a mandala can boost your creativity. There's also no shortage of Bob Ross episodes to watch and paint along with.
Check out your local farmer's markets
After scouring the modern art museums filled with pictures of random shapes and splashes of colour, you may be left questioning the whole notion of art in general. You've looked around for hours but can't seem to find any styles that seem like they would fit in your home. Maybe the perfect artwork is just a short walk away.
If you've never been to a farmer's market before, there is so much that you're missing out on. Not only can you get gouda cheese made entirely from plants, but there are bound to be some local artists who are looking for new customers. Even if you're not a native to the town or city where the market is being held, it's still worthwhile to check out. It might even create a reason for you to come back and visit in the near future. 
These artists will almost certainly be local, so they will be able to showcase all of the charms that the area has to offer. A statue or fountain that you walk by every day and think nothing of could take on a whole new shape from someone else's artistic perspective. They can also show you how beautiful sunsets or sunrises can look at a certain location, possibly inspiring you to check it out yourself, and eventually hang up a painting of it in your home.
Supporting local artists is always worthwhile, as their work may be even more important to them than you first realize. It can help them fund their craft, create new projects, and reach even more customers. Displaying their work in your home is one of the best forms of advertisement that you can provide.
Commission an artist
It's not that hard to find art either online or in person and contacting an artist can be a great way to add fine art to your home. Even in your favourite magazines, there may be some colourful illustrations that are done by professionals. If you're searching for some new kind of art medium for your home and can afford it, you can commission an artist to create an entirely new piece specifically for you. 
The first step is to figure out what kind of art medium you'd like, whether it be some pottery, a painting, or even a small figure to place on your end table. Then you should look for some examples that you can use as references. After you find the artist who has what you're looking for in their portfolio and their commissions are open, reach out with a request.  
Artists are usually very accommodating and will send you pictures of each step as the piece comes along. If you want any changes, make sure to communicate them quickly and appropriately. When they're finished, make sure to leave them a favourable review on their website so that others will want to utilise their services too. 
Not only pleasing to the eyes but also your health
Art doesn't just exist for people to look at, talk about, and generate revenue for museums. It exists in order to bring people joy and help them find meaning within simple-looking expressions. Art can also improve your health! It's funny how sitting and looking at a painting can make someone suddenly feel more motivated to increase their physical activity.
Hopefully, you will feel more inspired to add fine art to your home and look for art in places that you may have never expected to find it before. Who knows the kind of other art aficionados that you may meet along the way? Maybe you'll be able to make an art school graduate's day by reaching art to them with a commission request.
Join Us!
Sign up today to receive a FREE printable guide to decluttering ANY space and monthly emails packed with inspiration to help you on your tidying journey