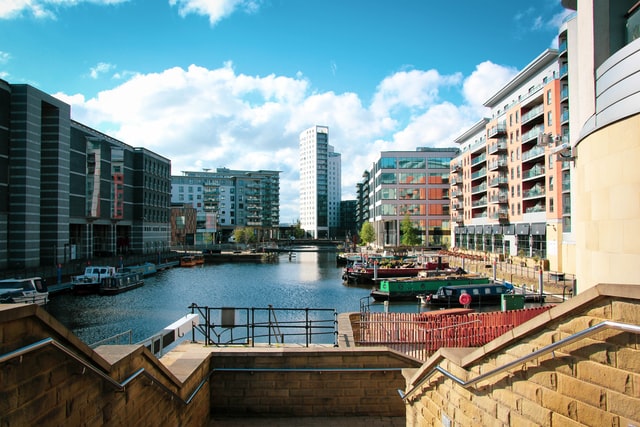 Say the name Leeds to anyone from Leeds and they will conjure up vivid images of what the city means to them; past, present and future.  A buzzing city with an array of people from all walks of life. People who are separated by age, incomes and passions but brought together by their love for Leeds.  However, in 2022 the world has changed dramatically in recent years.  Are there reasons to buy and invest in property in Leeds?  The simple answer is yes – your timing couldn't be better.  Still, need more evidence to invest in the powerhouse that is this city?  Well, how about these 7 reasons:
A growing population  
The UK and this very much includes Leeds is seeing unprecedented population growth.  
Despite the worries of an exodus since Brexit, the country has seen quite the opposite flow that forecasters once projected. Hundreds of thousands are still being added to the UK's ballooning population each year. 
Where once the majority of people entering the country were of European descent, now in the 21st-century, "Twenties" people from all over the world are making their way to the UK.  A significant Percentage of them according to recent data are drawn to Yorkshire and more importantly Leeds.  
Each and every one of these new arrivals needs a roof over their head and a place to call their home. The demand is certainly there for increased house prices. The continuous demand for new rental opportunities persists as tenants compete with each other, forcing prices higher and higher. Estate agents in Leeds like Dwell Leeds are finding themselves beginning to be left with much demand from the buying side. Currently, many purchases that are hitting the market are being taken off in record times.
The biggest legal and financial centre outside of London
London is Europe's financial centre making it of course also the number one financial centre in the UK.  However, did you know Leeds is the second most important financial and legal centre in the UK?  
Tens of thousands are employed in these sectors. And with that comes a population in need of good accommodation.  The pay bracket of the individuals and their families, will of course correlate with what kind of home they are seeking.  With an industry that seems to only want to grow, you can bet the demand for decent properties will remain high.  Investors in Leeds may be first time buyers, multiple home owners or property investors. All can expect to compete against those whose incomes will only increase with time, which in turn will force up property prices.


The government is investing in HS2
In an unlikely turn of events, the British Government is thinking further down the line than the next election.  Plans have already been drawn up and the next stage of the HS2 railway is now on the cards.  Investors took the gamble and purchased property down South to benefit from London's Crossrail. This has already begun to pay dividends as house prices have shot up around each newly linked station.  The HS2 line will link London to Leeds in under 2 hours. Therefore, we can expect investors to reap similar capital gains rewards to their southern brothers and sisters if they invest between now and 2035. The expectation is of an optimistic connected future. 
Do not believe the doomsayers who claim that this project will be cancelled as the money flowing into the region are betting it will still take place.
Silicon Valley Leeds 
The global tech giants boosted San Francisco property prices to the moon in the last two decades. However, it would appear the digital industry is growing faster in Yorkshire (Leeds) than anywhere else in the United Kingdom.  Forget Old Street London. Some of the finest tech start ups are growing right in the centre of Leeds.  This revelation can mean more people will be moving to Leeds to be close to their place of work. Agencies like Property Stream show how far the estate agent industry has come and how it's at the forefront design and technology advances. With an already limited supply of properties available, now is the time to invest. It's time to seize upon the demand that will inevitably come as the Tech industry grows and grows. Who knows your next tenant, may one day be the UK's, Mark Zuckerberg before he or she makes their billions.  
Four Universities
The University of Leeds, Leeds Beckett University, Leeds Trinity University & Leeds Art University are all to be found in the city of Leeds.  
This number of fine universities brings a student population of 60,000 students all needing a place to stay while they take on student debt, drink a little too much and in theory expand their outlooks on the universe and the wider world. This of course gives the savvy investor of property in Leeds a significant opportunity to cater to the student population, living in areas like Horsforth and Headingley. 
From investing in large houses, perfect for the large group of friends that can't bear to be separated after forming a bond in the first year at student halls.  To the students who are happy living in less social HMO's with self-sustained ensuite rooms and a little more privacy.  The University's population continues to expand. So, an investor in Leeds can be safe in the knowledge that there will be a consistently expanding demand for rental accommodation.


Leeds to Manchester in 20 minutes
Thanks to a more forward-thinking investment plan usually seen in countries like Japan.   Manchester, Bradford & Leeds are about to feel very much more closely connected than ever before.  The new high-speed Northern Powerhouse Railway, in theory, will allow people who work in Manchester to live in Leeds city. And get to work in a very agreeable 20 minutes!  Currently, it takes around 50mins by rail or car.  A considerable upgrade to current commute times. 
The Northern Railway is projected to bring some 22 billion pounds worth of investment into the economy.  This injection can only bring rewards to first time buyers and savvy investors of Buy to Let property in Leeds.  Now while it is true that this link isn't 100% confirmed the wise investor gets in early before the inevitable happens.
People actually want to live here
Investors are often swayed by glossy marketing brochures and hype. This can attempt to convince people that a ski resort in eastern Europe is the next best place to park your money. However, had the investors done more research, they would have realised that few actually want to live there. And even fewer people want to visit there.  
Yet when it comes to the ancient city of Leeds, it can be clearly observed that people want to live there. This can be done by simply spending some time here and talking to those who live here. It has gives off the energy on being a desirable place to live. 
Investors often talk of other places in the north to invest. But few will argue that they would prefer to live in Hull over Leeds. Because of this, Leeds will weather the worst of storms should any appear on the horizon.  There will always be a demand from people wanting to live in this thriving modern city, steeped in history and culture. 
You may also be interested in reading one of our most popular related posts on the blog!
4 of the best places to live in the North of England.
Join Us!
Sign up today to receive a FREE printable guide to decluttering ANY space and monthly emails packed with inspiration to help you on your tidying journey