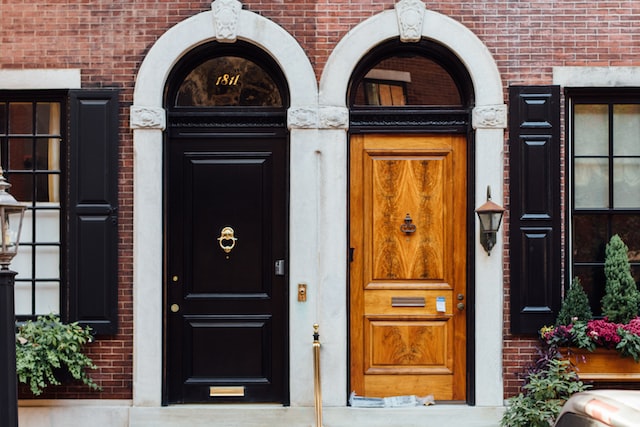 There is a dizzying array of options to consider when selecting a new front door. The door hardware in a room may make a big difference in how it looks. One of the oldest decorating techniques is to replace worn-out cabinets with new or repainted ones. And for good reason. You can remodel a kitchen or bathroom in this very simple method. The same approach applies equally well to doors on a larger scale. Even the most conventional doors may seem spectacular with the addition of elements and styling. Here you can read about the top features to consider for your new front door.
New York interior designer Magdalena Keck compared door hardware to fashion jewellery. She remarked, "Let's assume you're wearing all black and a fairly basic attire, but you have a gorgeous watch or fantastic shoes. In a similar vein, "hardware can dramatically enhance a place".
However, changing a doors is far more difficult than changing cabinets. Additional measures must be taken into account, and different parts must cooperate. Furthermore, because door hardware is often more expensive and requires a longer commitment, it is essential to understand how the components and finishes will hold up over time.
Know Your Dimensions
Take a few important measures before making any purchases to avoid being confused by your new door materials when you go to install them.
The existing holes will determine many of the requirements in case the hardware will be mounted on an existing door. You can omit this step if it will be put on a new door that hasn't been drilled or is being constructed to order.
The back set is: the distance between the border of the door and the handle's centre. It's important to know this dimension.
Another crucial factor is the door's thickness. Generally speaking, the majority of hardware you purchase will function flawlessly on doors that are between inch-and-three-eighths and inch-and-three-quarters thick. This is the industry norm. However, many people have doors that are either thinner or thicker, in which case a separate kit may be needed to attach the handles.
The new hardware must completely enclose the opening that is behind the old escutcheon (also known as a rosette or backplate). Therefore make a note of its size.
Latches
Latch designs may be divided into two categories: tubular and mortise.
Tubular latches are more frequently used. They have a thin mechanism that is simple to install. And a drilled hole on the edge of the door. A separate deadbolt or a button on the door handle itself can be used to provide a locking feature. However, tubular locks have the drawback of occasionally being fragile.
A stronger and more costly option is having a large metal box that slides into a slot on the side of the door. This allows for the installation of mortise latches and locks. If this integrated lock is present, it is often operated by a different thumb turn on the door. Both new, high-end doors and older doors frequently include these locks.
Because the two types of latches are not interchangeable, you are stuck with one option if you need to replace an existing door. So, which should you select?
Look at the door's edge to determine what you have. A mortise latch will be at least a few inches high and have a larger metal plate around it than a tubular latch. The tubular latch which will just have a little metal plate.
For a new door, you can select any mechanism for the latch. However, experts advise installing a mortise latch since it can withstand larger door levers. A mortise latch is not only more durable but also manufactured with stronger springs.
Levers or knobs
To an extent, this depends on your home interior style. For example, there are a huge variety of chrome door handle sets available. But the one you choose mostly depends on your taste. But choosing between knobs and levers is one of the most important choices.
Levers have advantages from a functional perspective and are well-liked by clients. Levers are more popular since they are simpler to operate if your hand strength is weak or you are carrying anything.
Choosing door knobs based entirely on functionality is, of course, uncommon. Some people choose according to colour. Others in line with a particular style such as Scandi or Bohemian.  Other types of people are concerned with picking a model that "emphasizes the concept of the home".
There are alternative possibilities if you're looking for something genuinely unique. One of the experts' favourites is a T-shaped handle that, when at rest, looks like a centred vertical bar.
Honing Your Ideal Result
Although the majority of specialty door handles are made of metal, others are made of crystal, porcelain, or wood. A nearly endless variety of finishes are available for metal door knobs. These range from from mirror-like polished chrome to severely tarnished antique brass.
Consider the other fixtures in your house, the home's age, and style, as well as the finish you want. You could want your door to have the same satin nickel finish as the plumbing fixtures in your kitchen and bathrooms. On the other hand, a rich oil-rubbed bronze may be a better option for a Craftsman-style home with dark wood panelling.
There are many functional parts of your home that you can choose complement your decor. Plugs and light switches, for example, may truly affect how the space looks. There are a wide range of reliable, branded electrical goods available these days. So, no matter how creative you are, you can find something that reflects you.
Thanks for reading!
A Tidy Mind
You may also want to check out:
Plastic vs Stainless Steel Kitchen Cabinets: The Rundown
The Importance Of High Quality Fitted Windows & Doors
Join Us!
Sign up today to receive a FREE printable guide to decluttering ANY space and monthly emails packed with inspiration to help you on your tidying journey