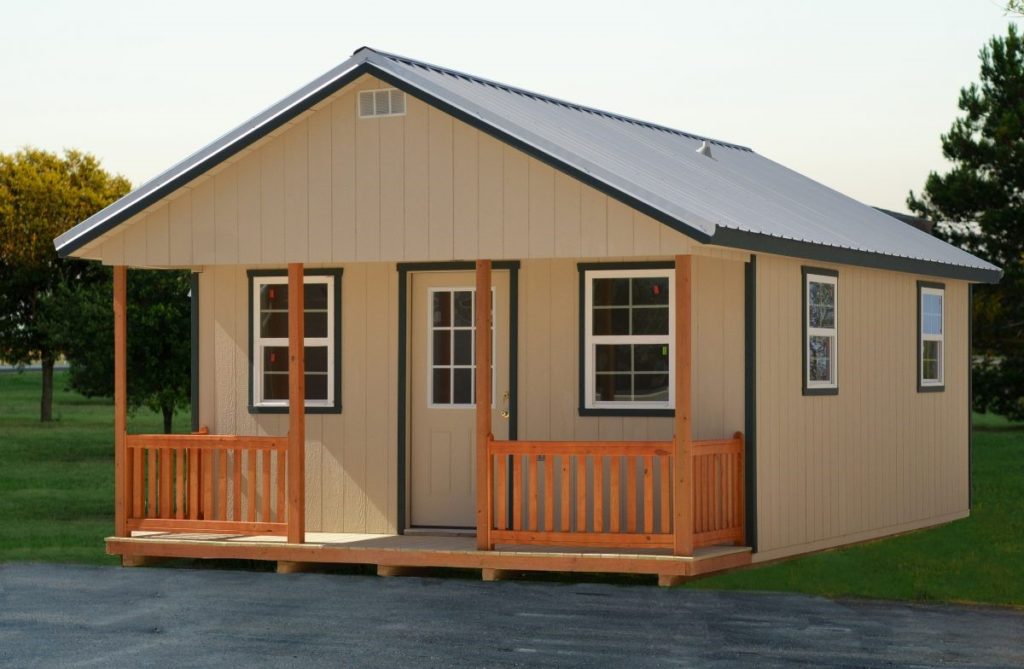 So you have concluded that you will be needing portable storage buildings or facilities to help you with your storage needs. And as you may have already discovered, there are many options available to pick from. For someone who doesn't know what to look out for when buying one, you may be a little lost and need help with making a decision.
Before you go looking at available options, you want to check the sections below for what to look for in the best portable storage buildings in the market.
Why do You Need a Portable Storage Building?
Knowing just why you need one will help you with making the decision on which to settle for. The type of building to get should be one that will meet the purpose why you shopping for one in the first place. So knowing why you need a storage unit will make the process a lot easier. Below are some of the reasons how portable storage buildings can be of benefit to you.
Added Storage Space
This is by far the reason why many people opt for them in the first place. They need additional space that isn't far from the house to store some items that are taking up much space indoors. You may need help with storing your lawnmowers, washing and drying machines, bicycle, gardening tools, and outdoor equipment. And you can do all this if you have a shed with additional space away from the house.
You can find here https://www.thisoldhouse.com/storage-organization/21018128/37-ways-to-add-storage-to-every-room for tips on adding extra storage space to every room in the house.
An Extra Room
Who says a portable shed can't serve as an additional room if you aren't should that you can upgrade the house to carve out an additional room. You can find a portable storage building that will be perfect for use as a guest room or relaxation when you want to enjoy your solitude. It could also work as an office, art studio, craft space, or any hobbies you want to experiment on away from the house. And what's better is you can design it just how you want.
Save Stress and Time Doing It Yourself
You will also be avoiding the time, and stress of constructing a backyard shed yourself. Even with the skill sets, it could be hectic taking care of the entire planning and construction process. And why not go for a portable option that can be fitted anywhere on your landscape.
Choosing the Right Portable Storage Buildings
Once you have come to a conclusion why you need a storage facility and have decided on going for a portable option, the next step will be to make your choice on the available options. And some of the things you want to consider include
How Much You Have to Spend
You already know that it will cost you to buy one and you want to know just how much you are willing to spend on one. The quality of the materials, size of the structure, and design layout are some of the things that will influence the price. And you should know that while buying one because it is cheap isn't always the best as you can find yourself in a fix after a while when the structure starts to break down. So it is always best to spend on a durable option that offers a longer lifespan.
Delivery Method
You want to know how the portable storage building gets to your address. The larger the size, the harder it may be to transport. Some companies may have to transport the frame and install other features on-site to avoid damage to the structure. You must settle this before you make payments for portable storage buildings
Materials in the Construction
Also, the materials the portable storage building is made from are one thing that will add to the longevity of the shed. Since you don't want to be searching for a new one in a few years you should spend on quality. The best material options for portable storage buildings include those made from quality plastic, metal, and hardwood. This website has more on portable storage buildings material and making the right choice.
Maintenance
You need something that will be easy to maintain without having to do it frequently. And metals options made from resins are always the easiest to care for. Re-enforced plastic will also do well in the long term with a few maintenances at intervals. But in the case of wood, you may need to perform more maintenances especially due to the action of insects, weather, and damage from long-term use. But the good part about wood options is that they offer a high level of customization which makes it easy for you to achieve your design needs.
Style and Design
The appearance is also something you should think about as you don't want to spend on something that isn't attractive. While the interior design will have to suit the purpose, the exterior also needs to look right. You may want to match it with the design of your building, and unless you are constructing it from scratch may find it hard to find one that can match exactly. But it is still possible to find one that can be upgraded to fit the style of your home, so you have something unique.
Size
How big do you want the shed to be? This is one thing about finding portable storage buildings that serve your needs. You can find one you like but doesn't work in the available space on your lot. And as such, you may have to build one yourself or hire someone to do it. But when it comes to finding just the ideal storage buildings for sale, you want to research extensively as you indeed will find the best option for you if you search wide.
So you don't want to limit yourself to your local store. Although you may spend more delivered to your site if you purchase from far away, you get to find what you need and will be happy with it.
Bottom Line
Portable storage buildings are a good option for having an additional storage facility in your home. You can also find those that will work well as a studio, outdoor office, or craft house for brewing homemade beer, baking, or whatever craft you need additional space for. You want to make sure that you get the quality that will last longer and be easy to maintain.
You may also want to check out our blog on Design Tips For Shipping Containers Turned Into A House
Join Us!
Sign up today to receive a FREE printable guide to decluttering ANY space and monthly emails packed with inspiration to help you on your tidying journey