One simply cannot overstate the importance of proper illumination and good lighting in your humble abode. No matter its size. Whether it's a high-rise apartment in the middle of a bustling city or a rural. Or a serene house on the outskirts of civilization. The lighting used will have a profound effect on them all. Importantly, it will help you breathe a new life into whatever room it's properly implemented.
You may ask yourself, how does it even achieve that? After all, natural light is but a light. It's everywhere. And besides that, any sort of artificial illumination looks more or less the same.
There are numerous ways in which illumination done right can make your room feel more vibrant and alive. One way is including highlighting its architectural features. Also, creating a beneficial ambiance, accentuating the previously unremarkable decorations, and making the whole area more colorful without serious expenses. Read on and learn how illumination can transform your lovely space!
Can Make Your Whole Area More Colorful
This may seem like something obvious at first glance. You just need to know where to place which light source for your room to look more colorful. Colored light sources can make a huge difference when it comes to how your environment will look.
Illumination from warm white light bulbs will help make the colors warmer and softer compared to cool white light bulbs. Even though it may sound like a no-brainer, consider replacing your incandescent or halogen bulbs with RGB LED ones. They provide amazing color rendering and are more energy-efficient.  Also they allow you to change the entire style of your room on a whim.
You may want to consider investing in a power generator to keep your home lit in the event of a power outage. For example, the best dual fuel generators give you versatility when choosing the type of fuel you want to use. You can opt for increasing efficiency with gasoline. Or lower your economic impact by using propane.
Can Highlight the Architectural Design Features Present in Your Room
It's safe to say that we don't always appreciate the beauty of what surrounds us. That is, until we see it under the proper lighting, at which point its grandeur becomes all too obvious. If you have a home you're very proud of, you should definitely take advantage of proper illumination to get the most out of it!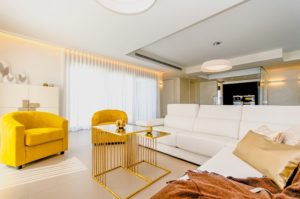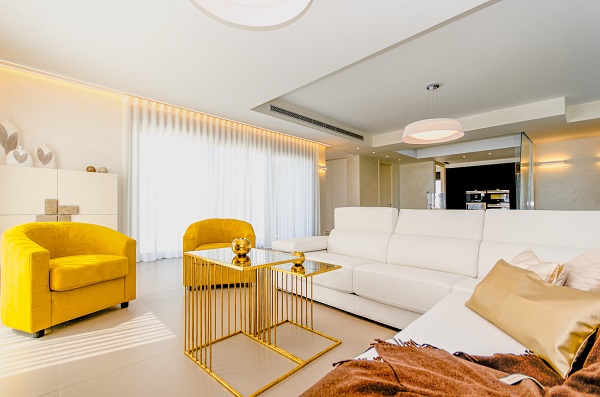 Generally speaking, there are two main types of architectural features. Firstly, those present from the start. Then those added later on. The former is usually part of the overall design of your house or apartment (charming roof tiles or old-style door frames can be a good example). The latter refers to anything that was built in.  Such as a kitchen cabinet or a newly installed bookshelf.
Any type of architectural feature can be accentuated with proper illumination using a few simple tricks. By having one light source (such as a lamp) act as a spotlight, all of the architectural highlights will become much more noticeable.
There is also another way to highlight the features present in a room. Consider making them stand out against their surroundings in a subtle manner. This can be done by having numerous light sources distributed throughout your abode and by placing them in a way to illuminate the room in a uniform way. This will help create contrasts and unmistakably emphasize the features.
Can Create a Beneficial Ambiance for Your Room
If you want your room to feel cozy, you need to create an atmosphere conducive to relaxation and rest. Thankfully, proper illumination can do just that. A beneficial ambiance is created by having the lighting softly illuminate the room without blinding you with an intense glare. Granted, there are different ways to achieve this. However, they all rely on the same principle – having multiple light sources with different intensities.
Before we delve into proper lighting for your room, let's make sure we understand what an ambiance actually is. Basically, it's a feeling that encompasses your whole environment. This  includes smells and sounds (if any). And since our sight plays an essential role in it, we have to bear that in mind when setting up the lighting in our room. This is especially true if your taste tends toward minimalism.
The reason is simple – minimalist interiors tend to be quite dark. So it's best to avoid putting too many lights in your room when you don't want to overwhelm it with bright light. Thus, creating a beneficial ambiance can be achieved by having at least three light sources placed at different heights. From there, you can gradually add more lights depending on whether the room requires additional brightness or not.
Can Accentuate the Previously Unremarkable Decorations Present in Your Room
If you want to give your decor a new life, changing illumination is probably one of the easiest ways to do so with just one move! All you need to do is dramatically change the lighting scheme used in your room. And as always, there are multiple ways to achieve this goal. But they all require some planning beforehand.
For example, you could use wonderful decorative lamps to cast shadows on your walls and accentuate their beauty. Or you could turn off all the lights and use candles instead. This is a classic approach that works wonders! Just remember not to go overboard with this method. Remember, too much smoke can be harmful and thus won't allow you to enjoy your lovely decorations.
Conclusion
As you can clearly see, proper illumination can turn an ordinary area in your home into a place full of life, character, and beauty. There are numerous ways to achieve this goal. So it's up to you to decide which of them is the best fit for your home.
There are numerous light sources that you can choose from (including LED ones), so make sure you take the time to familiarize yourself with each of them and their unique properties. That way, you'll be sure to get the optimal result. Good luck!
Join Us!
Sign up today to receive a FREE printable guide to decluttering ANY space and monthly emails packed with inspiration to help you on your tidying journey