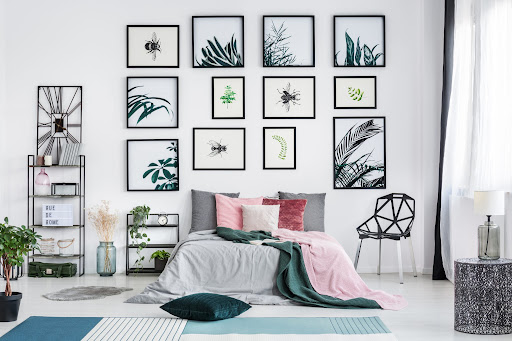 An empty wall is more like a blank canvas yearning to come alive with colour and design. Some wall decoration ideas can refresh your bedroom and augment the room's overall look as they effectively fill up the space and stitch the whole story together. World-renowned interior designers have been emphasizing appropriate decoration to make the bedroom more classy and comfortable. However, it is not easy to decorate the area above your bed – Walk through the inspiring ideas that will take the bedroom décor idea to the next level and bring a welcoming sight after a hard day at work. 
Install a shelf
Are you running out of ground space? Take the collection to the wall –  Install oak floating shelves to display books, small sculptures, and hardcovers. Since decorating the wall of your bedroom is instrumental when it comes to the interior design process, be sure to install a shelf that can complement the overall theme of your bedroom.
Stylish symmetry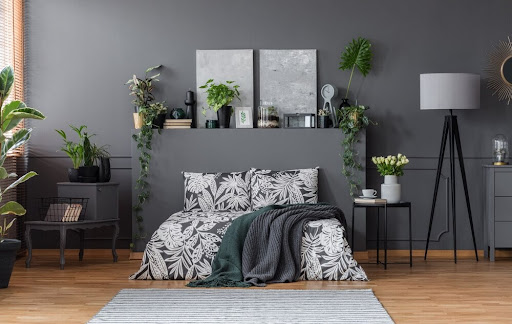 In order to refresh your bedroom and give your bedroom a serene flair, you need to create perfect symmetry. Everything from plaster walls to nightstands and matching sconces should complement each other to provide the bedroom with the utmost attention.
Mirrors on the wall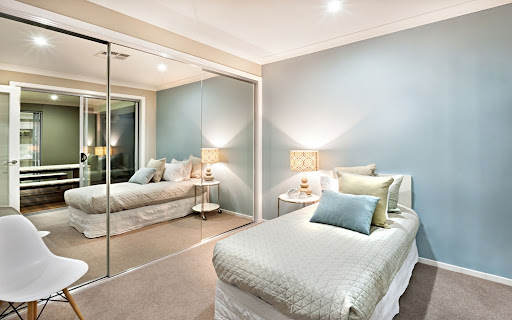 When there are more mirrors on walls, they create the illusion of more space. Moreover, they are practical accessories and play a vital role in increasing the light in a room. Hence, whenever you feel your room needs attention, hang a mirror as it adds a fantastic decorative perk to your space that otherwise will be impossible. Mirrors on the wall also help to camouflage the damage on a wall or wall paint.
Whimsical wallpapers for bedrooms walls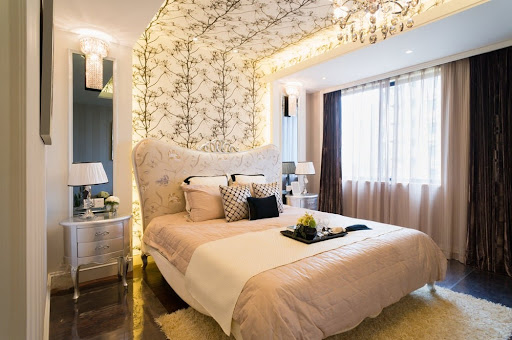 You can elevate the beauty of a bedroom with wallpapers that are specifically created for them. Always choose the design that can suit the aesthetics. For example, you can explore a variety of bold colours if you are a modern art lover. On the other hand, if you want to make your place more peaceful, go for natural tones. You can not make a bedroom warm and beautiful if you don't find wallpaper instrumental in enhancing the overall beauty of the bedroom. 
Curate a best art wall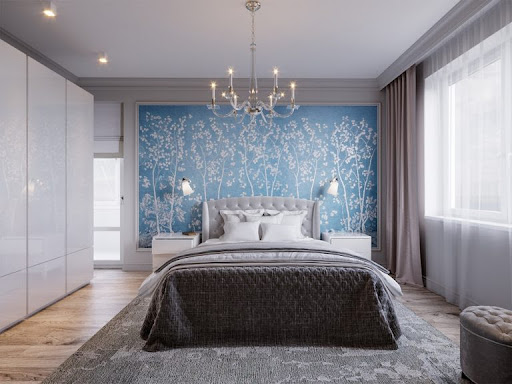 It would be best to make some bold decisions when looking for wall décor ideas to turn those bare walls into a focal point. For example, an oversized painting will instantly grab attention as well as add wow factor and can be the single biggest thing you can do to refresh your bedroom. On the other hand, if you have a minimalistic space; black and white art pieces will go perfectly with it. The gallery wall is also a superb idea that adds personality to the bedroom. Better opt for cohesive yet straightforward frames to show the best of artwork. You can also extend the art to the ceiling; this will help to create an illusion of a bigger space. 
Shingled wall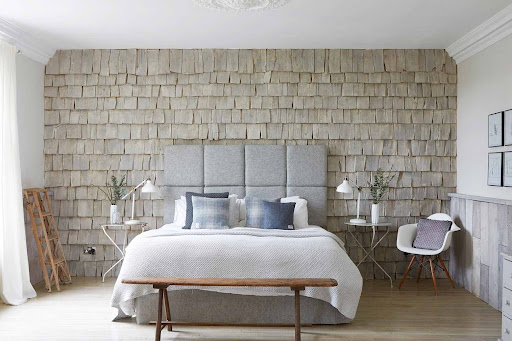 How about creating a wall shingle – a thin tapered piece of wood primarily used to fill the walls and roofs to protect them against weather conditions. They bring a visual appeal to the bedrooms. Moreover, their role in insulation and protection is beyond appreciation. The shingled walls also protect the bedroom from insects. Since they are environmentally friendly and damage resistant, homeowners have been using them to décor the wall of their rooms, including the bedroom. 
Ultra neutral sleeping space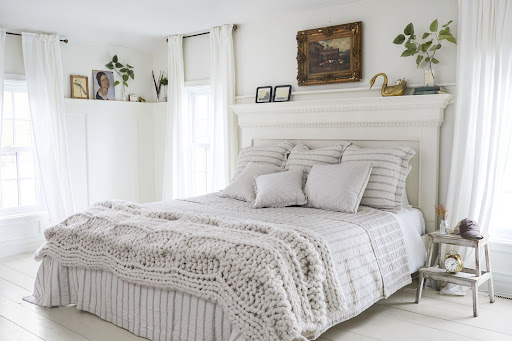 Are you interested in creating an ultra neutral sleeping space where everything is white, including floor, bed, ceiling, furniture? In this case, a similar hued folk art above the bed brings cool vibes. It plays a terrific role in bringing in the texture and interest to the overall theme of the home. First, however, install the best and unique same hued artwork that can complement the overall theme. 
Play with different patterns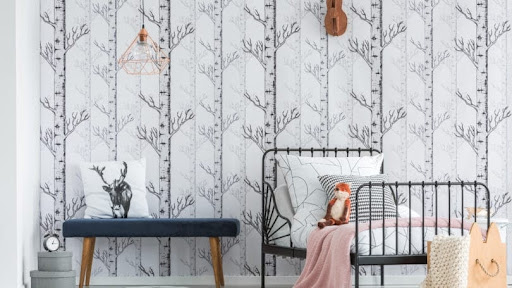 It is understandable that no one wants to wake up in the plain white box. Instead, it should be made the way you like it and with extreme comfort and relaxation in mind.  Whether you have a small sleeping space or a spacious bedroom, you can create something unique with every size. How about creating patterns? To give your room a more customized touch, we suggest never settle on one pattern but go for three to four like a vintage Kantha quilt, Paper Hangings, with sepia tone wallpapers. 
Go greener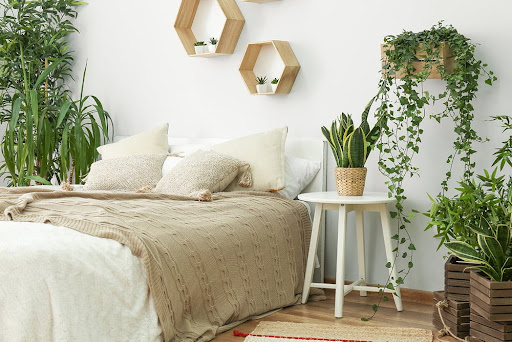 Plants have a fantastic role in your physical and mental wellbeing! And we firmly believe they are not meant to sit on the windowsill. Instead, try hanging a few small planters inside the room to bring more refreshing vibes. Do you think watering them will be a difficult task for you? Well, for that, it is better to opt for a variety of high-quality faux plants. The minimalist planters on empty bedroom walls is a surefire way to elevate the beauty of the bedroom.
Wide-Set Panelled Bedroom Walls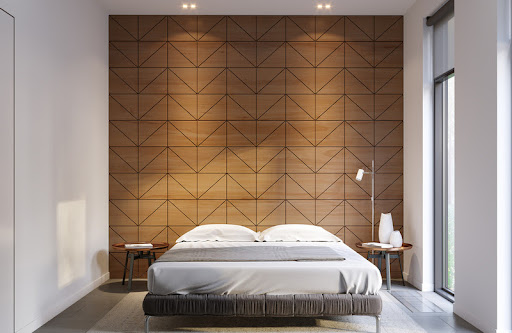 How about creating wide-set panelled walls as a dramatic way to refresh your bedroom? They add an instantly historical touch. Basically, they provide support to the structure and are made up of various materials that are then compiled together. It looks super cool if you have a small bedroom. Meanwhile, it is powerful enough to exhibit the personality around the bedroom. 
Decorate empty shelves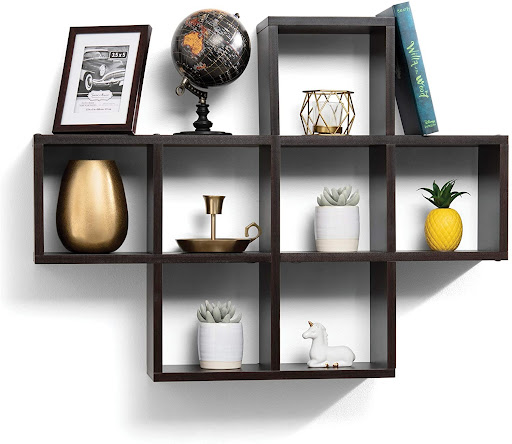 Cubic floating shelves for narrow walls in a bedroom add elegance and functionality too. They look stunning no matter if you hang the artwork or not. However, we suggest displaying vases on each shelf to amp up the overall beauty of the bedroom. On the flip side, you can also use simple floating shelves displaying paintings, photos, sculptures or succulents, no matter what you put on them, they will also look amazingly beautiful. 
Hang curtains that revamp the space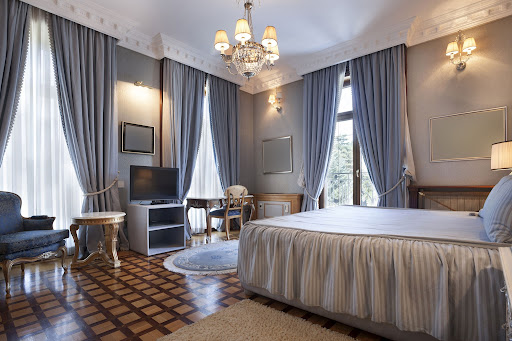 We may already know how crucial curtains are in preventing dust from coming into our place. But, apart from this, they add a pop of colour to a neutral room. A subtle print of a curtain goes a long way in bringing interest towards a monochromatic space. You need to pay serious consideration to the overall aesthetics before hanging ready-made drapes. Be sure whatever you choose, the print or colour, adds warmth and interest to the room.
Mount sculptures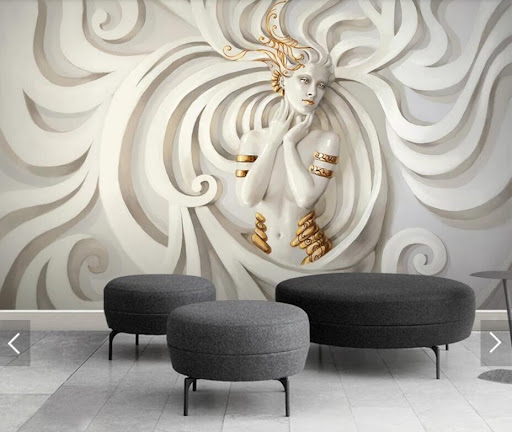 Patterns and bright colours bring life to and refresh a simple bedroom. The metallic accent pop, though, the fantastic sculptures add dimension while multiple layers tend to keep things soft. A perfect oversized painting/sculpture will command attention and make the bedroom stand out from the rest of your house. Therefore, we suggest incorporating stunning sculptures into the bedroom. Don't rush to buy anything; instead, put serious consideration in the selection and choose sculptures that you feel can surely enhance the charm of your bedroom and exhibit a part of your personality.
Wrapping up 
The value of wall art has risen dramatically in recent years and has been used to enhance the home's aesthetic. There was a time when people never emphasized wall art, but now homeowners have realized that decorating the bedroom will amp up the beauty of your bedroom. However, we suggest considering every aspect seriously before treating the wall and bedroom with random decorating items. You can do different things to add flair to your bedroom, from installing wall hangings and buying home décor products to displaying suitable wall art to installing whimsical wallpapers for bedroom walls. All these things go a long way in sprucing up the overall aesthetics. 
Frequently Asked Questions
Why is it crucial to decorate the bedroom?
The décor in the bedroom or other part of your home makes them more inviting and pleasant.  Many interior designers find it critical to decorate and maintain your home in good condition.  Well-designed rooms demonstrate your love for your living space and your attention to detail.
What is the purpose behind wall art?
Wall art serves as a finishing touch that harmonises the room's furniture, decor, lighting, and colour palette. Your area will go from functional to both functional and spectacular with the proper wall art.
Is it essential for wall art to match the overall theme of your bedroom?
It doesn't have to be exact. It's okay if the colour and lightness aren't the same. It'll still look good together. To make a statement, choose a piece of art with a prominent colour that contrasts sharply with the rest of the room's design.
What is the perfect colour to display art?
 A darker neutral wall colour, such as a deep grey or charcoal, will help the picture's white colour pop out and compliment the black. A brightly coloured wall (such as crimson, turquoise, or magenta) might, on the other hand, give a beautiful contrast to the monochromatic black and white images.
Should I decorate every wall of my bedroom?
When it comes to decorating your walls, finding the right balance is crucial. Because space is an integral part of the design, you should not feel obliged to decorate every wall. But, on the other hand, trying to cram everything into every available place will make your room feel cluttered, chaotic, and disorganised.
Join Us!
Sign up today to receive a FREE printable guide to decluttering ANY space and monthly emails packed with inspiration to help you on your tidying journey