When it comes to your floor, getting the basics right is probably where you should lend your focus (and spend your cash). Decor and furnishings can alter with changes in taste but get the flooring right and it can last for decades.

When it comes to choosing the right flooring for your home, there are a few things to consider. Practically is essential but aesthetics are no less important. The modern home needs to have both elements and you don't need to compromise.
We've recently looked to Lifestyle Flooring UK (a leading premium flooring supplier) for inspiration and put together four reasons why solid wood flooring could be the perfect choice for your home…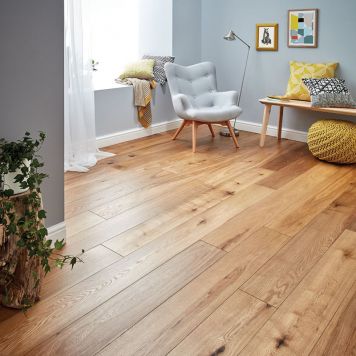 Life expectancy
Solid wood is arguably one of the most durable types of floor material there is. If wood floors are looked after, they can last for 100 years or more. You'll always have the option of getting this floor sanded, re-varnished or stained to bring your floor back to life and create a new look in the future. Despite being hard wearing, you'll still want to prevent dents and scratches in the first place by removing shoes, using doormats and adding felt protector pads on furniture legs.
Cosy & comforting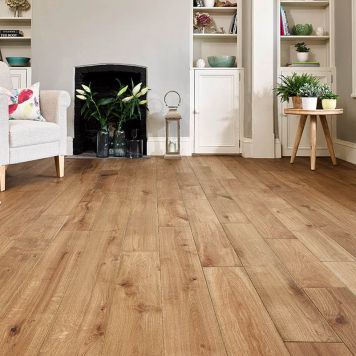 Unlike tiles, wooden floors won't feel cold and clinical and actually have natural insulation, meaning they help you keep warm in winter and cool in summer, in turn saving you money on your bills and being optimal for the environment. This type of flooring creates a 'homely' feel straightaway like the above image from https://storiesflooring.co.uk/collections/solid-wood-flooring
This can all help you feel warm and comfortable when relaxing at home. For woods which absorb and retain the most warmth, choose Oak, Maple or Walnut. Or add rugs, particularly in front of sofas and next to beds. Rugs can also add further textures and make your home even cosier.
Timeless appeal
Flooring isn't something you want to regularly change, so it's key to get it right. Flooring needs to adhere to your taste, but ask yourself whether you're still going to like it in ten years' time. Wooden flooring never goes out of fashion, so even if you do decide that it isn't for you in the future, you can cover with carpet but still keep it in tact to help your home retain it's sale or rental value.
Ease of maintenance
Many modern flooring options stain or attract dust and dirt meaning you're forever cleaning or living with floors not to the standard you'd like. However, wooden floors do not tend to accumulate dust mites. Unlike carpets, you don't need to worry as much about spillages because in most cases you can wipe them clean. Keep cleaning simple with a steam or wet mop. And if you need further help, there are special wood floor cleaners which smell amazing. If you have children or pets, you may want to add a sealant on top of your wood floors to protect against stains.
We hope to have provided you with some inspiration and perhaps some new facts about this excellent choice of floor. Whatever you choose for your floor, ensure it suits you down to the ground 🙂
Thanks for reading
A Tidy Mind
Join Us!
Sign up today to receive a FREE printable guide to decluttering ANY space and monthly emails packed with inspiration to help you on your tidying journey