The colder weather and change of season can mean we spend more time at home. Perhaps you're looking around and considering giving your home interior a makeover?
There is endless inspiration in Pinterest and Instagram but what if you don't quite have the budget to match up to your grand designs? Don't fear, you can still give your home a facelift on a budget. Competition between DIY stores, kitchen showrooms and department stores is now rife so know where to look and how to shop, and you can grab yourself a bargain. Take a look at these ideas that can revolutionise the look of your home without breaking the bank.
Kitchens
The kitchen should be the hub of your home. This is the room where people can grab a quick coffee, enjoy rustling up a feast and have a mid-week family meal. If you love nothing more than cooking up a storm in your kitchen and relish baking the finest cakes and designing new gastronomic delights, then you want the worktops and appliances to match. If a new kitchen is what you're craving, then head to the showrooms to take a look at the ex-display models. Yes, they may have had their cupboards opened a few hundred times, but they will be in decent condition, and you could get them for over fifty per cent less than the recommended retail price.
If a brand spanking new kitchen is still out of reach, consider changing the doors, swapping the handles or installing a new oven. These options can still dramatically alter the design of your kitchen without the astronomical costs of a full reconfiguration.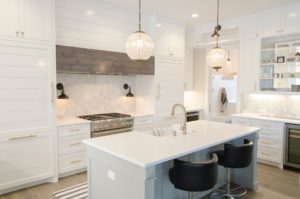 Furnishings
You might not want to touch the walls of your home, and you might be quite happy with the paint job that you have. Instead, you might be keen to change up your furniture and furnishings. If you adore the wooden floorboards in your living room, it might be time to add a couple of cheap rugs if you are on a budget to break up the expanse of antique stain.
Swap your decade-old sofa for a three seater that is more vintage in design. Head to a second-hand shop or auction house, and you could pick up an achingly cool retro design for a song. Danish and Eastern European pieces are very much en vogue at the moment and could be a worthwhile investment so long as you keep your furniture in top condition.
Declutter
By simply removing some of the possessions that you have accrued over the years, you can revolutionise the look of your interior. If you have an array of knick-knacks clogging up your shelves and too many items that you haven't used in over a year bursting from your cupboards, it might be time to let them go. Donate to charity, sell on eBay or list on Freegle. By having a more sparse and clearer space, you can begin to enjoy the space you had forgotten that you had once again. You can even consider industrial dust collection systems to ensure a cleaner airflow around your home.
---
It can be tough to give your home a facelift when the purse strings are tight. However, follow this guide, and you could give your humble abode a top quality makeover on a budget.
Join Us!
Sign up today to receive a FREE printable guide to decluttering ANY space and monthly emails packed with inspiration to help you on your tidying journey