Building healthier habits can be the key to a happier, longer, and more fulfilling life. Most of us know that not all habits are equal! We all have bad bad habits, if we're human. But the focus is not only how to form healthy habits, but also how to build healthy habits that stick. It's the longevity that it key.  
With that in mind, HOW to build healthy habits that become automatic? Making the habits stick is a must if you're going to keep on doing them in the long term. It's easy to do things sporadically and then give up altogether, or even do them for a week or two before gradually forgetting all about them. In this post, we'll explore how to make sure you stick to them. Take a look!
Give Yourself A Reminder
Is there a way you can remind yourself of the habit you're attempting to implement? For example, if you need to remember to take your vitamins, then leave them out. If you want to drink a pint of water as soon as you wake up in the morning, leave it by your bedside table. Get your gym outfit ready the night before too. Doing small things like this can give you that gentle nudge to ensure you don't forget. Out of sight really can mean out of mind otherwise.
Allocate A Very Small Amount Of Time
The good news is, when you're first trying to build habits you don't need to give up lots of your time. This is the case even if you want to build the habit of exercise and working out. James Clear actually says that if you work out for just a couple of minutes, doing it every day will make the habit stick. Eventually, you can build up the time. He says even if you walk into the gym for a minute and don't do anything, the act of walking in there everyday builds a habit. It sounds strange, but it really works! 
Stack Your New Habits With An Old Habit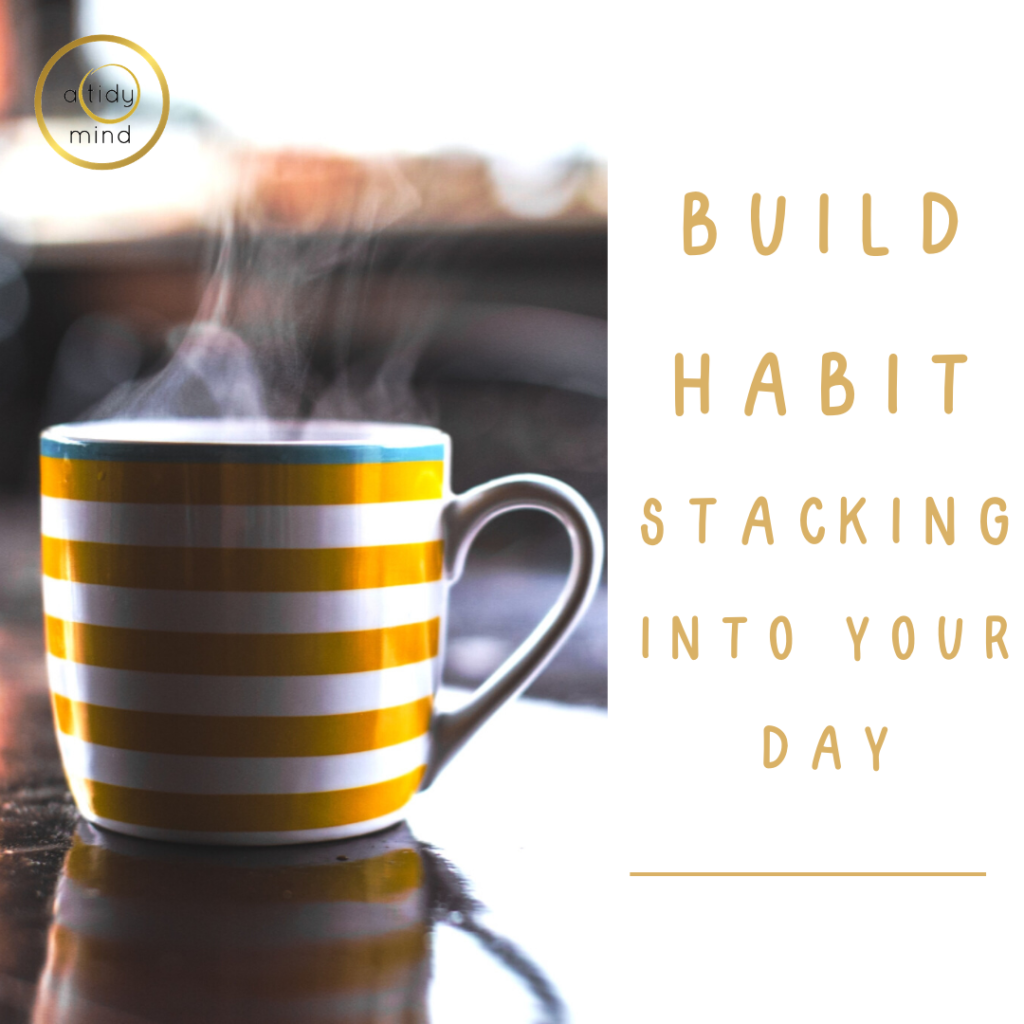 Stacking your new habits with an old habit can also be a great way to make things stick. For example, if you already drink a glass of water in the morning, immediately take your vitamins afterwards. This can be your new routine and sticking to it will feel like second nature. 
Make Them Enjoyable 
Your habits should also be enjoyable if you're going to stick to them. Your life should not feel like a chore. Replace cigarettes with Nicolites, for example, or simply pick a form of exercise that you enjoy. Don't worry if it's not 'the best' type according to the internet. If you like it, it'll be beneficial for you to do it. 
Identify Your Biggest Obstacles
Be honest with yourself and identify your biggest obstacles. Do you procrastinate? Why? Perhaps you don't have your own space to concentrate. Could you wear noise cancelling headphones to get some peace? Can you delegate more? Do consider asking for help or simplifying your life in order to prioritise. There will be obstacles, but you can overcome them with a positive attitude. 
Be Aware Of Your Environment 
Your environment can actually dictate the way you act. At A Tidy Mind, we aim to make people feel more content with what they have, either by making their homes more functional or beautiful (or both). We all need our home to be a relaxing retreat. In so many cases, it stresses people out instead. But home should be our 'calm place'. Consider your environments and what you associate them with, and then work out whether they could be hindering you in any way. 
Make Yourself Accountable 
It's a sign of a healthy mindset to make yourself accountable. Not to others – but to yourself. Have a system where you regularly track your own progress, and notice patterns of the things that slow you down. You could take pictures, keep a journal, or find another way to track your progress. Telling other people what your goals are can help, but it's so much more powerful when you rely on yourself. 
Change Your Language 
Your language can also impact your state of mind and success. The way you talk about yourself as well as the habits you are attempting to implement will make a difference to whether you stick to them. Be positive, and make sure you know that these are things you get to do, not things you have to do. There's a big difference! 
Thanks so much for reading.
A Tidy Mind
Join Us!
Sign up today to receive a FREE printable guide to decluttering ANY space and monthly emails packed with inspiration to help you on your tidying journey