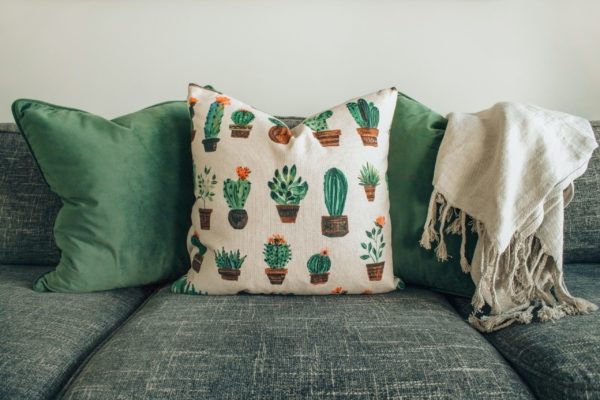 The living room is the centrepiece of most homes. This is where your family can come together and relax after a long day. It should be a welcoming and comforting place. Naturally, redecorating it can be plenty of fun, while also giving your whole home a lift. But how to redecorate your living room? Read on to find out.
Picking colours
Picking the right colours for your living room is important. It'll determine the style of the room and the colour scheme you go for could also impact your mood. For a start, if you're looking for a clean style that makes the room feel bigger, you should opt for light, neutral colours. However, you can go for alternatives if you're looking for your living room to conjure up different moods. Blue and green shades can be restful and calming, while deep oranges and reds will be more exciting and passionate. Ultimately, you should consider your personality and what you want from your living room.
Add lighting
Lighting is important in your living room. If there's too much artificial light, your eyes can become strained, and you'll get tired easily. Instead, you should look for a blend of ambient and natural light. You can achieve this by ensuring there are plenty of windows in your living room and you can even add a roof window to let light in from above. After that, you can add indoor lanterns as an excellent way to achieve ambient lighting. Floor lamps can also help create a textured feeling to your lighting.
Mix textures
You can make your living room pop by furnishing it with all sorts of different textures. This can make your space feel more varied and cosier. You can begin this process by adding a statement rug to your flooring. After that, you can adorn your sofas and furniture with throws and different types of cushions to add a wide variety of textures to the room.
Storage
Storage is also important when you're redecorating your living room. Clutter can harm our mental health and ruin your living room's aesthetic. But by adding clever storage solutions you can avoid this. One option is to add discrete hanging storage to the room. If you don't fancy this choice, you could purchase fitted furniture that has built-in storage. Some sofas and tables come with hidden storage options that can help you avoid a mess accumulating on the floor.
Redecorating your living room can be a lot of fun. You have the opportunity to overhaul one of your main rooms and turn it into a stylish but restful place for you and your family to enjoy.
Also, if you want to sell or rent out your home, redecorating can be one of the most effective home staging techniques. Find out more about our home staging service.
Join Us!
Sign up today to receive a FREE printable guide to decluttering ANY space and monthly emails packed with inspiration to help you on your tidying journey