How To Spruce Up Your Garage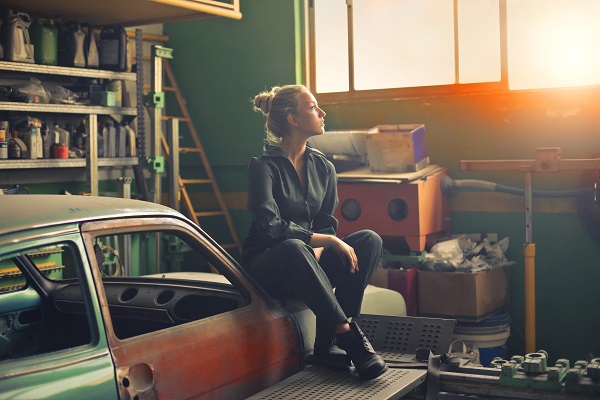 You may need to spruce up your garage every few years. In the UK, most families use the garage to store odd things, and it soon gets converted into a dumping ground for unwanted objects in the house. A few clearly thought out ways to clear out the garage and make it a usable space can spruce it up and make it functional again.
Most homeowners start thinking of garages as a DIY project. That is actually a great idea. Changing the look and feel of the garage, clearing out the clutter, and making space can get the garage organized quickly. Changing the old garage door from a side opening to up and over garage doors with extra security, upcycling old things, mounting bikes on the wall, and more can help tidy up, organize, and spruce up the garage quickly.
Since garages are originally meant to house cars, they are usually long, awkward, and challenging to decorate. The length and breadth of the garage don't always make it conducive to luxurious interiors. However, it is possible to make it look neat, organized, and habitable.
Mount Bikes On The Wall:
Storing bikes on the floor makes the entire area look messy. It also takes up too much space. The best way to start making space is to utilize the wall for more than hanging up unused tools and paint. You could make one side of the garage bike-friendly for mounting bikes of various sizes. You could use colourful bike brackets to make the garage look livelier than earlier.
Children's bikes should be mounted by adults since there is a danger of mishaps or injury. If your children are old enough to carry their bikes, it would be helpful to supervise the process a few times and assist them till they get the hang of it.
Fresh Coat Of Paint:
It is best to always give the garage a coat of bright paint. Dark shades tend to make the small garage look even smaller. Off-whites, creams, whites, butter yellow, and more such colours would help increase the sense of space and make the garage seem bright.
A fresh lick of paint will also force you to re-examine all the stuff that's already in the garage. The colour should help make the garage lively.
Use The Garage Door:
If you install an up and over garage door, you could use the door to store additional items. Things that are long and do not take up much space like fishing rods, hockey sticks, sports bats, telescopic gardening shears or tools, and more can easily be mounted on an up and over garage door.
Securing the items to the door will help increase space, make the area look less cluttered, and easily conceal the extra-long equipment from eager hands (like children). You could also store the equipment in sturdy mesh storage bags mounted on brackets with secure hooks.
Pegboard Storage:
You can add a pegboard to the wall for tools storage. It is easy to add lightweight bins to the pegboard and store small and delicate toys. The hole-punched surface is ideal if you have tools of different lengths and weights. You could also add hooks and hang the tools or place them horizontally in straight lines.
Pegboard storage spaces are ideal for DIY tools, racks, and other hardware storage. You can hand small bins to store screws, drill bits, additional wires, and more. The best part about using a pegboard at a height is that it keeps the tools out of the reach of children.
Home Office:
If you are not utilizing the garage for the car and are working from home, you could turn the garage into a home office space. A separate study will help keep you motivated and make you feel like you are still going to work each day. for many people, the idea of getting up each day, moving out of the house, and going to the office was as much a ritual as the work itself.
Many people prefer working in spaces that are different from their home environments. The work from home scenario could be easily managed by converting the garage. You should repaint the garage, clear out clutter, add a desk, lights, and a chair. You would have to ensure there is adequate lighting and electrical sockets.
Sprucing up the garage helps declutter the area, give a sense of purpose, and control the junk lying around. You could quickly transform the garage and make it habitable again by adding new storage, power outlets, racks, and lights.
Join Us!
Sign up today to receive a FREE printable guide to decluttering ANY space and monthly emails packed with inspiration to help you on your tidying journey