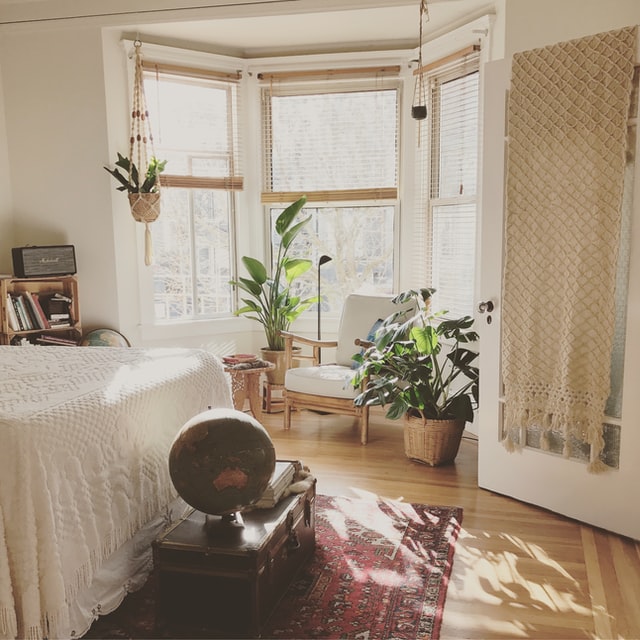 If you're looking to give your property more wow-factor or a breath of fresh air, increasing natural light in your home may be the answer. If you're a homeowner who is looking to sell up shortly, it's time to get to work and undertake home improvement projects. Your initial focus may be on sorting out the kitchen, clearing up clutter, or sprucing up the garden. However, one way to really make your home stand out is by bringing in more natural light.
Natural light is a necessity, both for your home and your general health. Exposure to natural light helps your body produce vitamin D, improves your sleep patterns, and can even transform your mood. Natural light can also make your property feel more spacious and welcoming, which is essential when homebuyers come to view it. If you're serious about adding value, here are some of the best ways to increase natural light in your home.
Use Light Colours
If your home is full of dark block colours, it's time to make some changes. You can start by introducing lighter colours to your walls. Whether you opt for shades of white, cream, or beige, any of these can make your space feel brighter as it will reflect the natural light entering each room, instead of absorbing it.
Avoid painting your walls brilliant white as this can make your space look and feel cold. To create a warmer effect, it's wise to stick with an off-white paint. Another thing you can do is paint your ceiling a few shades lighter than your walls. This will help in creating the illusion of space and height.
Opt for Shiny Surfaces
Regarding your bathroom and kitchen space, it's recommended to go glossy and choose shiny surfaces for your units. This will reflect light that filters into the room, as well as makes your space look bigger and brighter. If you decide on a light colour scheme, it needs to be kept consistent through your cabinet doors and walls.
As well as your surfaces, adding accessories and furniture with a reflective surface help in diffusing light. Some of the most popular accessories include metallic, mirrored, and glass ones. All three will help make the most of the light available, as well as add a stylish touch throughout your abode.
Pay Attention to Your Roof
Your roof can play a huge factor in how much natural light seeps into your home. To bring in more natural light, ClearAmber Shop have plastic roof sheets that can do just that, especially if you have a conservatory. They are a global manufacturer of specialist roofing, decking, glazing, and protection products that can all help transform your home.
There are lots of ways you can introduce natural light from above. These include adding clerestory windows, glazed gables, an open tread staircase, or installing glass roof tiles. Understandably, each of these come with different benefits and price tags, so make sure to compare your options before making your mind up.
Pick the Right Flooring
From speaking about natural light from above, it's time to focus on what's below you. You can transform your flooring into light-friendly reflectors. This can be done by picking ceramic, wooden, or stone floors with a polished finish. This will reflect more light than a carpet would. If you favour carpets, it's best to stick with neutral, light colours.
You will want natural light to bounce around the room. This can be achieved by changing the flooring. While you may see this project as a hassle, think about potential homebuyers and how they'll feel when they walk into the room.
Don't Forget About Greenery
If you have outdoor space, you need to be aware of how much of an impact greenery can have on the light levels inside. Put your focus on your garden space. To start, trim any bushes, trees, or climbing plants, especially if they're growing around your windows and doors.
While they may look pretty and create a calming oasis, if you have greenery that's growing over your windows and doors, this will inevitably stop natural light from pouring into your home. If you're not a keen gardener, it may be wise to call a professional to tackle this project.
Clean Your Windows
When was the last time you gave your windows a good clean? If you aren't sure when, it's time to give them a good scrub! Over time, dirt and grime can accumulate on your windows, which will have an impact on how much natural light floods into your home.
Now is the time to get outside and give your windows and glass doors a thorough clean. After you've done this, you'll be amazed at how much light can filter through the glass and into your property. All you'll need is some warm soapy water to do the job.
Install New Windows and Doors
If you've got the budget to do so and want to really add value to your home, it's a good idea to install large new windows and doors. This is one of the best ways for increasing natural light into your home, not to mention impress potential homebuyers.
Bi-folding doors in particular are a fantastic choice. This is because they can transform an entire wall of your property into glass, leaving you with ultimate light levels and breath-taking views. Homeowners are always looking at ways to boost kerb appeal, so investing in new windows and doors will not only look aesthetically pleasing but ensure plenty of natural light can seep in.
Choose Artificial Light
To boost brightness around the home, artificial light may be the answer. This will enhance, rather than take over natural light that pours into your property. You should concentrate on rooms where light from your windows does not reach. This can include alcoves, corridors, or awkward corners.
If you install a dimmer switch, this gives you greater control over how your space is lit. You can alter light levels gradually as the natural light in your property differs throughout the day. There are an array of benefits linked with artificial light too, especially for helping you to work and study.
Buy New Furniture
Finally, getting rid of dark furniture and accessories and swapping them with lighter options is great for increasing natural light in your home. If you've got dark furniture it could be blocking light from your windows and doors.
Put your focus on your curtains and blinds. This is because dark window treatments can hinder how much light comes into your home. Choosing light furniture will instantly brighten up your space. What's more, light and bright furniture are easy to style, will never go out of style, and can look the part when showing homebuyers around.
---
Natural light is believed to be one of the sought-after features homebuyers look for when purchasing a property. This means if you're looking to put your home on the market and are after a quick sale, it makes sense to bring as much natural light into your home as possible.
Increasing natural light in your home with natural light creates a great first impression, will put a smile on homebuyers' faces, and potentially be the difference between your house selling and staying on the market for many more months to come.
Thanks for reading!
A Tidy Mind
Join Us!
Sign up today to receive a FREE printable guide to decluttering ANY space and monthly emails packed with inspiration to help you on your tidying journey