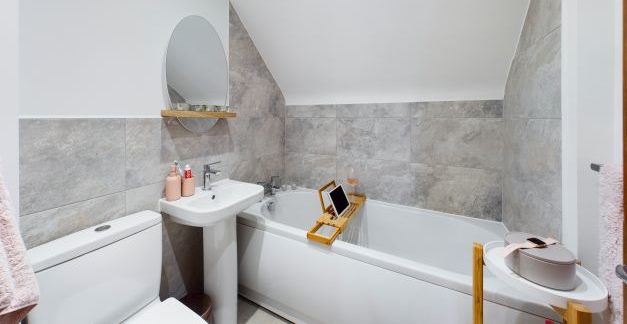 When it comes to luxury, bathrooms tend to be one of the first places we look. After all, who wouldn't want a spa-like retreat in their own home? Luxury bathrooms are something that many people dream of having one day. However, these bathrooms are not just about having a bathtub and some other fancy things. In fact, when creating a luxury bathroom, you need to think beyond the surface and consider the details as well. The little things can really make all the difference and help transform it into an oasis of relaxation and comfort. When planning your dream bathroom, keep the following features in mind to make sure you create a room that is not only beautiful but also luxurious.
Create An Oasis By Adding Plenty Of Plants
If you are going for a tropical, beach-like feel in your bathroom, then houseplants are a must. They can really help to bring the outside inside and make the room feel more serene and inviting. They also have the added bonus of removing toxins from the air. You can place them on window sills, on top of cabinets, or even in a hanging planter to make them stand out even more. For a more minimalist look, you can opt for a beautiful and elegant cactus, which will also add a bit of colour to your bathroom. Whatever you choose, houseplants are a fantastic way to bring nature inside while making your bathroom look luxurious and stylish.
Give Your Bathroom Style With A Glass Door
One thing that will instantly transform your bathroom into something more luxurious is a glass door. These internal glass doors are designed to provide privacy and style to any bathroom; you can even have a unique design added to the door to tie it in with the bathroom design. This will give your bathroom a stylish and contemporary look that can really transform the way the room looks. See Go Glass' range here for a great way to make the most of your space. Whether you have a small bathroom or not, a glass door is a fantastic addition that will help to maximise the room's potential.
Choose Marble Tiles For An Opulent Touch
If you want your bathroom to be luxurious, nothing does the trick better than marble tiles. They look amazing in a bathroom and can be used for a variety of different surfaces. Because of their versatility, marble tiles are a great option for a luxury bathroom. You can transform the look of your room by opting for a variety of colours, patterns, and finishes. What's more, marble tiles are extremely durable and easy to clean, making them a good choice for a high-traffic room like the bathroom.
Put In A Chic Heated Towel Rail
Having a heated towel rail in your bathroom is a great way to make sure your towels are always warm and ready to use. However, you can go a step further and opt for a stylish and chic heated rail that's not only functional but a piece of art. A heated towel rail is something that is found in many luxury bathrooms these days, and it is definitely worth the investment.
Keep Things Cosy With Underfloor Heating
Another luxurious feature that is becoming more and more popular in bathrooms is underfloor heating. Simply put, this is a heating system that is installed under the flooring. It's a fantastic way of keeping your bathroom warm and cosy all year round while also adding a touch of luxury to the room.
Invest In An Indulgent Double Shower
A luxury bathroom isn't complete without a double shower. A double shower gives you the choice of either having two separate shower heads or one larger double shower head. Double showers are the perfect way to make your bathroom feel more luxurious. If you want your bathroom to feel special and indulgent, then a double shower is a great choice. It's a great addition that will transform the room and allow you to really make the most of your daily showers.
Give Yourself A Spa-Like Experience With Jacuzzi Bathtub
When it comes to luxury, there's nothing quite like a Jacuzzi bathtub. These tubs are designed with hydrotherapy jets that help to relieve aches and pains while improving circulation. They also have a whirlpool function that can enhance the experience and really make you feel like you are in a spa. These tubs are certainly on the pricier side. But if you have the budget and like to treat yourself, they are a fantastic option. They are designed for luxury and offer the best experience possible.
Final Thoughts
Now that you know what you need to include in your luxury bathroom, it's time to get started. Creating a luxurious bathroom will be a fun and exciting project. And you can do so in a number of ways. From installing new features to making small changes, there are many things you can do to make your bathroom feel more luxurious. It's important to consider the little details when going for a luxurious look. By adding a few of the features listed above, you can transform your bathroom and make it feel more like a spa.
Join Us!
Sign up today to receive a FREE printable guide to decluttering ANY space and monthly emails packed with inspiration to help you on your tidying journey