Modern home office ideas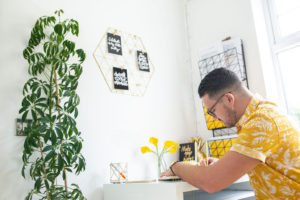 The impact of Covid-19 has had an exceptional effect on our careers and livelihoods. With many let go from jobs they could no longer work in due to negative effects on the firm. Yet more companies opted for the work from home regime to keep employees in a job. Whilst also obeying lockdown and crowding rules. Now, just less than two years from the beginning of the pandemic, we see more and more people continuing to work from home. Businesses have established the successes of this scheme. To this day, surveys demonstrate that office workers are not likely to return to their office on a full-time basis. In fact, most individuals would not prefer to. Being in the comfort of your home will require an adequate office space to ensure work is completed to your full potential. To improve efficiency and maintain motivation, we will demonstrate some modern home office ideas. Hopefully they will assist your day-to-day work routine.
Key Furniture
Whether you have a large or small home office space, there are modern home office ideas to make your furniture and space look sleeker and more contemporary. We would recommend a large desk in your office space. With a larger desk, this should reduce clutter, and less clutter makes a room look more spacious and modernised. Try to incorporate a large light-coloured wood or white desk. We believe that incorporating lighter tones and colours will give the room a brighter look. This can make you feel more awake when working. Alongside the desk, it is important to make sure that you have a comfortable office chair.
For a modern touch, try to incorporate a grey or black leather or fabric chair with plenty of padding and back support. Try to avoid lighter colours that can mark or transfer colour easily. We would recommend ensuring that your chair is mounted on castors and is adjustable to your height. Perhaps with armrests, and as many other features as you require. Try not to have a strict budget with your office chair. After all, it's one of the most important objects in your office space.
Many businesses that opted for remote working are slowly trying to resume normal operations. This means that they are trying to get their workers back to the office spaces. They are taking help from office removals companies to help them move or shift their furniture and assets from an old place to a new place. This is particularly true of businesses that are giving their employees the option to keep working remotely.
Electronic devices 
Of course, to perform your job, you will evidentially require your laptop, computer, and/or other systems or phones. As well as this, one of the modern home office ideas is to make your space more futuristic by incorporating a few other beneficial electronic devices. A smart TV is a wise choice to add to your office and it does not need to be large. A smart TV adds to the home office as it means the individual can watch this and use streaming services during breaks or possibly throughout the whole day. Perhaps you focus better with some slight background music. Why not download Spotify on your smart TV? This will eliminate your need for a Bluetooth speaker and provide you with other options, alongside this, you can also access live TV. As an aerial is needed for your smart TV to access Freeview TV, it is important to ensure that this works.
Contact https://aerialandsatelliteexpress.co.uk for any further questions on TV aerial installations. Within the Bluetooth department, why not opt for a Bluetooth mouse and keyboard as cables are reduced which makes your desk look cleaner and orderly.
Add colour
Modern home office ideas revolve around minimalistic and basic designs, and we would advise keeping all base colours neutral, such as white, grey, beige, etc. Some colours can be extremely overwhelming especially within an office space. This can cause loss of attention, headaches, etc. However, a pop of colour is advised to make the room more energetic and alive. Try to add bright blues, pinks, or oranges, however, implement these in moderation, and not altogether. Add this colour in the form of cushions, canvases, or lampshades, to give the room a hint of colour and life. Try and even add smaller accessories to your office space like vases, picture frames, books, and plants to make it look less empty and more put together.
Plants, in particular, are recommended in an office space as the colour green has proven to boost energy and can stimulate a happier mind. So can pictures with family and friends. Although you may be trying to keep your space as minimal and modern as possible, do not hesitate to add a personal touch to your room.
Join Us!
Sign up today to receive a FREE printable guide to decluttering ANY space and monthly emails packed with inspiration to help you on your tidying journey