As Professional Organisers, we believe style is as important as decluttering and organising. That's doesn't mean you have to spend a lot of money or have things professionally designed. The important thing is being aware of your personal style and incorporating nods to it within your home.
The warmth of a cozy bedroom with cutting-edge décor is unbeatable and incomparable. Nothing beats the feeling of waking up every day in a room that oozes elegance and beauty. Whether your bedroom has a 360° of the rolling ocean waves, the rolling mountains with their natural vegetation, or the bustling and glittery skyline of the city, Bohemian decorations always accentuate the aura and personality of your room. Boho style is a radical approach to decorating. The exotic approach to styling brings together cultural diversity, forms, and colors to create a highly personalized living space.  So  here  4 tips  on bohemian  style for  your  bedroom.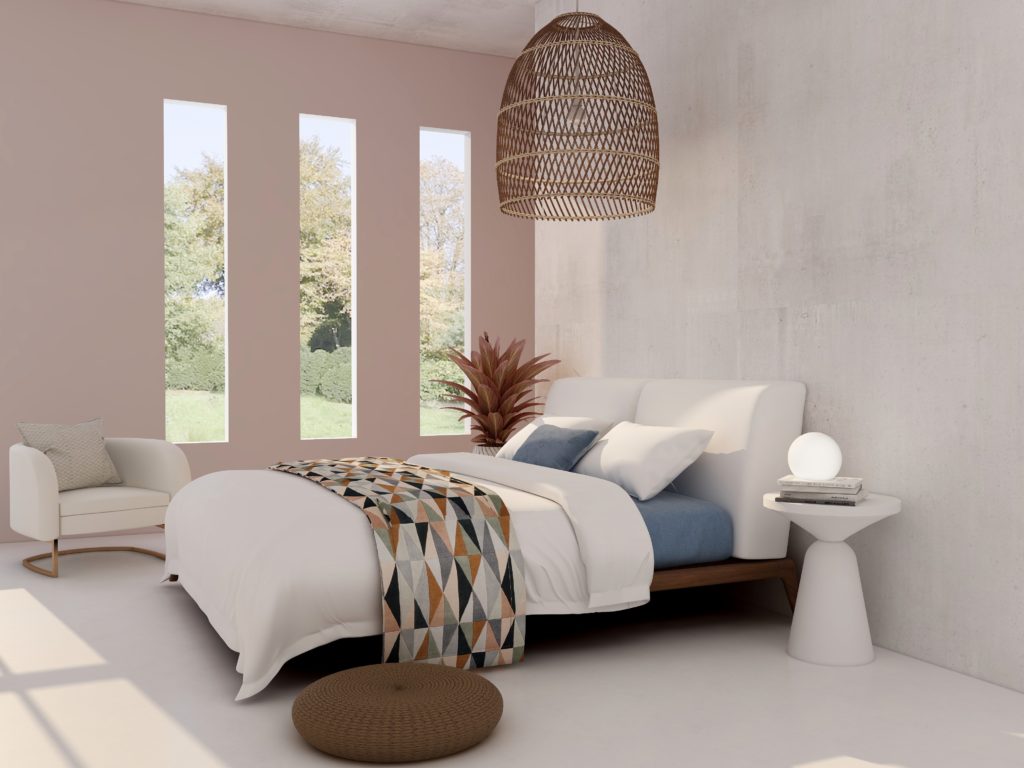 Channelizing Bohemian Décor in Your Bedroom
Achieving the ultimate rule-breaking is a daunting task. The following tips will help you navigate the complex maze of styles, color, and forms needed to channelize Bohemian décor in your bedroom:
Let your lighting speak of your fascinating personality
Bohemian styling is deeply entrenched in your personality. Blend warmth with spellbinding light options while also retaining an element of delicateness. From filigree to dangling, vintage, and antique lights, opt for a lighting fixture that gives a warm and elegant vibe to your bedroom. Sometimes all it takes is a simple lampshade to channelize a Boho style in your space.
Use furniture to tell your story
Furniture is one of the easiest ways to channelize Bohemian décor in your bedroom. Since you will have a limited number of furniture in the room, be intentional in choices. From pantry to dressers, seats, ottoman, and armoire, go for a magical and intriguing style when decorating your bedroom. Let your Bohemian furniture tell your story, including aspirations and vision. Give your bedroom character with uniquely shaped and painted racks, chairs, and bookshelves.
Embrace colors and shapes in your bedroom
Bohemian style is embodied in the blended diversity of shapes, forms, and colors. Channelizing the Boho style in your bedroom demands a deep grasp of colors and shapes. Breaking the rules and personalizing your space requires choosing uncustomary and unconstrained hues and shapes that speak to your personality and style. A truly Bohemian living space, including the bedroom, is a celebration of unbridled boldness in the choices you make when decorating.
When painting, give your room a disordered sweetness, and edgier feel that reflects your nature and spirit. Add a layer of vibrancy to your room by painting your dividers, ceiling, and furniture with unconventional colors. Borrow and use different decor colour trends in the bedroom.
Transform your bed into the centerpiece of the room
The bed is one of the most beloved furniture in any Bohemian-styled bedroom. Therefore, channelize Bohemian décor by transforming your bed into more than a piece of functional furniture. Add esthetics to your bed by choosing bold bedcovering colors and bed design. A Bohemian bed is a convergence of beauty and unhindered workmanship. Don't settle for mundane bed designs. Break the rules by opting for odd yet stylish hanging, bamboo, driftwood, or pallet beds. Always remember to add edgy hues to your bed.
---
Bottom Line
Bohemian styling is founded on stretching the limits of our creativity and embracing our personality. Style your minimal bedroom by blending color, forms, and lines to embrace bohemian style.
Join Us!
Sign up today to receive a FREE printable guide to decluttering ANY space and monthly emails packed with inspiration to help you on your tidying journey