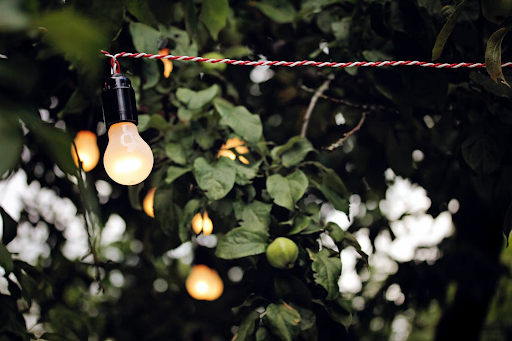 We're fast approaching spring, meaning your garden is about to get a lot of use. There's nothing better than spending evenings outside, but this means you need to have the right outdoor lighting in your garden. 
Good garden lighting adds practicality, but it also makes your garden area look a lot nicer. You have so many ideas and options at your disposal, so here are a few lighting options to think about:
Wall lights
Wall lights are a classic option to bring more luminosity to your garden area. You can install them on the back wall of your home, and they look really good on either side of a window or patio door. You will come across a whole range of wall lights that you can buy – like modern lightboxes, classic lanterns and much more. 
Having wall lights in your garden can be perfect on those late summer evenings when the light has gone in. You don't need them to be too powerful – all it takes is one or two wall lights to brighten up the garden as much as you like.
Smart lights
There are a couple of different types of smart lights you can get for your garden area. One type is a light that recognises when it's dark. It uses sensors that detect when the sun goes down, turning on automatically. These actually work best in a front garden, illuminating the front of your home. As well as looking gorgeous, having lights like this at the front of your house can be a good security measure to deter criminals. 
The second type of smart light is one that can be controlled via an app. You can find some wall lights like this, letting you change everything from the intensity of the light to the colour that shines from them.
Hidden lights
If you have a small garden – or you're going for a minimalist approach – hidden lighting works fabulously in your outdoor area. There are many different types of hidden lights, like the wonderful square LED light from Nordlux Lighting. Here, you have a square that looks like a tile and fixes onto your wall, but there's an integrated light that gives off a warm glow. 
Another option is LED lights that are installed into your decking. They're on the floor and are flat, so you can't really see them. Then, when turned on, they provide lighting from the ground up. Hidden lights can be used to highlight certain areas of your garden – such as a pathway – or be used as the main source of light.
Fairy lights
You can't go wrong with some fairy lights for outdoor lighting in your back garden. If you have a covered area that you like to sit on and host guests, draping some fairy lights around it can lead to a stunning effect. 
However, one of the best things to do with fairy lights is to line them in your greenery. If you have bushes or trees in your garden, wrapping them in fairy lights is such a brilliant idea. Turn them on at night and it will look like you have little fireflies snoozing in your yard. The effect is so subtle, yet so beautiful. 
Lantern lights
Lanterns add a touch of class to your garden, almost bringing a gothic flair to the area. What I love about using lantern lights is that there's versatility to them. You can find ones that include actual light bulbs, giving a beautiful glow. They can be placed on the floor or hung from a height – the choice is yours. 
But, you can also get lanterns that are made for candles. Having a few of these on your outdoor table can really create a wonderful mood. You've got the dim light of the candles, combined with the other lights you may have around the place, and it really creates a blissful atmosphere that's contagious. 
Spotlights
Lastly, you have spotlights. These are small lights that tend to be placed on the ground and shine a ray of light at a particular object or area. Putting them in soil and aiming them at plants or trees is a brilliant way of highlighting certain parts of your garden. 
But, you can also use them in your front garden to highlight areas of your home, improving the way your property is lit from the outside. The opportunities are endless, but spotlights can be a fantastic addition to both of your gardens. 
All you have to do is make a choice: what garden lights do you want to use?! Pick and choose whatever combinations you think will work best in your outdoor space. 
Join Us!
Sign up today to receive a FREE printable guide to decluttering ANY space and monthly emails packed with inspiration to help you on your tidying journey