Are you looking for a break from the daily routine before the year is out? Perhaps a cheeky half term getaway?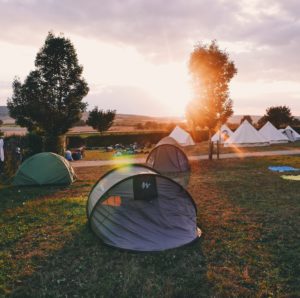 Okay, camping might not sound like the ideal holiday idea for the colder seasons. But as the leaves begin to fall and the nights become chilly, camping can actually be great. It could be the ideal way to spend a weekend bonding with your family. Or even reconnecting with yourself if going solo.
Camping is the ultimate in getting back to basics and being 'at one' with nature. You're essentially escaping modern life. And it enables you to enjoy the simple things in life like NO other holiday can.
As with most things in life though, planning is the key. Here are some of the ways you can make your autumn camping trip as fun and relaxing as it can possibly be.
Buy a great tent
Before you decide on anything else for your camping trip you will want to make sure that you buy a good quality tent. Ideally cushioned and waterproof all the way round. It's a must to keep you warm enough throughout your trip. A great tent can make all the difference to your holiday and it can set you up for an amazing few days in the wilderness. If you need to purchase one, there are some amazing second hand bargains to be had on Gumtree, Ebay and Facebook. Or consider borrowing one from friends or family. You could even part own one with other people to save everyone to really make the most out of it.
Choose a stunning spot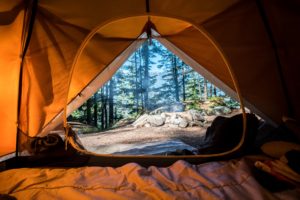 Once you start preparing to go away, you'll want to spend some time deciding on where you want to go. Some of the best camping spots to visit are forests and national parks because there you can enjoy a stunning and secure area to sleep underneath the stars. Think about how far you want to travel. If you live close to a beauty spot, then do you really need to go far?. Also, consider the weather conditions in different areas in order to find that ideal camping spot for you. Researching local attractions is a good idea if you have children to entertain but don't forget to pack board games, cards and books too.  It's a chance to go retro with your entertainment choices and revert to the simple days before tech exploded into our world. 
Pack cold weather sleeping bags and blankets
When you are going to spend a few nights sleeping in nature without any heating or a comfy mattress, it will be surreal and it can be hard to handle. To ensure a cosy night's sleep, you'll need thick winter pyjamas, sleeping bags and blankets or even your duvet from home! Also think about sleeping off the floor entirely in a padded hammock. It's better to prevent yourself getting cold in the first place, rather than have to try to warm up. If all else fails, take the ultimate luxury camping item – a hot water bottle.
Stock up on fuel for the fire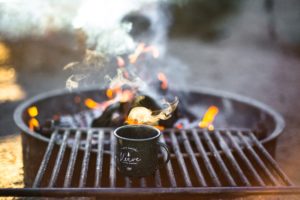 The beauty of a campfire or fire-pit is that you can use it for cooking, boiling water, warmth and for light in the evenings. Fire is the ultimate natural element and it's good to be reminded of it's power and effectiveness. Just ensure you stock up on plenty of firewood as well as fire lighters to make things easier for everyone.
Get your storage sorted
Camping is essentially about making up a new home temporarily. So, it's essential to think about how you will lay out your living space.  Most tents have hooks or ridges on the inside, which is genius because you can use fold out wash bags and hang them up. Likewise, use storage which folds down into shelves for clothes. Or use packing cubes, which will keep different categories together in one place and have a mesh front so you can see what's inside. You also might want to hang a washing line across the inside of the tent for damp clothes and towels.
Bring warming foods and treats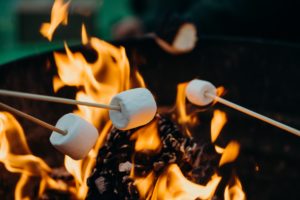 When it comes to camping, is it really camping unless you sit around the campfire roasting marshmallows? Make sure you bring lots of treats with you for the trip such as hot cocoa, marshmallows, rich beef for stewing over the fire and even see if you can learn how to make bread on a campfire. These are the things that will make the experience feel magical and allow you to get the most out of the experience.
---
Camping is a super fun and cheap way to enjoy a holiday and the autumn is a beautiful time to year to enjoy the forests and nature due to the vibrant colours. Make a weekend out of it this month and see how amazing it can be.
Whilst on the subject of seasons changing, you might also be interested in our previous post: getting your home healthy for Autumn.
Join Us!
Sign up today to receive a FREE printable guide to decluttering ANY space and monthly emails packed with inspiration to help you on your tidying journey