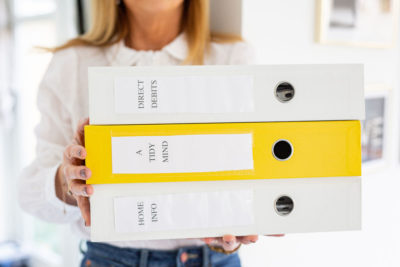 The home office has become an essential part of most people's lives as we've spent more time working and studying at home. Having a dedicated space to do your tasks enables you to focus as it minimises distractions, and if you organise your home office, it may even help to boost productivity. In a 2021 poll, 28% of UK employees said that they worked in a study or home office while remote working, and most are willing to continue to work mainly at home in the future.
As most employees have spent nearly two years doing their tasks at home, it's likely that their work spaces have become cluttered, disorganised, and in dire need of a refresh. If your study or home office needs a makeover, here are some easy and creative ways to organise, style, and beautify your work space for maximum productivity.
Eliminate Paper Clutter
Bills, receipts, paperwork, and printed documents have a way of piling up and taking over a workspace. To put paper in their place, you'll need to create a system to store them in such a way that they're accessible, but also neatly hidden away in your home office. First, sort through everything and see what you can dispose of, then take what's left and sort them by category. Next, place each category of papers in folders, then store them in a filing box and place it on a shelf or inside a deep desk drawer, making sure that they're standing upright.
If you don't want to use a regular filing box, consider using a rattan basket organiser that's deep enough to hold the folders. Doing so will add a natural and organic touch to your decor. Apart from getting rid of paper clutter, you should also streamline your book collection, especially if your home office shelf is starting to look a little cramped. Only keep the books that you're reading or are planning to read, and use the rest of the space for a few well-chosen decorative items.
Get Rid of Distractions
When designing a home office, you'll want to create a space that sets you up for productivity. This means getting rid of things that are likely to cause distraction. For instance, is that colourful painting or brightly-hued focal wall pulling your focus away from work? You can replace the painting with an abstract piece in neutral tones, or paint the wall white and put up some botanical prints in custom white frames to neatly blend in with the light background.
You may also want to keep decor to a minimum, and balance function with aesthetics. This means that while you can certainly bring in some potted plants to make your home office feel less sterile, it's also important to practise restraint. Keep it to one or two plants, such as a big potted Monstera or fiddle leaf fig at the corner, and a smaller plant like a mini cactus or a baby rubber plant on the shelf or table.
Replace or Enhance the Focal Pieces in Your Workspace
The focal pieces of your home office are the table and your computer or laptop. If you've been using a bulky monitor all this time and you're planning to do more remote working in the future, consider replacing it with a streamlined model in a colour that works well with the rest of your decor.
You can also paint the back of an old monitor or wrap it in vinyl wrap to hide any scratches or scuffs. Elevate your monitor or laptop on a laptop stand, and replace an old mouse and keyboard with wireless models. As for your table, you can replace it with a new one if you think that the one that you have is too small or rickety. But if you're happy with its size and current condition, you can paint it white and replace the hardware, then cover the top with a DIY marble adhesive or contact paper for an elegant faux marble finish.
---
Having a dedicated space to do your work can benefit you in so many ways. Consider these tips to give your home office a fresh look to boost productivity and focus, and have a place where you'll enjoy doing your tasks everyday.
Join Us!
Sign up today to receive a FREE printable guide to decluttering ANY space and monthly emails packed with inspiration to help you on your tidying journey