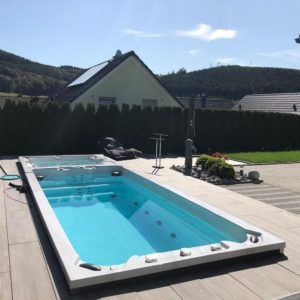 A backyard pool can be a great way to cool down during the summer heat or all year round if you live in an area that permits it. Some people will look online for a swimming pool near them, but others prefer to have a pool in their backyard. It is possible that you are interested in a pool built in your own backyard. But how much will it cost? The cost to build a pool ranges between $16,441 and $44,19 (£13k to £36k) according to HomeAdvisor. The national average is $29,638. Above-ground pools are available for as low as $700 and as high as $66,500. Inground pools range in price from $36,750 up to $66,500. A custom pool can cost up to $100,000 if you want luxury add-ons. The total cost of building a pool is 25 to 50 percent for excavating and labour.
To explore cost-effective options and expert advice on your swimming pool installation, visit https://www.budgetpoolspatech.com/hot-tub.You can find the best prices on backyard pools, hot tubs, and related services by consulting with experienced professionals who can tailor a solution that fits your budget and requirements.
A swimming pool installation can increase the value of your house and provide years of enjoyment and relaxation. Consider all costs and factors that could impact the swimming pool installation. While you may get a discount for adding options or features to your pool installation, it will likely increase the cost of the final project. Some homeowners choose to delay buying a hot tub or additional water features and a patio until later. You can find the best prices on backyard pools or hot tubs by searching for "Aqua Warehouse" online.
What is the Cost of Building a Swimming Pool? There are several factors that influence the pool cost.
There are many determining factors that go into calculating the cost of building a pool. Prices may vary from the national average because of factors such as pool size, type, location, labour costs, and permit fees.
Size, Shape, and Type
In-ground pools cost, on average, between $50 and $125 per square foot. The largest cost factor is the size of your pool: the larger the pool, the more expensive the project. Large pools require more labour, materials, and equipment. There are many different shapes and sizes of pools. The material you choose will determine the shape of your pool. Concrete and vinyl can be made in almost any shape you like, while fiberglass pools must follow the manufacturer's design. Rectangle, oval, kidney, and round are some of the most common pool shapes. There are many pool types: inground pools that can be made from concrete, vinyl, fiberglass, or vinyl; above-ground pools; cocktail, lap, and plunge pools; as well as infinity and infinity pools. A hot tub or swim spas could be attached to a pool for extra relaxation.
Location
The cost of building your pool in your backyard will depend on where you live. Due to the higher cost of living, a pool built in urban areas is more costly than one constructed in rural areas.
Permits and Labour
The labour cost for building a pool is usually 25 to 50%. Depending on the type of pool, labour costs can vary. Inground pools are more costly than above-ground ones, and concrete and fiberglass pools can be more expensive than vinyl. Labour costs can rise if there is an extensive excavation or if the deck is being installed simultaneously. The average labour cost to build a pool is between $5,000 and $30,000, depending on the size of the pool, its shape, and how it was designed. For a custom pool, labour costs could be even higher.
Building a pool requires permits that can be purchased for $200 to $300. Prices for permits can vary depending on the type of pool and where you live. To obtain a permit, either you or your contractor must submit paperwork. Before you can use your pool, it will need to be inspected.
Excavation
Excavating costs can range from $400-$1,500. The costs of excavating a potential pool will rise if it is difficult to reach. Excavating a yard with large rocks or difficult ground may be necessary. This will increase the cost of excavation. The big size of the cost comes from the removal of dirt. You can save money by using dirt from your property for landscaping or gardening.
Landscaping
After excavation has been completed, the swimming pool can be installed. Then landscaping can begin. For professional landscaping around your pool, expect to pay anywhere from $3,000 to $5,000 and $4 to $12 per foot. Some homeowners prefer to wait several weeks before they start landscaping so that they can decide how they want it to look. There are many options available, from the grass around the pool to custom shrubbery, water fountains, and masonry paths. A lawn can be placed around the pool's patio. You have the option of making your own decision.
Materials
A pool in the ground can cost anywhere from $20,000 to $60,000, but it all depends on the materials used. Concrete pools will be more expensive, but they are much more durable than vinyl ones. Porcelain tiles are more expensive. Talking with your pool professional about the material options can help you achieve the look you desire while still staying within your budget.
Filtration
Water filtration systems cost anywhere from $500 to $3,000. Filters can cost anywhere from $500 to $3,000. Install a filter system that is suited to the dimensions and shape of your pool. This will save you money on repairs and maintenance.
Additional costs and considerations
When budgeting for the cost of building a swimming pool you should consider various things. These include heating, covers, and water features as well as fencing, maintenance, enhancements, and upgrades.
Heating
If you live in a colder climate, heating is something you shouldn't skimp on. Pool heaters can cost anywhere from $1,800 to $4,000. You have all in all two options when it comes to pool heaters: electric or gas. They should be able to heat your pool sufficiently. Electric heaters tend to be more expensive than gas-powered ones. While solar-powered heaters can be expensive at up to $10,000, their long-term costs are low.
Water Features
A pool cover costs between $600 and $2,200 on average. When the swimming pool isn't in use, you should cover it with a pool cover. The covers keep debris out of your pool, keep you safe, and prevent unwanted visitors from getting in. There are two types of covers: mesh or solid. Each has its own advantages and may be better suited for your specific needs.
Fence Installation and Enclosure
For safety reasons, many areas require that pools be enclosed or fenced. In order to prevent children from getting into the pool without a supervisor, enclosures and fences must be secured. There are a range of fence materials and prices. An enclosure that covers the entire pool can cost from $4,800 up to $14,300, while a pool fence costs between $600 and $4,400. You can make enclosures from any material, including a screen or glass, to keep out dirt and leaves.
Maintenance
Maintaining a pool can cost anywhere from $500 to $4,000 per year. The cost of regular maintenance and utility bills will increase. The price of annual maintenance will depend on the size and material of your swimming pool.
Enhancements, Additions, and Upgrades
The final cost will be higher if you add luxury features. A diving board costs $300-$5,000, while a waterfall can run $1,500-$5,000, and a fountain can go for $600-$20,000,000. A deck, hot tub, cover, or lighting upgrade can increase the cost of a project by $2,000 to $10,000. For a 1,200-square foot yard, landscaping that includes benches or paths starts at $13,000. An outdoor kitchen is a great option if you spend most of the time outside. An outdoor kitchen can cost anywhere from $7,000 to $20,000. A pool house can be used to store equipment and to provide space for changing into and out of swimsuits. Depending on the features and size, a pool house may cost anywhere from $150 to $600 per square foot.
Customization
A custom pool can be as high as $100,000. Above-ground pools are more customizable than inground pools. Instead of purchasing a prefabricated pool shell, inground pools can be made to your specifications. Because it is difficult to design a fiberglass pool, custom-made pools are usually made of vinyl or concrete. You can add additional features like waterfalls or jets to your custom pool. If you have limited space or want extra features, homeowners who wish to build a pool will choose customization.
What is the cost of building a pool? There are many types of pools.
It can cost between $800 and $65,000, depending on the pool. Additional features can increase the price by up to $100,000. Costs will be determined by the size and depth of the pool, as well as whether the swimming pool is above or below ground.
Inground Concrete
Inground concrete pools cost between $35,000 to $65,000. Concrete pools can come in any size or shape and can be finished in many ways. You can finish your concrete pool with tile or other decorative accessories that aren't available for vinyl or fiberglass pools. Concrete pools are more maintenance-intensive than fiberglass but require less than vinyl. Concrete inground pools are a popular choice for homeowners who want to make a long-term investment.
Inground Fiberglass
Inground fiberglass pools can be purchased for between $20,000 and $60,000. These pools are long-lasting and durable. The fiberglass pool shells are fabricated to the specifications of the manufacturer. Because it is difficult to transport large fiberglass pool shells, size variation is limited. These pools often have shallow depth restrictions, which make it difficult to dive. This material is easy to maintain and will last a long time.
Inground Vinyl
An inground vinyl pool will cost you between $20,000 to $50,000. Vinyl liners can be any size or shape. Vinyl liners are more versatile than fiberglass and can be made in any size or shape. However, they do not last as long as concrete or fiberglass and must be replaced every 6-12 years.
Above-ground Pool
Above-ground swimming pools are available for between $800 and $15,000. they are also cheaper because there is not much digging involved. There are many options for above-ground pools. An above-ground pool has some drawbacks. They don't last as well, and homeowners won't see the same increase in their home's value as if they were in an inground pool. If plumbing or electrical ports are required, additional costs may be incurred.
Cocktail Pool
Spools or cocktail pools cost around $22,650, including labor. Named after the combination of "pool" and "small" or spa, they often have powerful jets that create a relaxing spa experience. They are usually 10×15 to 20 feet in size and 5.5 to 7 feet deep. These pools are great for homeowners with smaller spaces or who wish to spend less.
Pool or Lap
Prices for lap pools start at $44,000 and include labor. Lap pools can be ten by 40 feet in length and are usually narrower than other pool types. Some swimming pools, which are shorter and can be swum with an artificially created current, are less common. These pools are typically priced between $23,000 and $40,000. Endless pools have lower maintenance costs because there is less water to maintain.
Spa
Installing a hot tub or spa can cost anywhere from $3,500 to $15,000. Prices will vary depending on the size of the spa, its materials, how many jets are used, and other features. A standard-sized hot tub can accommodate between four and six people. A swim-style spa with jet currents and endless pools will cost you around $36,000. There is an additional cost for delivery of $100-500 and labor costs between $150-500.
What is the benefit of building a pool?
Many homeowners build pools to spend time with their families, increase their property's value, and cool off in their backyard. The outdoor space will be more attractive if it has unique lighting and features like water fountains or diving boards. Other benefits include entertainment value, increased health, and happiness.
Entertainment
A pool can be a focal point for outdoor gatherings if you entertain often and especially if you have a large outdoor led screen. Larger pools with a patio or deck can be used for small parties or larger gatherings. The pool's shallow end is ideal for relaxing and lounging, while the deeper part can be used to practice diving or for a slide. It's a great alternative to traveling and spending more money on vacation.
Health
Relaxing by a swimming pool can help lower stress levels. A refreshing soak or a vigorous swim can help you unwind after a stressful day. Swimming is low-impact and can help you feel better about yourself. It also helps to relieve arthritis pain. You can get cardio exercise, aqua therapy, strength training, and more from your backyard pool.
Property Value
Your home's value can be significantly increased by having a pool. According to the National Association of Realtors, an inground pool can boost a home's value by 15%. The pool's value will depend on where you live and the real estate values. You might be interested in having a pool if you sell your house. However, others may not be interested in the additional maintenance and cost of a pool.
What is the Average Cost of Building a Pool? DIY vs. Hiring a professional
Although it may seem tempting to build your own pool, you should always hire professionals to do the job. You could be charged extra for repairs or replacement if you make mistakes during the construction process. An expert can perform accurate excavation, grading, and soil drainage. A DIY above-ground pool kit should only be attempted by those who have extensive construction experience and the appropriate tools. A collapsed pool wall or thousands of gallons of water leaking onto your landscaping or into your house is not something anyone wants. If the pool is not installed by professionals, a pool warranty may not be honoured.
In conclusion: How to save money on building a pool
The cost of building a pool is high and can quickly add up. You can save money by buying the lowest-cost materials, but you don't have to compromise on quality.
Install an Above-ground Pool An above-ground pool will not add value to your home.
Keep the dirt. To save money on hauling it away, leave the excavated dirt in place.
Don't rush to add extra features. Extras like lighting, water features, and a diving board will increase the project's cost by thousands. These extras will help you save money in the long term.
Get multiple estimates. At least three estimates from pool experts who are reputable so that you stay within your budget.
You can do the maintenance yourself. It is possible to spend a lot of money hiring a company to maintain your pool. To keep costs low, check the pH of the water and clean out the filters and drains.
Choose a smaller pool. People want to relax and have fun with their family members. A bigger swimming pool is not always better. Limit the size of your pool to what you are able to afford.
Join Us!
Sign up today to receive a FREE printable guide to decluttering ANY space and monthly emails packed with inspiration to help you on your tidying journey