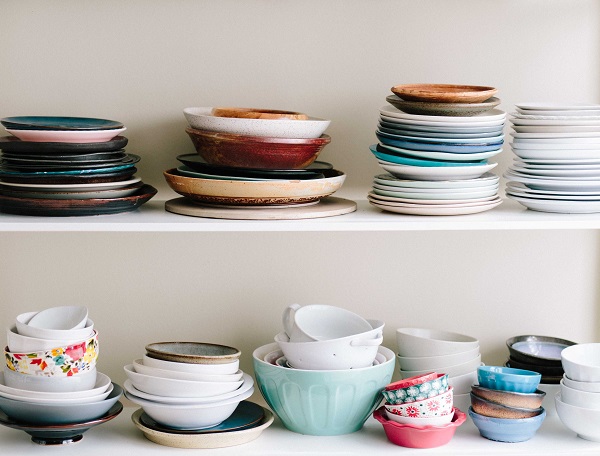 If you've wondered how to create more space in your kitchen and feel like you don't have enough room, you're not alone. Maybe you've got too much in the cabinets to see what's there properly or frying pans stacked on top of the fridge. Maybe items tend to accumulate on the countertops, leaving limited room to prepare food. If you know you need to declutter first, follow this simple approach – otherwise, let's move straight on to space-saving…
You don't have to have the luxury of a huge kitchen with tens of cupboards – British kitchens are more likely to be compact, so you need realistic tips you can work with! But do give the kitchen some attention when it comes to organisation. It might be a heavy-traffic room, but it doesn't need to be messy, and it can still have a calm vibe, just like any room can. Here are some things to consider…
Fit shelves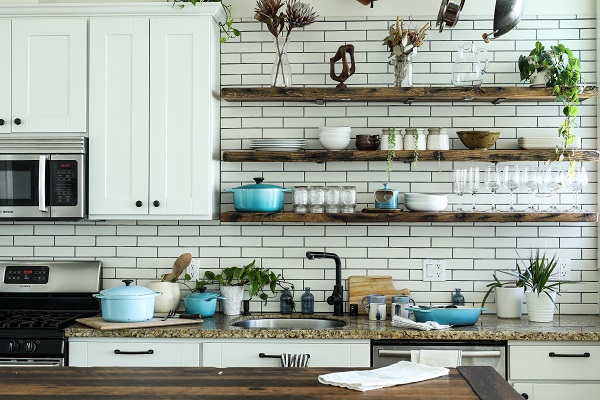 The cabinets in your kitchen may be a little full, so it's important to utilise the space above them. It may simply fit a row of shelves or two above cupboards or below them. Or perhaps you have 'dead space' elsewhere in the kitchen. Consider anywhere where there is blank wall space – corners are also often great places for shelves.
You can put all items on shelves but choose the most aesthetically pleasing. Maybe your fanciest crockery would be nice to keep out to make the kitchen sparkle a little more. Keep more unsightly (we all have them) items concealed. But be practical, too – everyday items are great to keep on easy-to-reach shelves. So consider bowls and plates, glasses and mugs.
Maximise storage
Your storage areas, such as cabinets, need to be utilised in the best possible way. The key is to see what's in there when you open a cupboard and to use every inch of space within them. So you might use a cupboard or pantry organiser to stack food items in raised steps to use the space right up to the top. The best thing is that you can simply grab what you need without rummaging around behind other items.
Hang up pots and pans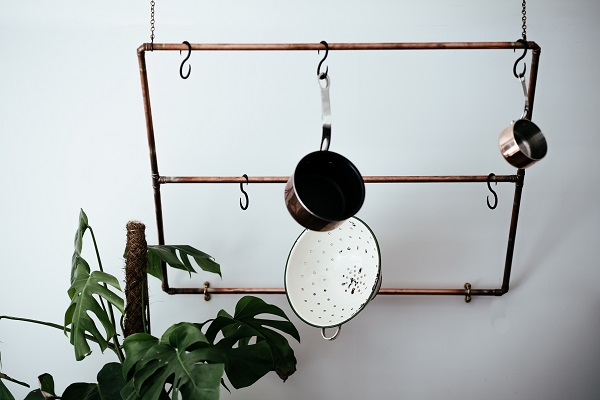 Pots and pans can take up a lot of space within any home cupboard, which can be tricky for compact kitchens.
You can look into ways to hang them up. They'll still be easy to reach, but they'll be out of the way and look good too! Look into something like iron storage solutions for a durable hanging rail that won't fall down, no matter how many pots and pans you decide to weigh. 
If hanging isn't an option or you don't like that look, consider storing the pan lids on the inside door of a cabinet using a fitted rack. Then you can stack pans inside each other.
Don't forget your fridge
Just think how much your fridge is used! It's worth investing thought and time into organising it and making the most of this prime bit of space.
If you have removable shelving, ensure it's stacked at the correct heights for your requirements. It may pay to remove a shelf completely or move one up or down.
Keep food in square, stackable plastic containers rather than round ones, as this shape lets you store more containers and looks neater. Or you may find it more space efficient to store food in zip-lock bags.
Another great space saver is decluttering packaging before you place items in the fridge. The cardboard can often be taken off such things as yoghurts and dips as the use by dates are usually printed directly on the pots – this applies to to food stored in cupboards and pantries.
Top Tip: Line your salad trays with kitchen roll and remove fruit and veg from it's plastic packaging. Keeping these items dry will help them stay fresh and crisp for longer.
Make use of magnets
And finally, magnetic strips are easy to pick up from a DIY store, and you can fit them anywhere in your kitchen, on your back splash, the counter, or even the walls where there's some negative space. With magnetic strips, anything metal can be applied there and stuck. Knives work well and for the best boxed carving knife sets, but if you can also use small metal storage pots to contain things, stick them to your magnetic rack. 
---
Running out of room in the kitchen is a common problem to have. Make sure you have ideas like these on your side to really maximise all of that space. If you need further inspiration, read more tips on decluttering and organising your kitchen.
As you can see, you don't have to make drastic changes or blow your budget in order to create more space in the most popular room in the house. Plus, these are just a few ideas to get you started. According to sarahscoop.com, you can also do things like using different furniture and even creating the impression of movement to make your space look bigger. Whatever you decide to do, make sure your kitchen is always a place that is a direct reflection of your style and personality.
Join Us!
Sign up today to receive a FREE printable guide to decluttering ANY space and monthly emails packed with inspiration to help you on your tidying journey