How to keep your fireplace clean & tidy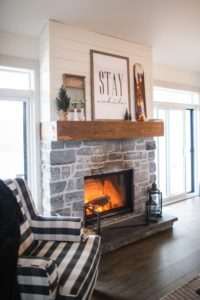 A well-kept fireplace can be very relaxing and the fire is an essential element of feng shui. For that reason, fireplaces make a great addition to any living room and can be especially desirable during the winter months.  
But fireplaces can be a source of great mess in the home. If you have an open fire, it can start to look very cluttered within no time. 
In addition to the appearance of the fireplace, you will also have to take into account the dust and smoke. 
Keeping your fireplace from becoming messy can be a challenge. However, a great look can be provided if you follow these simple tips for keeping your fireplace clean and tidy. 
Picking The Right Fuel 
Coal is historically one of the most used fuel sources for an open fire. But whatever coal touches is very likely to turn black. Your store of spare fuel next to your fireplace can often overrun and your stack of fuel might find its way onto your floor. 
The last thing that you want in your clean and tidy home is dust getting everywhere, your carpet or other soft furnishings nearby getting stained from your fuel, or your fuel rolling off and making the place look untidy. 
Briquettes offer a much cleaner option for fueling your fire. You won't have the same problems with dust getting everywhere. Briquettes are large enough that they will stay in place. Store them in a basket next to your fire and they will add to the aesthetic without looking cluttered. 
Cleaning Your Fireplace
If you want to save time when you are cleaning your fireplace, line the bottom with foil. Remember, when it is time to clean the ashes away that you will need to leave them cool down first. Once they are cool, simply pick up the whole sheet of foil with the ash. Replace the sheet of foil before the next use. 
When you've been using your fire quite a lot, you will need to give it a much deeper clean. For this, mix equal parts of vinegar, ammonia, and borax. Scrub all of the brickwork around your fire with this to remove the soot. 
Freshen Up The Smell Of Your Home
By burning things like orange and lemon peel on your fire, you will be able to create a burnt citrus aroma, it's also a great way of getting rid of any unwanted peelings. 
Use Salt To Put Out Your Fire
When you smother your fire with water to put it out, it can make it a nightmare to clean. Using salt is a great alternative that helps the fire to go out while making the fireplace easier to clean. 
Find A Chimney Sweep
It may sound like something out of a Dicken's novel, but chimney sweeps still exist. Having your chimney swept is essential in preventing a build-up of dangerous smoke and carbon monoxide. 
Find a good local chimney sweep and use their services regularly. You should also invest in both carbon monoxide and smoke detector and keep them near to your fire. 
Join Us!
Sign up today to receive a FREE printable guide to decluttering ANY space and monthly emails packed with inspiration to help you on your tidying journey