How to organise your kitchen cupboards or pantry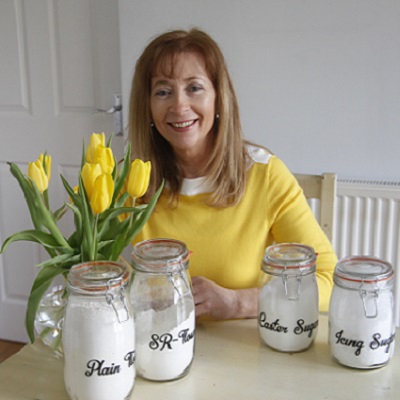 Whether or not you have the luxury of a pantry not, it's important to consider the category of food when it comes to how to organise your kitchen cupboards. What will work best for you will depend on your kitchen's size, layout, your aesthetic preferences and who lives in your home. In this blog post, we've included lots of organising tips so hope you find it uesful.
Categorise
As will all of your belongings, it's best to categorise your food into types and store them all together. For example: dry goods such as panta, rice, grains, lentils. Consider canned foods and jars a separate category, as well as root vegetables and herbs and spices. It's also worth categorising in slightly different ways according to use – for example, baking goods, healthy snacks and perhaps treat snacks too!
Decant
Removing the packaging from shop bought goods or even reducing your plastic use by taking your own containers to zero waste shops is a good way to go. You'll save space in your cupboards if you decant into containers that fill well within your storage space. Containers also look aesthetically pleasing so you may be happier to have them out on display on shelves or on the counter top.
Containers
Consider what types on containers you'll use. Perhaps plastic or glass canisters with locking lids to keep things fresh. Ideally these would be clear so you can see what's inside. Storage bins or baskets without lids can work well on shelves or in cupboards and you may want to add extra shelves within cupboards too so you utilise all the space within them. Containers are particularly useful to gather small items together, such as cereal bars. Or to organise items which won't stand up on their own, such as packets of sauces. Lazy Susans or turntables are another great option for condiments or spices, although there are a multitude of options for herbs and spices, including racks, over the wall organisers and slim shelves. If you are trying to cut down on the amount of plastic you use, consider more environmentally friendly materials for your containers such as wood, bamboo, metal, terracotta and glass.
Labels
Labels can add to the aesthetics of your kitchen, aid organsation and let every member of the household know where things are kept. You can use a label maker to print labels or them in different fonts online. Or maybe you're good with calligraphy or have beautiful handwriting and can have a go yourself. Using labels made from chalk board or white board can be useful so you can just wipe off when you need to make changes and this gives you the options for adding the expiry date of food if required. Even if you are choosing transparent cannisters, you may need labels so you don't confuse sugar for baking powder and self raising flour for plain!
Fridge
Utilise all the space here as there's often a lack of space. This may involve adding or taking away shelves. There are some very useful containers that attach under fridge shelves too to store smaller items. Within your fridge, you may want to have an 'eat me first' box to store items close to their use by date. And smaller containers to hold children's snacks or packed lunch items can help with general organisation. Leftovers work well in tupperware that you can stack in the fridge but you may need to use a marker to highlight the date they need to be eaten by. To save space, you could use zip lock bags in the fridge for leftovers too.
---
We hope you feel inspired on how to organise your kitchen cupboards, pantry or the food in your kitchen in general. A Tidy Mind are experts in kitchen organisation, decluttering, creating more kitchen space and routines so get in touch if you would like some help with your kitchen.
Join Us!
Sign up today to receive a FREE printable guide to decluttering ANY space and monthly emails packed with inspiration to help you on your tidying journey